SHEEN – Where Tradition Meets Innovation
By
Agenda Magazine
| July 19th, 2013 | Category:
Articles, Interviews and Reviews
|
1 Comment »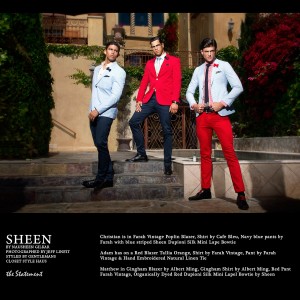 Established in 2012, SHEEN by Nausheen Gilkar is a luxury collection of men's accessories that are designed in LA and made in Kashmir. The collection made its debut at Los Angeles Fashion Week in 2012. Nausheen was also featured as a debut designer during Mercedes Benz Fashion Week New York, where the collection was displayed at Fashion's Night Out in 2012.  The mission of the collection is to preserve Kashmiri artistry, while introducing high-quality innovative products to today's well-traveled man.  Each piece is handcrafted by a master artisan in Kashmir, with an incredibly intricate and time-consuming process.
SHEEN consists of ties, bowties, pocket squares, and scarves made from hand-woven, organic materials, including the use of organic dyes, which are extracted from local Kashmiri flowers and plants, ensuring that each item is one of a kind.
The Himalayan valley of Kashmir can be described as paradise on earth, and for centuries, it has been celebrated as one of the world's most enchanting places. The valley of Kashmir is nestled in the lap of the snow-clad mountains and is considered to be one of Mother Nature's finest.
Kashmiri embroidery is as colorful as it is intricate. Embroiderers and artisans often draw inspiration from their inhabited natural surroundings. The motifs most commonly found in Kashmiri embroidery are lotus flowers, vines, chinar leaves and paisley; each drawn from the landscape of the region.
Cashmere wool originates from the Kashmir goat in the mountainous regions of Kashmir. The word "cashmere" derives from an old spelling of Kashmir, which is known for being the purest and finest quality of cashmere worldwide.
Check out the fashion editorial, photographed by Jeff Linett for The Statement.