VANYA and SONIA and MASHA and SPIKE – Christopher Durang's Comedy Tribute to Chekhov
By
Marilyn Anderson
| July 18th, 2013 | Category:
Entertainment
,
Theater Reviews
|
Comments Off

on VANYA and SONIA and MASHA and SPIKE – Christopher Durang's Comedy Tribute to Chekhov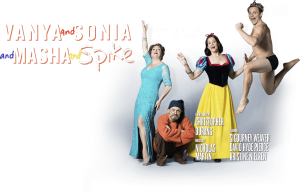 FAMILY and RELATIONSHIPS and SEX and CHEKHOV—Put these all together, add a clever fast-paced script with phenomenal actors, and the result is a fun-filled, laugh-packed evening.
Christopher Durang's new comedy, VANYA and SONIA and MASHA and SPIKE, is the funniest Broadway show in years. From the first few minutes to the very last beats, it is pure enjoyment. With cast members like Sigourney Weaver and David Hyde Pierce, we expect the acting to be solid, but to create nonstop laughter requires keen comedic skills.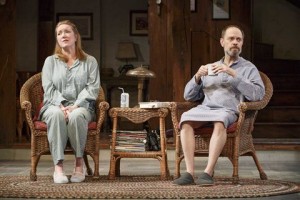 This is a play about family relationships that exposes each member's idiosyncratic behavior and emotional insecurities. From the start, it strikes your funny bone—and keeps it tingling till the curtain descends.
As the evening progresses, we realize it's not just their names but the plotting that bears a resemblance to Chekhov's Uncle Vanya. Only now it has been updated, flipped around, and most happily, turned into hilarious entertainment. Throughout the play, each of the characters gets a chance to vent, and thus the actors each have their chance to totally shine in individual moments.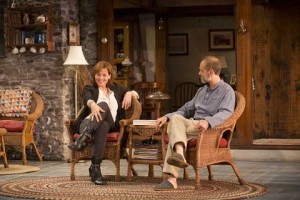 The setting is a Bucks County, Pennsylvania, home, where middle-aged siblings Vanya (David Hyde Pierce) and Sonia (Kristine Nielsen) have been living with their elderly parents, and acting as caretakers until their deaths. Their parents were college professors and community theatre buffs who loved Chekhov, and therefore named their progeny after characters in his plays.
Now, it's just brother Vanya and adopted sister Sonia in the house since older sister Masha left long ago to pursue a Hollywood acting career. She quickly "went from classical actress to a global celebrity" after her starring role as a nymphomaniac serial killer in a cult horror film. Helping them get ready for their VIP sister's homecoming is housekeeper Cassandra, who has psychic moments and premonitions, warning them to beware of specific people they don't even know yet.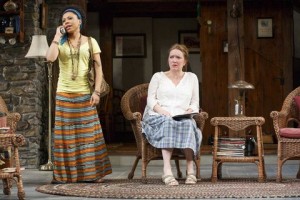 After meeting the two homespun siblings and watching them bicker through the simplest, but downright funny, cup of coffee interchange, we are introduced to Masha (Sigourney Weaver), who has brought her "boy-toy" Spike (Billy Magnussen) home with her on a visit. With his hunky, chiseled body, he is simply luscious to look at, and also a total, charming hoot.
Masha has been paying all the bills for the house, and since it was left to her in the will, she has decided to sell it. Needless to say, this doesn't make for a happy Vanya and Sonia, who have been unable or unwilling to work at real jobs while being custodians of their parents.
Masha soon gets her own dose of disappointment when Spike returns from his naked dip in the lake, accompanied by the neighbor's niece, who is an adorable, aspiring young actress. Even though Nina (Liesel Allen Yeager) idolizes Masha, her very presence reminds Masha that she's getting old—something a movie star never wants to admit.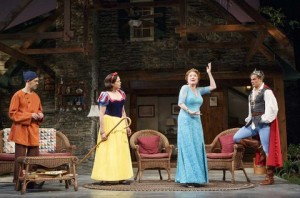 Masha has been invited to a neighbor's costume party. Unbeknownst to her, Spike has also asked Nina to the party, further upsetting the aging diva. Of course, the self-absorbed Masha wants her family entourage to be dressed around the theme of her character, Snow White . . . as dwarfs. Frumpy Sonia brazenly stands up for herself and refuses to be Dopey. Instead, she heads to a vintage store to find a more glamorous costume. When we next see her, dressed in a sequined gown and tiara, we learn she is Maggie Smith—and her continuing impressions of the regal actress are no less than hysterical.
Sigourney Weaver is flamboyant and fun as Masha—at first, completely narcissistic and cruel, even—and later, after betrayal by Spike and her Hollywood assistant, she opens up and softens, finally realizing that family is more important than money and fame.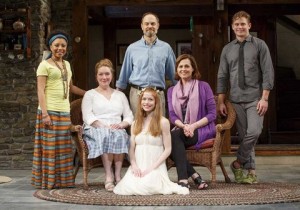 David Hyde Pierce is outstanding as Vanya and has a tour de force monologue near the end that is uproariously funny, sad, and poignant all at once.
Billy Magnussen as Spike gets a chance to show off his rippling muscles and his comedy chops. He's a charming oaf whose slight movement here or tiny gesture there has the audience roaring.
Kristine Nielson touches our hearts as the mousey Sonia who ultimately gets asked out on her very first date by a widower she met at the party because he enjoyed her Maggie Smith imitation so much. Will he still like her with her regular voice? Perhaps playwright Durang will write a spinoff so we can follow Sonia and her possible new romance.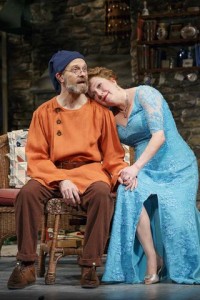 Liesel Allen Yeager is sweet and affable as Nina, and Shalita Grant as the housekeeper is a total delight, dusting and dabbling in voodoo, with the ability to foresee the future.
Part of the credit for the splendid performances must go to the exceptional direction by Nicholas Martin.  And of course, it all begins with the playwright. Christopher Durang has crafted a clever piece that works on many levels: as a comical homage to Chekhov; as a domestic comedy that resonates with anyone who has grown up with brothers or sisters, or with anyone who's ever been in a dysfunctional relationship; and additionally, even to any modern-day cougars who have seen their cubs run off with someone younger.
Whether or not you're familiar with Chekhov's Uncle Vanya—if you've ever had a relationship or been part of a family, VANYA and SONIA and MASHA and SPIKE will tickle you with its universal truths and familiar emotions.
VANYA and SONIA and MASHA and SPIKE has received 6 TONY Nominations, including Best Play, Best Director and 4 Best Acting Nominations. It is the Winner for Best Play, Outer Critics Circle & New York Drama Critics' Circle Awards.
Golden Theatre
252 West 45th Street
Between Broadway and 8th Avenue
New York, New York
http://www.vanyasoniamashaspike.com/
Performances: Tuesday at 7pm, Wednesday at 2pm & 8pm, Thursday at 7pm, Friday at 8pm, Saturday at 2pm & 8pm, Sunday at 3pm