Where Is My Wallet? SHOLDIT, the Scarf that acts as a purse!
By
Tonya Carmouché
| July 15th, 2013 | Category:
Accessories
,
Women
|
1 Comment »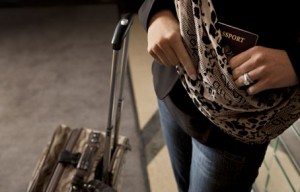 We live in a world that is in constant motion. Whether you are a CEO or a stay-at-home mom, there always seems to be someone to call, somewhere to be, or someone to drop off to a game or baseball practice. With the technology today we have the ability to multitask, accomplishing two—sometimes three—things at once, but that means having to remember more stuff and carry more gadgets. Being on a continuous move, who wants to tug along a heavy purse with the annoyance of a shoulder strap digging into your arm and a bag swinging every time you turn? There are enough things to have to remember without having to add rather or not we left our small clutch purse on the table when we rushed out of last meeting to get to our next destination. We can't leave home without our bare essentials such as identification card, cell phone, lipstick, and keys; so what is there to do?
I found the solution for all of us fashionistas! It is called the SHOLDIT. It is a beautiful scarf that has pockets to store your little necessities. I love it! A fashion piece that makes a statement, serves a purpose, and relieves one of those "remember to" tasks off your list.
I recently interviewed the creator of the SHOLDIT and learned more about this revolutionary genius:
Interviewed by Tonya Carmouché (Bold)
Responses by Angela Lee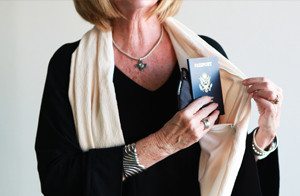 Thank you for being practical and solving an issue so many of us have. The SHOLDIT Clutch Wrap purse is absolutely genius! Did you ever imagine you would be in the fashion industry? 
No, but I always dreamed of it. My mom has told me when I was very young I would draw sketches of models with all kinds of clothing and patterns. I guess I even designed bedroom bedding and decor. Mom said I was the original, even before Pottery Barn for Kids, etc., came out. I kind of laugh, but I remember I was always so frustrated that retailers didn't offer what I wanted . . . so I created it in my own little world.
What are some new pieces you are working on? What are your plans for the future? 
This fall we are releasing the INFINITY version of the Clutch Wrap purse. It's slightly different from our SIGNATURE version in a couple of ways: It's lighter weight and does not offer the cinch cord/toggle and side cell pocket. It's for the people who only want to wear it as an infinity style scarf. I do have a few items in my arsenal I am very excited about. I am hoping to launch the "next one" in the spring of 2014, so stay tuned!
Who is your dream client and why? 
I work with them every day . . . people who are fun, outgoing, and love adventure. Hence our logo; it's strong and bold, but there's a lot of love in it…. Thank you, all you SHOLDIT lifestylers out there. You rock!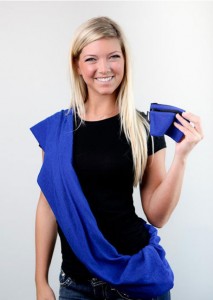 Give us a little background. Tell us about yourself.
I grew up on a cattle ranch in western Nebraska . . . I think it's a requirement to be creative if you live out there. I wouldn't have traded my childhood for anything, though. I learned hard work ethics, team work, to do unto others, and so much more. I then graduated from the University of Nebraska Lincoln with a degree in journalism and marketing. From there I went into a partnership and founded a business publication in Omaha, which led me to some incredible contacts, including my manufacturer, so when I had the idea for the SHOLDIT brand, it allowed me to take my idea and run.
What advice would you have for someone looking to enter the fashion industry? 
Well, there's a lot of tough love in this industry; but I believe if you love something enough and you can see a niche, don't second guess and just go for it. I read quotes constantly to keep my mind focused. They're all over the walls. One of my favorites: "Do not go where the path may lead; go instead where there is no path and leave a trail." – Ralph Waldo Emerson. One of the finest quotes of all time. I read it every day. A final one I'll leave you with: "Choose a job you love, and you will never have to work a day in your life."-Confucius.
Thank you for the interview, Angela, and a special thank you for sharing your brilliant creation with all of us busy fashionistas, and making it so affordable we can grab more than one.
To order SHOLDIT visit www.sholdit.com