THE LACUNA by Barbara Kingsolver
By
Lee Peoples
| October 7th, 2013 | Category:
Book Reviews
,
Fiction
|
Comments Off

on THE LACUNA by Barbara Kingsolver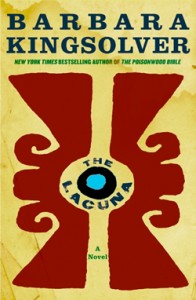 As suggested by its dust cover, Barbara Kingsolver's The Lacuna, historical fiction, is about a "hole."  However, throughout the novel, the meaning of that "hole" changes.  The novel is alternately set in Mexico and the United States.  In 1929 at the age of twelve, Harrison William Shepherd's parents separated, and he was taken from Virginia to Mexico by his Mexican mother.  Being the loner that he was, he discovered his love of diving.  He discovers a cave, a hole, below the surface.  Over time, he learns to hold his breath and when the tide allows, he explores this cave.
In addition to his love of diving, he spends his time reading, and because his mother is unable to afford the tuition for school, his reading is really his only source of a formal education.  He keeps a diary and later becomes a famous writer.  He befriends Diego Rivera and works for him and his wife, first as an assistant to Rivera, then as a cook in his household, and later his secretary when Rivera discovers his ability to type.  When the Russian Lev Trotsky is given asylum in Mexico, he assists him as interpreter and typist.  Shepherd, astute with languages, is of course bilingual, knowing English and Spanish, and learns some French, as well.  He becomes quite useful to Trotsky, whose books—Trotsky has a considerable library of great books and novels—are a real attraction for him.
But of course, this is the time of the fear of un-American activities in the United States, and when he returns to the U. S., he like so many others of this time, becomes suspected of being a communist.  Having now become famous as a novelist, like so many others whose lives have been ruined, he eventually returns to his mother's home in Mexico, where he disappears and is assumed to have drowned.
The Lacuna, fist published in 2009 and set between 1929 and the early 50s, made for interesting, suspenseful reading.  The absurdity of the communistic assumptions during the 50s made that era come alive for me, giving it the reality I had in the past denied it.  And as "lacuna" continued to take on different meanings as the novel progressed, I was quite satisfied with its final meaning—which upon reading you will discover.  Here "is a poignant story of a man pulled between two nations as they invent their modern identities."