Dive In: Creating the Ultimate Bath
By
Shahada Karim
| December 16th, 2013 | Category:
Beauty
|
Comments Off

on Dive In: Creating the Ultimate Bath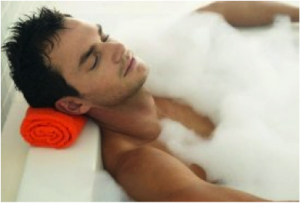 The Holiday Season can wreak havoc on our lives, not to mention our bodies. A little "self care" is always in order after holiday shopping, hosting, and socializing with family and friends.
One of the simplest ways to decompress is with a nice warm bath. Here are a few tips for creating the ultimate bathing experience.
Use Scented Bath Oil – Choose scented bath oil. Floral scents like lavender, jasmine, iris, and rose are associated with relaxation and can help to ease you into a relaxing state quicker. Add oils to the tub when the bath is halfway full. This will help them disperse evenly throughout the water.
Bath Temperature – A warm bath is best for relaxing the body.  Ideal water temperature for a warm bath is 92 degrees Fahrenheit. Be sure to use your wrist, not your hand to test the water since your wrist is a better gauge of how the water will feel once your entire body is submerged.
Body Scrub – Most people are used to being active all the time, so when they get into the tub, their minds start racing, and they become unable to relax. Gently massaging your body with a sponge and body scrub will help engage your mind as the scrub buffs away dryness and leaves your skin supple and moist.
Closing Your Eyes – It is important to close your eyes during the bath to enter deep relaxation, so anything that forces you to keep your eyes closed is great.  Try cold cucumbers, an icy compress, or eye pads which have been soaked in chilled chamomile tea.
Bath Salts – Tough workout? Bath salts are like external muscle relaxants. If you have soreness, pain or swelling, bath salts reduce inflammation and stiffness, and help detoxify skin and increase circulation, which helps to ease tension and revitalize the body.
Candles – Bright bathroom lights tell your body it's go time, not bath time. Instead, light a few candles and place them around the room and on the edge of the tub.
Cold Water – If you've set your water temp right (somewhere between steamy and very warm), you should be feeling quite toasty in the tub.  A warm bath raises your body's core temperature, so you'll start sweating. Before getting into the tub, set a bowl of ice water and a washcloth next to you and use it as a cold compress on your forehead or the nape of your neck to help keep you refreshed throughout the bath time.  I also grab a tall bottle of San Pellegrino and force myself to drink the whole thing to hydrate.
Bath Robe/ Nice Bath Sheets – Nothing jolts you out of a Zen state like going from a warm, luxe bath to a measly, threadbare robe or old dingy towel. Get a plush terry cloth robe or fluffy towels that allow you to feel warm and comfortable.
Relax afterwards – Leave the smart phone alone for an hour or so and just enjoy time for yourself.  Get a glass of tea and read or listen to music.  Want more coziness? Heat a towel in the microwave and wrap around your neck and take a deep and well-earned nap.
Multitask – Make the most of your bath by also using the time to give yourself a face and hair treatment. Both the skin and hair respond very favorably to the moist environment created by a steamy bath.  To cleanse your face, apply a clay mask to the skin, avoiding the eyes. Allow to remain on the skin for 7-10 minutes. Then remove gently with wet washcloth. Need to soften and hydrate your hair? Apply conditioner or hair mask to wet hair. Then cover in plastic cap and hot towel and allow the conditioner or mask to remain on hair for duration of bath for 15 – 20 minutes.  Wash and rinse thoroughly.