Frances Harder, Founder of LA Fashion Incubator, Talks About LA Fashion
By
Eveline Morel
| December 17th, 2013 | Category:
Articles, Interviews and Reviews
,
Fashion
|
Comments Off

on Frances Harder, Founder of LA Fashion Incubator, Talks About LA Fashion
Frances Harder talks about how FBI started and its challenges and accomplishments in the LA fashion industry over the last ten years.
Interview by Eveline Morel
Responses by Frances Harder
Did you have a fashion education and background yourself? 
Yes, I did.  I finished fashion design in England, in Manchester.  My mother was a fashion designer, my father was a textile chemist, my aunt had her own couture atelier in Nottingham, my uncle had a factory in Nottingham, and my grandma was a lace maker—you could say it runs in the family.  I graduated from college in Manchester . . . started designing, worked in London.  I got married, was also a professor teaching art.  I was really lucky.  I had my own career going, and I had my college that I graduated from inviting me to go back and teach.  I've always had a dual career of being involved in the industry as well as teaching, being an educator.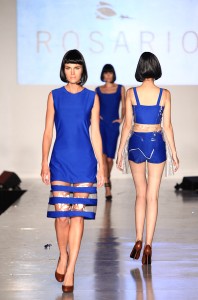 How did you end up coming to the States and starting FBI?
That was also part of my personal life.  My first husband and I went to live in Germany. I was an out-of-work fashion designer not speaking German, and he was an engineer, one of the top engineers working on Airbus. They needed designers and asked me what kind of a designer I was.  I ended up working on Airbus for four years as a technical drawer because I was good at pattern-making (managed to bullshit my way through it).  It was a very interesting job. I met my second husband (he was German), and we took a year off traveling around the world. After we got married, he wanted to come to America . . . he had a Green Card. I got to California and immediately said, "That's where I want to be." It was an immediate connection.  We . . . then moved to Seattle, moved back to Germany for a short while, then decided to come back to California; and this is where we've been for the last twenty-five years.
While I was back here, I started my own business, twice.  Once, the sales rep ripped me off.  Then I had a partner that didn't work out . . . typical entrepreneurial thing that people go through in the fashion industry.  Then I got a job teaching at Otis and was also teaching at FIDM.  I got a job teaching at Otis full time and was there for nine years.  I really enjoyed teaching there. I learned a lot myself, being an educator at Otis.  While I was there I did some great freelance work . . . got my name on a license in Japan . . .  I designed a line with Tim Burton for Home Shopping Network, another line I designed for a sportswear company.  There was a lot of stimulating work going on while I was teaching.  I also realized, when my two businesses failed, that just being a good designer you're not going to make it.  You have to have the business skill.
We weren't taught how to do a cost sheet, marketing documents, the things that go into being a truly successful apparel business owner.  I actually had a class at Otis in Continuing Ed, an entrepreneur class, and while I was putting that together with the outline, I wrote a notebook out there about it.   So I started to write Fashion for Profit.  And at the same time I was writing Fashion for Profit I met somebody who wanted to start an incubator in LA.  You know, they didn't have any incubators then; designers needed business development.  And that's when we founded the FBI.  At the beginning, it was called Fashion Business Incubator.  We got a small little office in the NewMart.  A showroom owner donated the space. And we grew from there.  It was a learning experience, after working full time as a professor at Otis, then starting this FBI.  It started to take off, and I left my associate professor job and took this gamble. It was an entrepreneurial gamble running the FBI.
The apparel industry in Los Angeles has this huge revenue stream, but it's never really helped endorse the industry, which I've always found astounding. They've always thought it was a sweatshop industry . . . didn't want anything to do with it.  It's an amazing business, as you know, a very creative industry.
Los Angeles has a very, very important part in the global apparel industry, and we know that trends no longer trickle down from the Houses.  They trickle up from the street, and a lot of those trends start in Los Angeles.  You look at all the major sections of apparel, and for the most part, most of them are the biggest in Los Angeles.  You have the juniors, with Forever 21 (they own the market); you've got American Apparel; you've got the premium denim (we own the market); you've got the active sportswear, with Quicksilver, Pacsun (we own that).  Then you have the contemporaries, like BCBG, Guess, the Gap (that's also California).  That's huge!  It's a very important industry, but it's never really been embraced as such, or endorsed, or funded.  At that time, one couldn't get grants . . . we couldn't get a grant.  We did, in the beginning, get a very good grant from DWP, and that helped us build out a center in the NewMart; we had a great space there.  It was really good.  And suddenly, the grant amounts continued to become poorer and poorer.  As the state became poorer and poorer, it became very difficult to get any funding.  We actually run on our own income.  We fund ourselves through membership, through classes, through our resource members, and also through our fundraiser that you were, hopefully, able to attend.  And that keeps the doors open.  We're a self-funded non-profit, of which there aren't many of those around.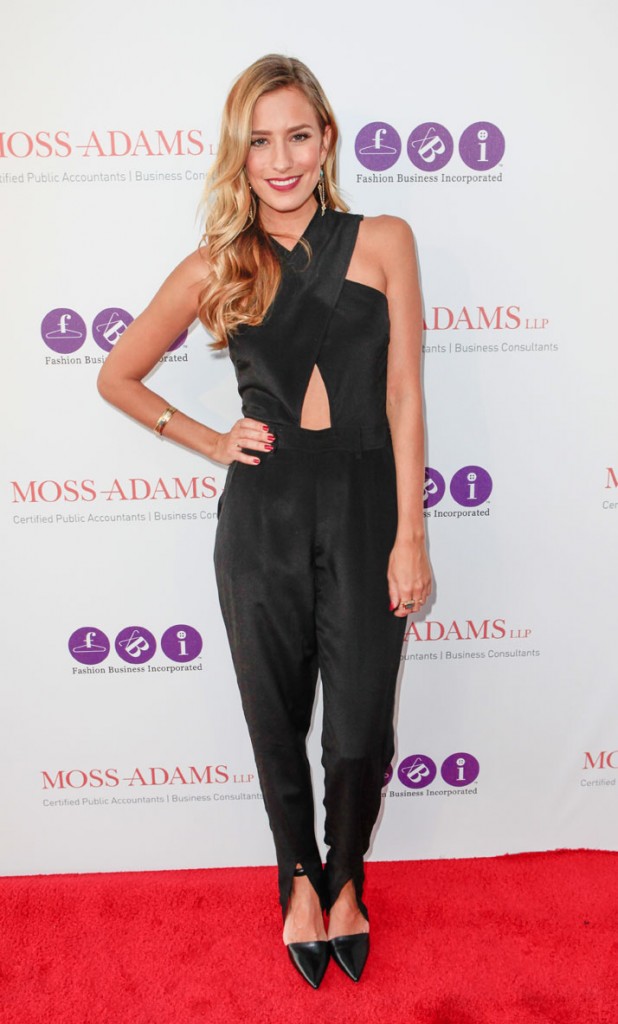 So it's been over ten years for FBI.  What would you say about them?  Looking back, what has been one of the major achievements or major contribution? Any high points? 
I don't think there's anybody out there doing entrepreneurial training for the apparel industry.  We developed this job training program for people in the industry, or retraining, that Joyce Eisenberg funded.  We're very proud of this job retraining program for those displaced, for the middle-age people who get laid off, particularly pattern makers who don't have computer skills.  And if you don't have computer skills, as you know, you're dead in the class before you go.  So I think that's one of the most rewarding things that we've been able to do, besides mentoring new designers.  We have another program coming in December.  It allows us to take ten displaced workers (they have to prove that they're displaced).  We take a small deposit, and they take this deposit back when they're completed with the certification.  We start teaching Photoshop, Illustrator, then go on to teach a CAD system (a pattern-making system), then, using that to do tech packs, or using any of the other software programs.  It demands a lot of coordination to put these together.  In the end, they go out and get a job. Out of ten, if you get half of those people in jobs, then I think you've really achieved a lot.  To make a huge difference in those people's lives . . . that is rewarding.  My goal is to make a difference.
The apparel industry is huge, but is there a way to promote more "fashion"?  And once they get to a bigger level, designers tend to go to New York . . .
Trends and fashion have changed so much, these days we can all wear what we want to wear and not cater to fashion trends, which makes it really difficult for a manufacturer.  If you're walking around, you see people wear what they want to wear, and trends are becoming increasingly difficult to spot.  What makes a good designer . . . it's very difficult.  It's changed a lot, as you know.  What makes a trend and where does it start . . . A lot of brands in America are in New York. . . .
I think as far as Fashion Week, New York holds it before us, so all the buyers go to New York and spend the money; and by the time we have our fashion week, they've already used their budget up.  If we could change our fashion week, which is what I've always proposed to do (but it never happened) before New York, what kind of difference would that make?  Everybody from here goes to shows in New York.  They spend the money there, and the buyers have their budgets.  So that's a big issue.  When it all boils down to it, it's all about the buyer and the consumer.
In New York, there's more central coordination, whereas in LA, there's very little central coordination between the shows.
I think if we could get more people together in LA, it could make a difference; but we're very fractured, as you know.  And nobody sits down and talks together . . .  And with the changing of the guard in the city, it takes two years to really find out what it's all about, then two more years until the new changing of the guard.  It's a tough call to get people to participate and really work together.
What's your outlook for LA Fashion and the fashion industry in LA?
I see this new trend to bring domestic manufacturing back.   The issue with that is that people say they want to have things "made in the USA," but they're not willing to pay for it.  They still want to go to Target and buy the top for $19.99 . . .  Clothing has not gone up.  Prices have actually decreased by 43% in the last twenty-five years.  So if you want to bring back domestic manufacturing, people will have to start paying more; but why would they pay more when they can get it so cheap?  And we're not so much trend-driven anymore.   People can just buy whatever they find in stores.
What I do see optimistically is that the American market realizes the power of its own market and that manufacturers get more help for exporting and pushing the domestic exports. Looking at the Chinese market, they've got a big market, and growing economy, and bigger disposable incomes.  That's an opportunity that we need to grab onto.
Do you think that LA will ever become a fashion capital like Paris, New York, and London? 
I think in a way it is because if you look at the Japanese, Korean, and Chinese people, they come here to California for the trends.  They buy clothes at Fred Segal, and then knock them off.  LA is a trend setter.  It does have an important impact on the industry.  For casual wear, California has a definite place.
One of the things that have been frustrating, in talking with other organizers about LA fashion, is how to get the major New York media and press excited about LA fashion.  Do they take it seriously?  Is there a way to do this better? 
I think we have to get organized and work together.  What I've seen is a certain professional presentation that varies across town, and a certain critical aspect that seems to be missing, compared to New York.  You'll have an event that's really well put together, then an event that feels like a high school senior production.
Is there a juried selection process for designers to show with FBI?  How does it generally happen?  Can any designer, just because he/she has created a line, show with FBI?
Member designers need to have line sheets, and show they have some sales.  They all have to have funding to produce the goods.  The new designers are far more difficult to handle than established designers like Johnny Was or the other lines that have been around for a while.  That's a huge problem with a lot of the new designers.  They have great ideas, we go out there and show their line; then they've got these orders and don't have the money to produce it.  Designers pay to be part of the show.  It's $3,500.  Just to put on the show and build the set out costs over $40,000.  Without Moss Adams sponsoring it, we couldn't even begin to do it.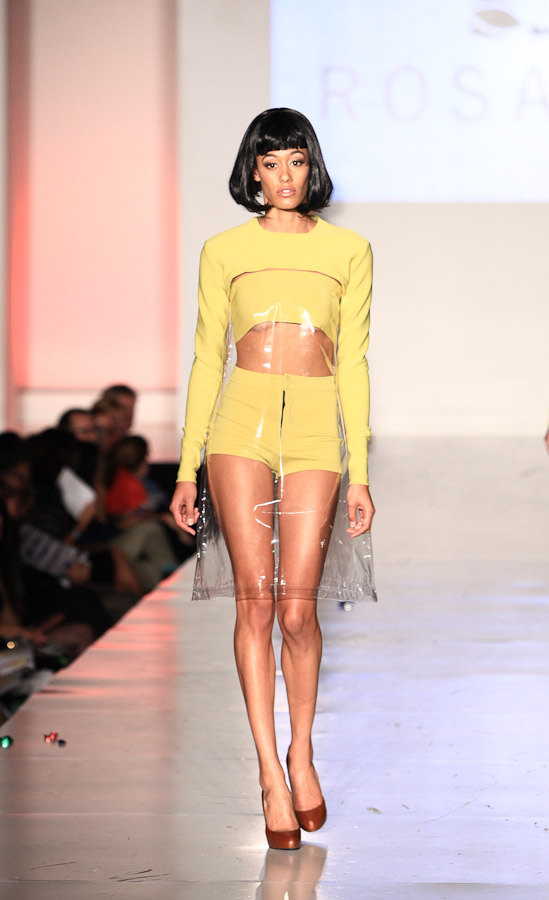 You've been through Otis, and there's a critical aspect that's part of the design process, certain design principles. Do you at FBI even get to promote good design?
That's one of the benefits offered by FBI membership. I will look at the lines.  One of the biggest issues with all the fashion colleges, including Otis, and any college I've been to, is that the students are not really taught how to merchandise a line.  They don't understand how to fully merchandise a line:  You go out there and design a piece, then the next piece; and they don't understand the merchandising, how to optimize that merchandise to get sales.  No one is really teaching how to design a line to get sales.  It's got to be about business. And as long as fashion schools don't have a strong business training to prepare their designers for successfully selling their lines, there will be challenges.
How is a designer to know, as they're evolving, if a line is good or not and what works or doesn't? 
The problem is that it's a business, and many designers aren't prepared to know.  If you're a designer, you need to have a big Teflon coat . . . it's a business.  And many designers are so emotionally attached to their designs they're not always willing to change for the market. If you want to just design and then go on to the next design, then you should put the clothes in an art gallery and make wearable art.
But in the end, for me, it's not all about money.  We are here to make a difference.  I've been fortunate to be able to make a difference these past ten years.