Jeff Linett Photographs "Mister Triple X" by Erik Rosete
By
Jeff Linett - The Statement
| December 18th, 2013 | Category:
Editorial
,
The Statement
|
Comments Off

on Jeff Linett Photographs "Mister Triple X" by Erik Rosete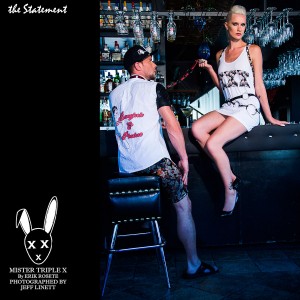 MISTER TRIPLE X BY ERIK ROSETE
PHOTOGRAPHED BY JEFF LINETT
BEAUTY BY ERIK TORPPE
STARRING NICOLE QUINTERO, FRANK RIZ, RYAN RUNDLE & KIERA SMITH
Erik Rosete is a Los Angeles fashion designer, event producer and entrepreneur. His accomplishments in business have included negotiating deals for PinkBerry, Foot-petals, and Wizard Inc. Erik's love for art, fashion, and music led to his signing with IMG. In 2011 Erik opened Rosete Management Group, a consulting and management firm dedicated to the fashion and entertainment industries. Erik has worked with top models musicians and actors from across the globe. His passion and dedication to arts and fashion also paved the way for the creation of his event "Art Hearts Fashion," which recently partnered with Style Fashion Week in Los Angeles. Erik headlined with his fashion line "Mister Triple X."
Erik is no stranger to celebrity, having produced shows in the past few years involving extremely relevant pop culture persona including Kendal Jenner, Alex Morgan,  Perez Hilton, Gloria Govan, Neon Hitch, Alexis Arquette, Evanescense, Cake, Philip Bloch, Lance Bass, Cher Lloyd, Zombie Boi, A.J. Calloway, Traver Rains, Colette Carr, Eryn Woods, Michael Herrera, Maor Luz, Sequoia Emmanuelle, Sham Ibrahim, Stevie Boi, Michael Kuluva, Amy Poliakoff, Mynxii White, Jonte Moaning, Bobby Trendy, and Ernie Omega to name a few.
the collection Mister Triple X is a high-end Street-wear clothing line with an Edge. The collection represents the thoughts, ideas, and trends that are relevant in pop culture fashion. This season Erik Rosete presents Mister Triple X "RefeXion ColleXion."  Within a few months of its conception, the fashion line was picked up by projects at Universal, The New York Film Academy, Magic Las Vegas; and has been shot by celebrity photographers. Most recently the line had a very successful fashion week. The line is featured on Women's Wear Daily, and has been invited to participate in both New York and Milan Fashion Weeks.
Click to see the Mister Triple X fashion editorial, photographed by Jeff Linett.