The Creations of Jena Cruz-Lichauco of The L.A. Shoppe
By
Tonya Carmouché
| December 18th, 2013 | Category:
Accessories
|
8 comments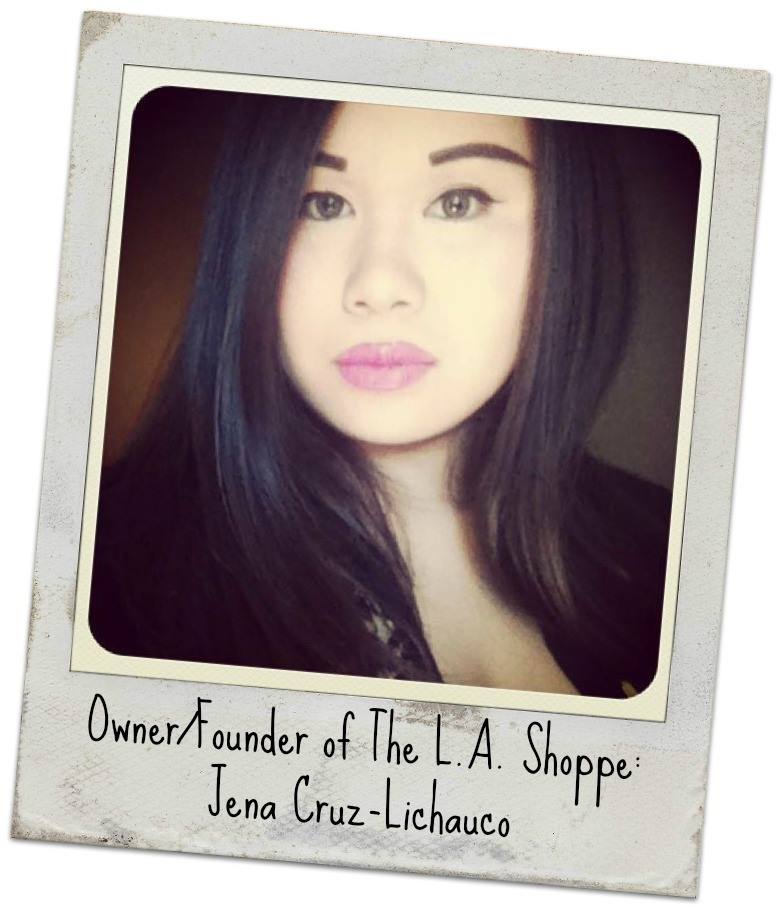 Do you remember playing in your mother's accessories when you were a little girl? I believe every female grows up wanting to be a princess, to look glamorous, to feel pretty. Rather it was putting on high heel shoes that were many sizes too big, trying on earrings, bracelets, rings, pinning your hair up; we have spent hours in the mirror imagining being the most beautiful girl in the world. If you remember how fabulous you felt when you "dressed up," you can relate to the little girl in your life today who wants to feel the same way. Lucky for them, we have designers today that cater to the accessory needs for all the little girls that are seeking to express their personal style while looking stylish. I recently had the pleasure of speaking with one of L.A.'s hottest young accessory designers, Jena Cruz-Lichauco.  I found Jena's creations flirty, fun, and unique. The best part is she has a variety of pieces so you can purchase something that is cutesy enough for the younger generation, and you can find something mature enough for the seasoned fashionistas.
Jena Cruz-Lichauco, born in Glendale, CA, is CEO and founder of The L.A. Shoppe. Growing up in the San Gabriel Valley, she has been interested in fashion starting at a young age, and that experience has translated over into her unique and fashionable designs.
Interview by Tonya Carmouché
Responses by Jena Cruz-Lichauco
What inspired you to start The L.A. Shoppe? 
I remember applying at FIDM (Fashion Institute of Design and Merchandising) in Los Angeles when I was in high school. Part of the application requirements to get accepted to FIDM was to write an admissions essay answering some questions regarding your goals, hobbies, special interests, your reasons for choosing FIDM, major you are considering, and your goals and aspirations upon graduating. Another requirement is submitting a portfolio entrance project for your desired major. I chose fashion design. I had to sketch six individual fashion illustrations that represent the theme of the inspiration and attach a fabric swatch to each illustration. Since FIDM is the only school I dreamed about getting into, I decided to do more than what was expected to get accepted. Instead of six drawings I did twelve. I also designed my own dream store on a huge board with exactly how I would want it to look. I called my dream store The L.A. Shoppe. I made my shop look Hollywood, appealing, and most importantly, unique. I came up with the name The L.A. Shoppe because I grew up in Los Angeles and really love the city!
Since I wanted my dream store to be Hollywood and wanted it to have a Marilyn Monroe/Audrey Hepburn style, I decided to use Shoppe instead of Shop. Shoppe has a more old-fashioned charm to it, and not a lot of stores use Shoppe. That way The L.A. Shoppe sounds more up-to-date but also vintage, which relates to my one-of-a-kind designs. As I presented my designs and my dream store board, I [presented] it to an admissions officer, who automatically told me that my major should be Merchandise Product Development. They saw in me a business woman and a designer, and I completely agree! I was later accepted to FIDM, and graduated in two years with an A.A. in Merchandise Product Development. I was inspired to start The L.A. Shoppe as I was going into College. I learned about Etsy and opened up my online shop.  I started selling at local craft fairs, after which I saw an increase [in sales] with my items.

Tell us a little about your creations.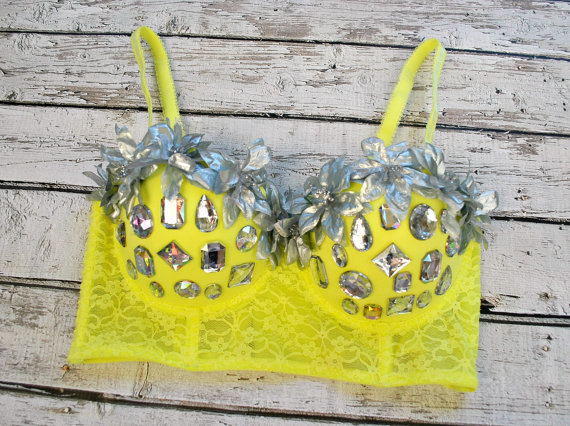 My creations are handmade, one-of-a-kind pieces. I try to make each piece stand out from the crowd, making my creations unique, also reflecting my personality, and what I am feeling at that moment. My style is a combination of the color pink, Barbie®, glitter, bohemian, gypsy, vintage, Marilyn Monroe, and mermaids. My creations are [designed] for unique individuals, who love to have fun and are not afraid to dress differently. I make anything from flower crowns, tutus, trinket boxes, earrings, bib necklaces to bras, and anything else I can think that will sell!
I heard a few celebrities have worn some of your creations. Whom have we seen sporting The L.A. Shoppe?
I have designed some tutus for celebrity Master P and his daughter Cymphonique Miller. You can see Cymphonique sporting the tutu I designed for her in her music video, "Daddy I'm A Rockstar." Cymphonique is also sporting The L.A. Shoppe's High Heel Chained Sunglasses on her other music video,"All That," featuring Romeo and Lil P-Nut. Kristen Kelly aka Blondie from the Bad Girls Club Miami Season 5 has also been seen sporting The L.A. Shoppe one-of-a-kind accessories designed by me. I have also sent my bib necklace and earrings I designed to Jennel Garcia from X-Factor.
What advice would you give to any young upcoming designers?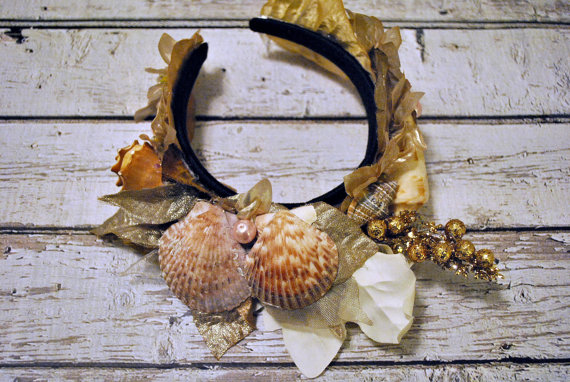 Always be humble! Also avoid burning bridges because your paths may cross again. You can bump into anyone in the fashion industry, even the people you worked with in the past. Be yourself which is most important. Stay true to your own designs and your own creative work. It's always good to be aware of the current trends and observe them, but also try to avoid them; the designs have already been done and it is never a good idea to duplicate other people's designs. Also, build relationships with everyone you work with and try to connect with people in the fashion industry. Social Media is great for your business! I recommend creating a Linkedin, Twitter, Tumblr, Pinterest, Facebook and Instagram account. You will never know who will contact you when you create these accounts! A celebrity can come across your website, love your work, and contact you. You will see increased sales and growth once you start promoting your business and connecting with people. Also, never let your financial problems stop you from doing what you love. There are a lot of successful people who have struggled in life and were at the bottom before their success. There were times I would struggle with some of my expenses and worry about how I will make it, but I never let that stop me from doing what I love. I worked two to three part-time jobs and worked hard no matter what. Working hard will get you recognition and respect. I was never the type who cared about what kind of car I drove, just as long as I paid my dues . . . that's what matters. You should always believe in yourself and in your work. Don't let anyone stop you from doing what you love because all that matters is what makes you happy. If you believe in yourself, you can achieve anything. It is important to take risks and never be afraid! The fashion industry is very fast-paced; it's all about taking risks. And it's okay to make mistakes because you learn from them. Remember, your struggles make you stronger!
What has been the biggest challenge you have encountered as a designer? What is your biggest accomplishment thus far?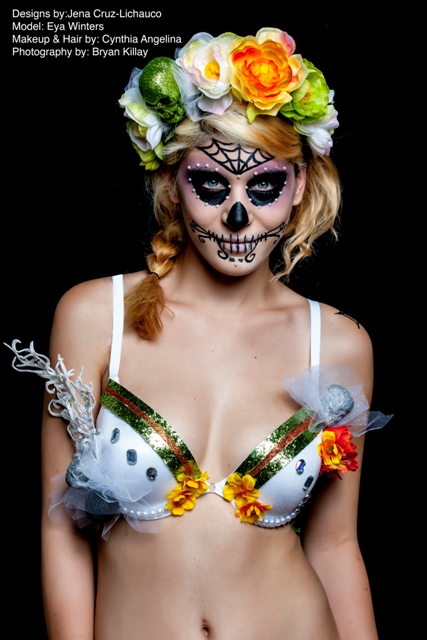 My biggest challenge as a designer and business owner is finance management. I started The L.A. Shoppe when I was entering college. At a very young age, I had to think about saving to pay off my loans when I graduate, save for supplies to design, as well as create for my business, and support myself all at the same time. This was a challenge for me, especially when I had no help from my family. (They were going through tough times and financial problems at the time.) I was on my own at a young age. I was about 19, working two to three part-time jobs that didn't provide benefits to employees. So it was hard for me to keep up with my business as a designer being a full-time "working" student. These jobs left me exhausted at times. Everything worked out in the end. I graduated FIDM in two years with good grades. I was able to make the Principal's Honor Roll. I continued to work hard, save money, and still keep a growing business. As I worked, I had the opportunity to meet a few important people who helped me in the fashion industry. Some of those people were the people I worked for in my jobs. I started building relationships with these people and have seen progress in The L.A. Shoppe. My boss who I worked for at that time helped me sell my one-of-a-kind tutus at a local Sanrio store. I also had the chance to meet with Master P and do business for his daughter Cymphonique Miller. I would say that my biggest accomplishment so far is having my tutu that I designed in a celebrity's music video, and also having the chance to sell my designs in well-known boutique stores.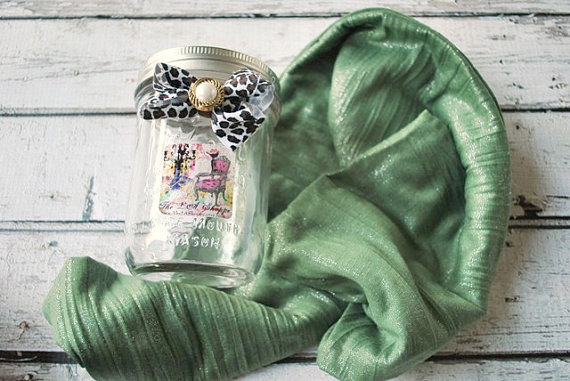 What can we expect next from Jena Cruz-Lichauco? (I love your name by the way; it screams FASHION.)
Thank you for your compliment! You can expect many new ideas coming next from me! Fresh new designs are always something to expect from The L.A. Shoppe. Also, more collaborations with talented people in the fashion industry. I recently collaborated with talented makeup artists, hair stylists, models/actresses, and photographers in the industry. I would like to mention makeup artists Taryn Janeane, Cynthia Angelina, and Cristina Fabian; hair stylist Andy Comito and Cynthia Angelina; models Eya Winters, Rachel Jane, and Bambi Smith; and photographers Bryan Killay, Davar Stephen, and Tim Bennett-Smith. They are all talented people who I would like to thank for collaborating with me.
Is there anything you want to share with our readers?
I would love to share a quote that inspires me, and I hope it will inspire Agenda's readers.  I believe this quotes has helped me with my business and to stay true to what I love, fashion. I would like to end this interview with the words "WORK HARD. STAY HUMBLE."
"One of the lessons that I grew up with was to always stay true to yourself and never let what somebody else says distract you from your goals. So when I hear about negative and false attacks, I really don't invest any energy in them, because I know who I am."—Michelle Obama
If you would like to know more about Jena, please visit her at the following websites.
The L.A. Shoppe website:  www.thelashoppeco.com
Facebook: www.facebook.com/thelashoppe
Instagram: @thelashoppe
Twitter: @thelashoppe