The Nose Knows: Best Holiday Fragrances
By
Shahada Karim
| December 16th, 2013 | Category:
Fragrance
,
Gift Guides & Gift Suites
,
Men
|
Comments Off

on The Nose Knows: Best Holiday Fragrances
The Holiday Season tends to bring out the best, and the absolute worst, in fragrance selections. While there is no shortage of pumpkin-spiced everything, we've managed to find some fragrances that don't remind us of a terrible holiday party that we got duped into attending.
This fragrance flies in the face of traditional fragrances and dares the wearer to be bold. 10 Roam features a blend of wild coffee flower, crisp pepper leaf, and saffron. It's light and very dark all at once, and quite memorable. Although it smells traditionally masculine, we can easily envision this on the quintessential "fearless" female.
Tom Ford Oud Fleur 
This fragrance is part of Tom Ford's Oud Collection (which also includes Oud Wood and Oud Tobacco). But this fragrance stands out as the most versatile of the three.  Traditional Oud is blended with three types of rose, making the fragrance both bright and spicy.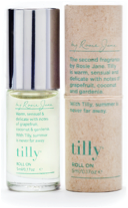 Tilly by Rosie Jane
Not interested in going "spicy" for the Holiday Season? Tilly by Rosie Jane is an intoxicating floral blend that smells like the perfect summer bouquet. Initially created for the wedding season, Tilly translates beautifully for cooler weather as a sweet alternative to heavier scents.