Recommended Holiday Reading
By
Lee Peoples
| December 15th, 2014 | Category:
Book Reviews
,
Gift Guides & Gift Suites
|
Comments Off

on Recommended Holiday Reading
Anyone who knows me or has followed some of my reviews on Agendamag.com or on Amazon.com knows how eclectic my reading interests are.  I love a good book, whether it is romance, historical fiction, time travel, horror . . . or any other subject or genre.  Sometimes, depending on my mood or the need for a lift from heavier reading, the more escapist the better!  Such was the case recently.
After finishing the last book in Ken Follett's Century Trilogy, Edge of Eternity, I needed some light reading, like a Nora Roberts romance.  But it would be a while yet before her new book, which I had pre-ordered, would appear on my Kindle.  Sharing this with my sister Mary, a reading buddy of mine, I was introduced to Ava Miles, a USA Today bestselling author.  My sister gifted me the first novel in Ava's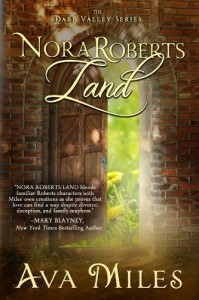 Dare Valley Series, Nora Roberts Land.  I fell in love and have just finished the second in the series, French Roast.  There are four more, and I intend to read them all:  The Grand Opening, The Holiday Serenade, The Town Square, and The Park of Sunset Dreams.  Try this new author whose first in her trilogy is free to download on your Kindle on Amazon.com.  So much like a Nora Roberts's romance with her "happily ever after" theme, Ava Miles's books will reward you with an approach uniquely Ava Miles's own, albeit with similarities to Nora's strong, beautiful women and strong, handsome men. Following is a list of other authors whose books will make excellent gifts for those who love to read.
Nora Roberts: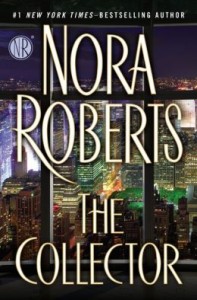 The Collector – An excellent stand alone mystery, The Collector is all about one of the last eight Imperial Faberge eggs—originally there were 50, as commissioned by Tsar Nicholas for his wife Alesandra.  Oliver, Ash's half-brother, acquired one from an estate sale and was murdered for it.  Vasin has three.  "Soon I'll have four," he tells Ash and Lila (the main characters in this novel).  The fourth is the one for which Oliver and later Ash's uncle Vinnie died:  the Cherub with Chariot.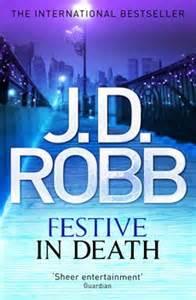 Festive in Death (J. D. Robb) – The newest in her "In Death" series is among her best murder mysteries.  Just when you think you know who the murderer is, the author surprises you.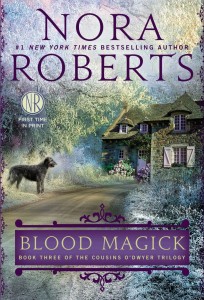 Blood Magicks – The final novel in Roberts's time travel romance trilogy has the O'Dwyers of the present (2013) and the dark witch Sorcha's three of the 13th century combining forces to once and for all defeat the evil Cabhan.  Will they be successful so that Branna O'Dwyer and Finbar Burke (who bears the mark of Cabhan) can finally be together?  This is Nora Roberts in her "happily ever after" style, so that how it ends is not the driving force of the plot.  It is the beauty and the suspense of how she does it.
Stephen King: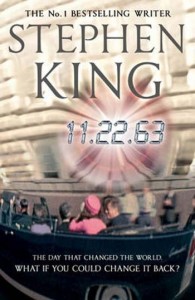 11/22/63 – Historical fiction, romance, and time travel novel in which Jake Epping, the main character, travels numerous times from 2011 to the past with the express purpose of preventing the assassination of JFK on 11/22/63, and thus also saving the lives of Robert F. Kennedy and Martin Luther King Jr.  But the past does not want to be changed and fights back.  Having accomplished his purpose and in the process having changed others' lives along the way, Jake returns to the present, he thinks, for one last time.  But upon returning, he is devastated at the destruction he has inadvertently caused both in the present and in the past. So he plans to return to the past one last time for a reset. No matter how many times he returns there, it is always two minutes before noon on September 19, 1958, and every trip is a complete reset.
Jodi Picoult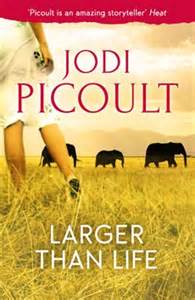 Larger Than Life –A novella, this is a prequel to Picoult's newest novel, Leaving Time.  Alice, mother of Jenna, the narrator and main character, tells the story of her work with elephants in Africa through her journal, which her daughter finds years after her mother goes missing.
Leaving Time – "Elephants never forget!"  Jenna's mother, Alice Metcalf is missing.  She disappeared ten years ago when Jenna was only three years old.  It is ten years later, and Jenna is still looking for her.  Refusing to give up, Jenna finally turns to Serenity, a psychic, and an ex-policeman, who now a detective blames himself for her mother's disappearance.  Found injured and unconscious on the elephant preserve, she had been taken to a hospital, from which she disappeared.
Time travel of an unusual type, the novel is narrated by each of the main characters.  And although elephants can't talk, they still play a major role in solving this mystery, for elephants never forget.
Ken Follett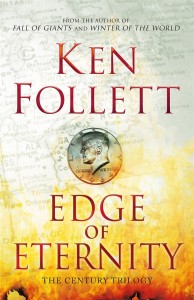 Edge of Eternity – Ken Follett earns a 5-star rating for his capture of the years 1961-1982 in Edge of Eternity, the third and final historical novel in his Century Trilogy.  I was particularly moved by the depiction of those years in America:  the civil rights era here in America and the assassination of our imperfect but beloved President Kennedy, his brother Robert, and Dr. Martin Luther King Jr.  I was deeply affected by the happenings in the other countries:  the Bay of Pigs in Cuba; the Iron Curtain in Russia; and the Berlin Wall in Germany.  I became emotionally attached to most of the main characters, empathizing with each of them in their desperate situations.
Follett's manipulation of so many years and so many nationalities—American, British, German, Polish, and Russian—and so many settings sometimes made for confusion; but as I had done with the previous books in the trilogy, I made charts of the different families in their settings and referred to them whenever I needed to be reminded of who they were.  And yes, I believe it was the longest of the three, but none of the narrative was extraneous.