ISSUE #39 – FALL 2011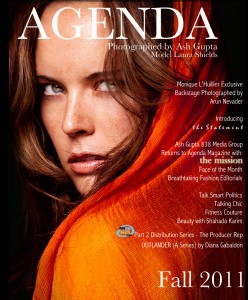 Agenda Magazine – Fall 2011 Is Here!
Fashion 1.
1. Monique L'Huillier Spring 2012 Exclusive Backstage: The Thought Behind the Theme
2. Monique L'Huillier Exclusive Backstage Photos by Arun Nevader
3. Altuzarra During New York Fashion Week – A Classy and Edgy Spring 2012 Collection
4. Altuzarra Spring 2012 Collection Photographed by Arun Nevader
5. Anna Sui's Spring 2012 Playful Collection Has a Multitude of Inspirations While Still Flattering a Woman's Figure
6. Anna Sui Runway (MBFW Spring 2012) Photographed by Arun Nevader

7. October 2011 Face of the Month Nastassia Lindes
8. Nastassia Lindes Fashion Editorial
9. Ash Gupta 838MG Summer 2011 in Review Article
10. Summer 2011 in Review Pictorial
11. THE FLARE – Fashion Editorial
Book Review
12. Outlander (A Series) by Diana Gabaldon
Columns
13. Talking Chic: Scared to Be Silly
14. Talk Smart Politics: Is America's Middle Class Evaporating?
Fitness Couture 15. Do I Choose Low Calorie, Low Carb, or a Low Fat Diet?
Beauty 16. Girl Power: The Beauty of Haughty Cosmetics
17. Taking Care of Your Hair This Autumn – Tips from Veteran Hairstylist David Harrington
18. Way to Wear It: Deconstructing the Smoky Eye
19. Verabella Spa in Beverly Hills Gets a Visit from Actress/Talk Show Host Claudia Jordan (Video)
20. Distribution Series Part 2 – The Producer Rep (Video)
21. The Meritage Resort and Spa
22. The Napa Valley Wine Train – ALL ABOARD for Fine Food and Fun
Entertainment Review
23. BROADWAY WILL NEVER BE THE SAME! – THE BOOK OF MORMON

24. The Forgotten Home – A Photo Essay
25. "gli uomini così non esistono" – (men like this don't exist) Fashion Editorial
26. "The Forgotten House" Fashion Editorial