ISSUE #45: JULY 2012 TEAM AGENDA – CELEBRATING OUR INDEPENDENCE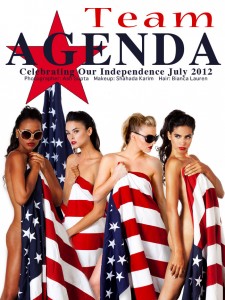 Fashion Reviews
1. Cheers to a Project Ethos Night of Cute-Themed Cocktails, a Breathtaking Collection from a Boston Fashion Designer, and Boys on the Catwalk!
The Mission (Ash Gupta 838 Media Group)
2. "7 Deadly Sins" Fashion Editorial by Ash Gupta and Viktorija Pashuta
3. Face of the Month July 2012: Lavinia Postolache (Including Fashion Editorial)
4. "My True Religion" Fashion Editorial by Alex Barakat
Book Reviews
5.  A GIFT FOR MY SISTER by Ann Pearlman
6.  THE FORGOTTEN GARDEN by Kate Morton
Talking Chic
7.  Is it Healthy to Celebrate Plus-Size Fashion?
Fitness Couture
8.  Staying Healthy During Your Pregnancy for Plus Size Moms to Be
Beauty
9.  Cover Story: Team AGENDA
10. Pucker Up: SPF for Lips
11. Beauty Breakdown: Products for AGENDA's Cover Story
12. Enchant Me: The Secret World of Rouge Bunny Rouge
13. Beauty 101: Simple Storage Solutions
Plastic Surgery
14. My New Hero, Dr. Alexander Rivkin – Filling You in on the 15 Minute Nose Job
The Indie Hotspot
15.The Secrets to Distribution Part 3 – Genres and Niches
16. Emmy-Winner Journalist, TV Actor, and Jazz Entertainer Jay Jackson Talks About His Journey Through Jazz
17. Legendary Drummer Jack DeJohnette – Celebrating His 70 Years
(iRock Jazz)
18. Interview with Musical Wonder Brian McKnight
19. Esperanza Spaulding:  Music for Everyone's Palate (Video)
The Statement
20. Green America – An American Photo Essay Produced by Jeff Linett
21. "Last of the Malibu Sun" Photographed by Jeff Linett
22. "Last of the Malibu Sun" Videos
Letter from the Editor
23. Pick a Side:  A Letter from the Editor Wishing You a Happy Fourth of July