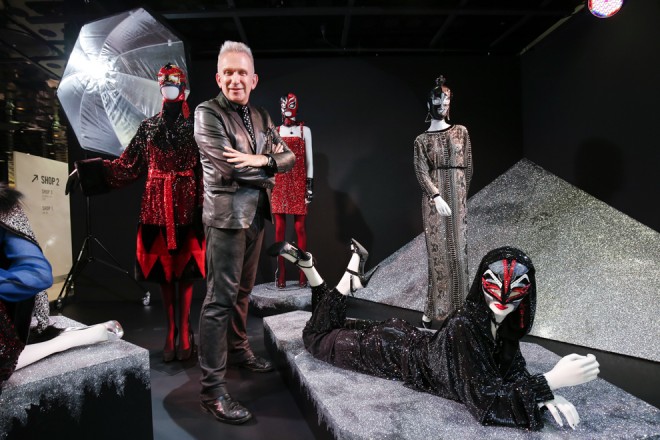 Celebrity Haute Couture designer Jean Paul Gaultier has staged an installation at two Swarovski Kristallwelten Stores in Wien and Innsbruck from September 15, 2015 through September 18, 2015.  Deemed the bad boy of designers (enfant terrible) the French designer has shocked the fashion media, made headlines, and pushed the limits of stylists he has worked with.  Gaultier has created designs for royalty, A-list celebrities, and has had many of those designs, including the famous Madonna Bustier, exhibit around the world.  In this installation, Jean Paul displays highlights from his recent haute couture collections on mannequins designed especially for each location.
"It's nothing less than a love story with Swarovski. I feel like we already have children together and there are new ones to come," says Jean Paul Gaultier.
Gaultier demonstrates not only his virtuoso handling of crystal as a material, but arranges the display in his usual manner, with that typical Jean Paul Gaultier twinkle: In Vienna, for instance, he presents a mannequin in a wheelchair, and reveals it all under Marilyn Monroe's uplifted dress as she stands on a raised cube in her legendary pose from the film The Seven Year Itch. Other mannequins are displayed under the glare of neons, dressed in nothing but crystal and tattoos – one of Jean Paul Gaultier's strongest trademarks.