What a Delight – Douglas Hannant's Fall 2010 Ready-to-Wear Collection Is a Peacock in Flight!
By
Kaylene Peoples
| May 1st, 2010 | Category:
Articles, Interviews and Reviews
,
Fashion
|
No Comments »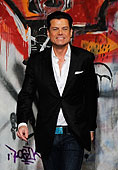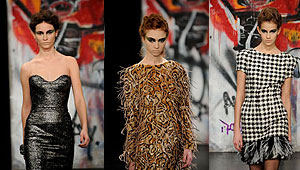 Need a cocktail dress with a hint of feathers?  Or perhaps you want to make an 80s inspired entrance.  Maybe sophistication isn't your thing.  Try out the graffiti print skinny pant, topped with a billowing sleeve renaissance blouse.  The Douglas Hannant ready-to-wear collection is an eclectic combination of styles ranging from peacock feathers to fur collars to a splattering of original graffiti hand-painted beading.
Born in the Midwest, Douglas Hannant was a former assistant to a window dresser at Barneys New York over a decade ago.  Since he launched his first collection in 1996, Douglas Hannant has built a reputation for designing high-end, luxurious garments.  His latest collection, which showed at the Kaye Playhouse on the Upper East Side, was the perfect stage for his fall 2010 ready-to-wear collection.  The collection was a mixture of tweeds, sequins, hand beadings, and graffiti-inspired prints, which consisted of an array of colors, feathers, and fur.
Peacocks strut their stuff, and so did the models in their peacock-styled makeup and hair. (The models' eyes were made up to look birdlike.) Do you think Hannant was trying to tell us something?  Feathers are the trend of the season, and Hannant amply infuses them throughout this collection.
Known for adding a touch of 'new' to classic styles, Hannant has a special talent for adding trends with a few refined twists.  Two standout pieces were the black and white checkered dress with a matching feather "skirt" hem and the brown and earth tone muted animal-pattern frock with scattered feathers.  Other great pieces were the 80s-tributed gold and black v-neck sequined mini, adorned by a metallic wide lapel coat, topped with a woven matching metallic beret.  Deep color palettes, such as rich purples, chocolate browns, vivid reds, and greens stood proudly alongside the graffiti print pant and gown.   And the black renaissance blouse and beaded aqua cocktail coatdress added a nice touch.  My favorite piece in this collection was the peacock-themed sleeveless tunic with sheer blue up top—I just love those green/blue peacock feathers kissing that blue.  Hannant's entire collection is simply a peacock in flight!
Reviewed by Kaylene Peoples
Check out the Douglas Hannant "Behind the Scenes" footage of the runway show, photographed by Arun Nevader.