M-Design – Icelanders' Fashionable Solution for the Cold While Still Looking Stylish, as Told by Co-Designer, Ragga
By
Kaylene Peoples
| February 14th, 2011 | Category:
Articles, Interviews and Reviews
,
Fashion
,
Interviews
,
Videos
|
Comments Off

on M-Design – Icelanders' Fashionable Solution for the Cold While Still Looking Stylish, as Told by Co-Designer, Ragga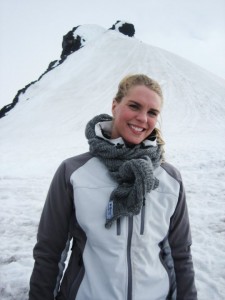 Ever wonder what goes on on the other side of the world?  Have you ever been curious about how those from Nordic countries dress, design, and feel about fashion?  I'm not surprised to learn that people are basically the same no matter what part of the world they come from.  We all love beautiful clothes, and we all want to keep warm.  Living in Southern California makes me spoiled because I rarely pull out my winter coat.  But traveling to New York as frequently as I do for fashion week, I have developed a need for affordable, warm clothing.  M-Design is an Icelandic clothing line that offers the perfect solution.  M-Design was created by designer Margrét Árnadóttir fifteen years ago; and her granddaughter, Ragnheiður Ragnarsdóttir "Ragga," joined the team just two years ago.  Since then, together Ragga and Margrét have made M-Design wearable to people of all ages.  They have created a collection of clothes and accessories that are both modern and stylish, with a touch of old tradition.  Their newest collection includes sweaters, hats, fingerless gloves, legwarmers, capes, scarves, hood scarves, and mittens.  Everything is made of 100% Icelandic wool.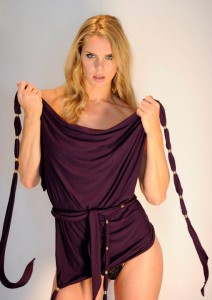 I met Ragga when she was modeling at a photo shoot for a new magazine we're launching (American Fella), and as I was interviewing each of the models, I discovered Ragga was not only an Olympic swimmer and a model but a fashion designer, too.  I just had to get her story.  After the photo shoot was over, Ragga and I arranged to meet at another time at Agenda Loft to talk about the fashion line she's part of, M-Design.
How did you get involved in doing fashion design?
My grandma is a fashion designer whose been designing for 50 years, M-Design for 15 years.  About two years ago I started working with her full-time and we've been doing it ever since.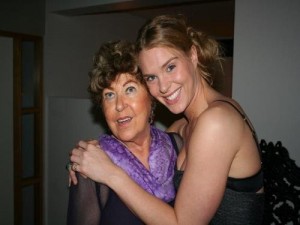 Tell me about your grandmother.
My grandma, Margrét, is 82 years old.  We actually found a sketch of a woman in a dress from 1932, when she was about 4 years old.  "This is where it started," said Ragga's grandmother.  She was in a little place in Iceland outside the city.  She didn't know anything, but she loved to draw clothes.  She never studied fashion design and started designing at 40.  And she did it really well.  She started working with Icelandic wool about 25 years ago, and she loves it.  She calls herself the wool queen of Iceland.  The "M" from M-Design comes from her name.
I recently discovered something about you, that you are also a professional swimmer.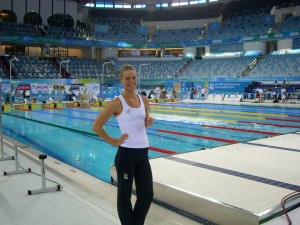 I've been a swimmer for 20 years now since I was six.  I've been to the Olympics twice.  I swim for Iceland, obviously, since I was 13 on the national team.  I'm still working towards the London Olympics.  That will be my third.  I swim 15 times a week.
What does a day of designing consist of for you?  It must be very difficult training as an Olympic swimmer.  It probably takes hours daily. Yet you still have the designing and selling of a clothing line.  How do you do it all?
Well, my grandmother and I do it together.  She's still working, and she does a lot of stuff that falls on her.  I do a lot of the promoting online.  Together we think of things to design, make prototypes . . . we try them out.  We have them manufactured if they work.  It's basically just a fun day at work.  I'll think that I need something to wear with a piece that I already have, so I'll start designing something, and we'll work from there.
Do you do the sewing yourself?
We have a few places that sew our designs in Iceland.  One place can't make them all, so we have about six or seven places that make them.  We just design.  It's manufactured for us.  It's all Icelandic material, Iceland-made, Iceland-based company.  We have our little place where we can work on our prototypes, but we have them manufactured for us.
Now, is it all wool?
It consists of wool, fur, skins . . . some of our items like the fingerless gloves are lined with fleece.  Sometimes the Icelandic wool stings a little, so we line it with fleece so it's really soft and warm.  The Icelandic wool is rain repellent, and the fleece is wind repellent.  So the two work together well.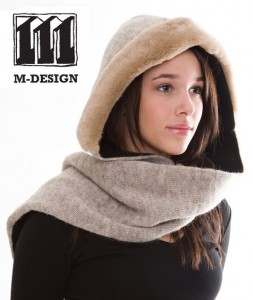 What are some of the highs with M-Design?
When I started with my grandmother, we started with a couple of new designs.  I designed a few things myself, and what I really loved was when I walked out into the street and saw people wearing my clothes.  I went to London, and I saw a non-Icelandic person wearing it.  To see people actually loving the clothes, wearing them well, and that it looks good on everybody, that's the real high for me.
Have you had any lows?
With the volcanic eruption in Iceland [last year], the tourism was really down for a while.  We have our Icelandic customers, but Iceland is really small.  So all the tourists come and buy the Icelandic wool and design.  We had a little bit of a low this summer as a result.  The volcano calmed down and people started coming back to Iceland.
As a young designer, working with your grandmother's company as you do, what advice would you give people trying to launch their own line and become a designer?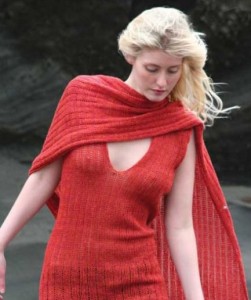 I would tell people to just go for it.  If you have a vision, just go for it.  Think about all the small stuff.  It's just not designing, making, and selling.  There were a lot of little things that I didn't know about until I started doing it.  It can't just look good.  You won't sell it unless you market it right.  We pay everyone a fair wage.  Nothing we use is harmful to the environment.  That's something I think about a lot.
What's the difference between Icelandic wool and other wools?  Other wool is scratchy, it seems.  And this is not scratchy.
People come to Iceland and they know about the Icelandic sheep and they know about our wool and its reputation is really good.  Since I only work with one kind of wool, I can't really tell you the difference other than it feels softer, less scratchy than other wools.
Visit www.cold.is to learn more about M-Design.
Watch the video.