THE HEART TRUTH'S Red Dress Collection 2011, a "Cause Celebre" Creating Awareness for Better Heart Health for Women Everywhere
By
Kaylene Peoples
| February 14th, 2011 | Category:
Articles, Interviews and Reviews
,
Fashion
|
Comments Off

on THE HEART TRUTH'S Red Dress Collection 2011, a "Cause Celebre" Creating Awareness for Better Heart Health for Women Everywhere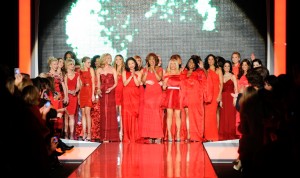 From Alison Sweeney to Suzanne Somers, The Heart Truth's Red Dress 2011 Collection was spectacular in every way.  Each celebrity walked the runway to her own special choreographed song.  Singer Patti LaBelle strutted confidently to "New Attitude" as she wore Zang Toi.  Alison Sweeney, known for her role in Days of Our Lives and reality TV's The Biggest Loser, walked and flexed to "Let's Get Physical."  She wore Tadashi Shoji.  When pin-up model Dita Von Teese appeared in her Zac Posen, she was a vision. Other highlights were Gayle King in Donna Karan, Katrina Bowden in Oscar de la Renta, and Denise Richards in Matthew Williamson.  Natasha Bedingfield wore Nicole Miller and closed the show with a live, acoustic performance.
This is my fourth season watching The Heart Truth and with that experience, it brings back mixed emotions.  The fact that there are so many celebrities willing to give their time for this cause warms my heart.  For those of you who aren't familiar with it, The Heart Truth is a national awareness  campaign for women about heart disease sponsored by the National Heart, Lung, and blood Institute (NHLBI), part of the National Institute of Health, U.S. Department of Health and Human Services (HHS).  The Red Dress became the national symbol for women and heart disease awareness back in 2002 by NHLBI, created to remind women to protect their health and inspiring them to take action.
Below are known facts about heart disease in Women:
Heart disease is the number 1 killer of women.
Heart disease awareness among women has doubled in the last 12 years, yet only 16 percent of women consider heart disease to be the greatest problem facing women.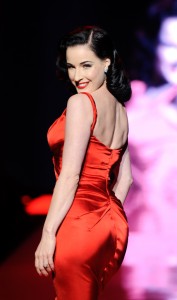 More than 80 percent of midlife women (ages 40-60) and more than 60 percent of young women (ages 20-39) still have one or more of the modifiable risk factors:  high blood pressure, high cholesterol, overweight/obesity, physical inactivity, diabetes, and smoking.  Having just one of these factors doubles a woman's chances of developing heart disease.
Awareness leads to action.  Of women who know that heart disease is their leading cause of death, 35 percent are more likely to be physically active and 47 percent are more likely to report weight loss, compared to those who were less aware.
By doing these four things, women have the power to reduce their risk of heart disease:
1. Eating right
2. Being physically active
3. Not smoking
4. Keeping a healthy weight
The Heart Truth offers simple tips for heart health:
Don't smoke and if you do, quit. Women who smoke are two to six times more likely to suffer a heart attack than non-smoking women.  Smoking also boosts risks of a stroke and cancer.
Aim for a healthy weight. It is important for a long, vigorous life.  Overweight and obesity have caused many preventable deaths.
Get Moving. Make a c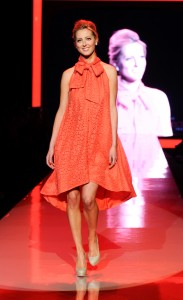 ommitment to be more physically active.  Aim for 30 minutes of moderate-intensity activity preferably every day.
Eat for heart health. Choose a diet low in saturated fat, trans fat, cholesterol, and moderate in total fat.  Eat plenty of fruits, vegetables,whole grains, and fat-free or low-fat milk products.  Also, include lean meats, poultry, fish, beans, and nuts in your diet.
Know your numbers. Ask your doctor to check your blood pressure, cholesterol, (total HDL, LDL, triglycerides), and blood glucose.  Work with your doctor to improve any numbers that are not normal.
Overall, if you follow these guidelines, your chances of preventing heart-related health issues are slim.  Don't become a statistic; be proactive.  And that is what The Heart Truth's Red Dress Collection is all about . . . creating awareness in an effort to maintain healthy hearts and live a longer life.
So, what did I think about the Red Dress 2011 Collection, held at the Theater at Lincoln Center on Wednesday, February 10, 2011?  I liked the use of RED!  (The amount of shades baffles the mind.)  I felt each dress complimented its wearer well.  I did have my favorites, though.  I just adored Archie Penjabi's dress (our cover model), which was designed by J. Mendel.  I also really liked the way Laila Ali looked in her maternity evening gown designed by A Pea in the Pod.  Audrina Patridge really wore her Badgley Mischka sequin gown with confidence.  She was stunning.  Garcelle Beauvais was a vision in Monique L'Huillier.  But my absolute favorite was Eva Amurri in Chris Benz.  Why?  Maybe because it reminded me of that classic 60s era.  Hers was a sweet dress, very understated but still elegant and classy.  Overall, ladies, you were all smashing and rocked that runway!
Check out the runway show photographed by Arun Nevader.