Award-Winner Songwriter/Producer Preston Glass Talks About His Career and Gives Advice to Musicians Navigating Their Way Through the New Music Industry
By
Kaylene Peoples
| May 4th, 2011 | Category:
Indie Hotspot
,
Indie Hotspot Feature
|
2 comments
You might not recognize his name, but I bet you've heard his music.  Preston Glass is a songwriter and a producer who has written over 30 R&B hits and 5 top ten hits with artists such as Whitney Houston, Earth, Wind & Fire, George Benson, Lionel Richie, Aretha Franklin, and more.  He is a five-time BMI Award winner (three songs received the Millionaire Awards), and he was a professor of music at UCLA (extension programs).  I recently had the privilege of hearing him perform some of his hits at the Westport Jazz Festival in Los Angeles.
I visited Preston's home in Los Angeles.  Upon entering, the first thing you see is his beautiful baby grand piano in the living room.  He guided me to his home studio, full of musical equipment and a sound room.  Up on the computer screen was a song he was working on, displayed in the sequencing program Logic Audo.   While I sipped my Good Earth Spice tea he had prepared for me, I had a lovely chat with him about his career and where the music industry is headed today for both established and independent artists.
Interview by Kaylene Peoples
Responses by Preston Glass
Tell me a little bit about your career.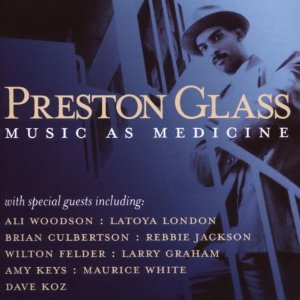 I started writing songs on guitar when I six.  I didn't actually know what I was doing when I was composing.  My older brother asked me where I heard the song I was playing, and I told him I made it up.  He was shocked, so he had a little tape recorder and started taping my songs.  I was about 10 or so.  I kept writing songs with the encouragement of my family and friends.  I have been doing it professionally ever since I got out of high school.  I signed with a company as a staff writer to Tom Bell.  Philly Sound was the next big black music company after Motown.  Their music was The O'Jays, "The Love Train," "Betcha by Golly Wow," etc.  In the late 70s I started sending my music to them.  I relocated to Seattle, and Tom Bell signed me, took me under his wing; and after a couple of years I started having cuts with Denise Williams, Dee Dee Bridgewater, the Temptations.  I started writing for Narada Michael Walden and wrote for Angela Bofill, Aretha Franklin, and a young new singer named Whitney Houston.  That's when I started really learning production.  We were in the studio cutting tracks.  Clive Davis's label was producing hits, and he saw my name on the credits and asked me if I wanted to produce Kenny G.  With a small budget, I produced Kenny G, and "Song Bird" exploded.  Then the floodgates opened, and I got thrust into production, but I still consider myself a songwriter even now.  I still play and sing a little on the songs I produce.   In 2006 I became an artist.  A jazz label wanted me to be a solo artist, and I was asked to do an album, Street Corner Prophesy, which featured Al Jarreau, Johnny Mathis, The Spinners.  My second release, Music As Medicine, had Brian Colbertson, Rebbie Jackson, Larry Graham, Maurice White, and I just released an album last December.  The first single, "Orange You Ready," went to the top ten.
Do you do a lot of performing?
I'm toying with the idea of doing an all-star cast of people who've sung on my album.
I understand you also teach?
I taught at San Diego State, and I taught at UCLA a couple of years ago, "Song Writing in Today's Music Industry."
I'm very interested in hearing real professionals who are doing music in today's industry offer ways to help those independent musicians.  Everybody's scratching his head trying to figure it all out.
Offering my two cents on how I can help is definitely a passion of mine.
First of all, what do you think about how the music industry algorithm has shifted?  Record sales aren't what they used to be.  Even though there's online distribution, it's still hit or miss with a lot of artists.  Labels are closing left and right.  Do you have an opinion about in what directions things are headed?
Those are big questions, and the answers to those questions are evolving every day.   When a lot of my contemporaries are being asked those questions, they blame it on pirating (stealing music).  In this case, I guess free downloading of music.  But I don't think that's the blame.  Pirating has always been there—maybe not at this large of a scale.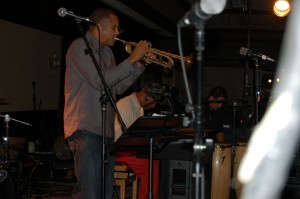 So it's not Napster's fault?
No.  Back in the day people recorded albums on cassette and shared it with their friends.  But most people, after hearing it on the copied cassette, some would go out and buy it.  So, to me it was like promotion.  It's always been that way. So to blame free downloading and pirating is not the end all.  Now let's look at the record companies who have always been the ones to reap the most benefits monetarily, more so than the creators of the music (producers, artists, publishers).  Let's not look at the independents right now but the big artists like Rolling Stones, Mariah Carey, who are brands.  They don't need record companies now.  The labels used to be the only way to get the music to the people, that and radio, television maybe a little.  Record companies kept the lion's share of the money (85%).  So, now that they're not needed primarily, unless the artist wants them, we're seeing a shift.  Instead of the record company signing these artists and giving them an opportunity, now it's the other way around.  For instance, John Legend gave Sony a chance to distribute his music.  The contract is more to John's benefit.  Prince was the first to do that.  Record companies don't have a monopoly anymore; that's why they're closing shop.
Now the independent artist trying to break in . . . it is a little harder; but then in some ways I think it weeds out the men from the boys, so to speak.  The ones that can't perform and bring their audiences with them and create a buzz or following are the ones that are weeded out.  It's really the ones that are studio-type artists that can't really get out there and perform.  The ones that can get out there and perform, even though they haven't gotten exposure on a mass distribution, they start building a following through word of mouth, and then eventually something will happen.  The good thing is you don't have to sell a million albums to make money.  One of the reasons why some artists have had to sell a million to break even is they would get a little up-front money—most of that went to pay for the album.  The record company would charge all that back and do a promotional recoup.  It was nonstop where they'd never recoup.  That's why Tony Braxton and TLC, who've sold millions of albums, went bankrupt.  But now if you sell 20,000 records, multiply it by $10 per CD sale, you just made $200,000.  It adds up.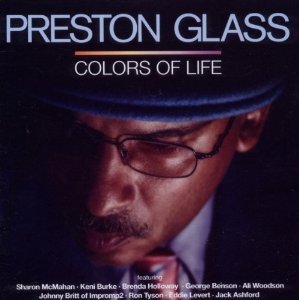 When you're selling music at a show, how do you get the Sound Scan?
But what's the goal?  To pocket the money, right?
Well, I think some people will want to pocket it, but I also think some people might want to get the notoriety and possibly be considered for a Grammy, too, or at least be considered viable on that level.  So you can sell your CDs out of your car, but you're not advancing your career.
Yes, then you need to do it right, even if you do it on your own label.  Barcode it, and now they have these international record recording codes per song.
The ISRC codes?
Exactly.  The older people are still trying to do it the old way, and they are a little bitter about not getting the big up-front money and letting the record company do everything and all they have to do is sing.  Those days are gone.  But they don't have the royalties on those huge hits.  Look at the Stylistics ("Betcha by Golly Wow"). They had eight top ten pop hits and R&B and hits, too.  The labels they were on weren't that big; and when those labels sold, their accounting was so bad they got nothing from those hits.  I made a deal with them to make a new album.  If they made a new CD, they'd sell a lot of CDs because they have a huge following.  Three years ago I convinced them to pay for a new album.  I charged $15,000.00 for the whole album.  I even got them a full orchestra on three songs.  For four grand a member they pooled their money, and they made their money back; and I got them a deal in Japan.   It took two years to convince them because they were so set in their ways.  I also gave them a piece of the publishing.  We're about to do the same thing with Cuba Gooding, Sr. ("Everybody Plays the Fool").
This is a different side of things.  We've been focusing on the new artists, but you don't think about the established artist who's flailing.  What about them?  Any advice you'd like to give?
Follow your instincts and don't try to follow exactly what everybody else is doing.  I remember in the early 90s when hip-hop was getting big.  I was talking to this publisher about switching to hip-hop.  He said the world will revolve and circle back.  Stand there and do what you do, and it will come back around to you.  At first I didn't know what that meant, but it has proven to be true.  This business, this art form, is full of opinions.  Sometimes none of them are wrong and none of them are right.  So don't put your faith in every word.  They might be negative, but if you really believe in what you're doing, do it!  There are tons of people who've been told no, and they ended up being the greatest artists in histories.  Remember The Beatles?
My mom always says cream rises to the top.  Eventually you'll get there.  Any last words?
In my career and in my life there were a few people who've steered me in the right direction.  This industry is a lot about avoiding pitfalls really.  If you hit a pitfall that's a bad one, it will take you a while to get out of it.  But if you can avoid it, you're on a faster track.  I always say when I'm teaching, "This is not the end all because there are a lot of different ways of doing things."  And yes, the cream does rise to the top!
For more information about Preston Glass, visit www.personaltouchrecording.com and www.thrillentertaingroup.com.  His CDs are available on Amazon.com, Barnes & Noble, iTunes, and CD Universe.