Should What's Worn in Jersey . . . Stay in Jersey?
By
Elana Pruitt
| July 5th, 2011 | Category:
Columns
,
Talking Chic
|
No Comments »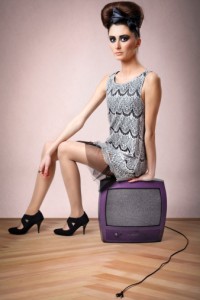 I'm sure that there are many, many New Jerseyans—most specifically Italian New Jerseyans–who are annoyed with the few select, so-called reality television stars who have set the big hair-little skirt-bright makeup stereotype for the rest of the country to make fun of. However, I'm sure there are others who are happy and proud that variations of the "Snooki" and "Peggy Bundy" looks are being coined as specific "Jersey Fashion." But exactly who are the ones that are happy? Could very well be those who are driving right next to you, on Wilshire. East coast fashion inspires west coasters big time, we know this. So it makes sense to me that the daring trend of combining sexy and smutty with barely-there fabric is hittin' the LA area as well.
In my eyes, in the eyes of a native Southern Californian, I feel that the so-called Jersey Fashion portrayed on TV is bold and definitely not boring. Tacky? A bit, perhaps. Fun? Without a doubt. Appropriate for all sizes and shapes? Negative.
Recently, when hanging out at a bar on Sunset, I looked around, noticing a trend that was scary. It was the "I don't care what my shape is, I'm gonna show off every curve and lump and bump" mini-dress. I was saddened watching overweight gals trying to keep their legs together when sitting on a bar stool or yanking down their spandex material as they huddled and walked in groups to the restroom. I also couldn't help but notice that there were very few men being lured in by this style. These ladies, that night, were not unattractive. In fact, you should have seen their smiles, hairstyles, and shoes. Lovely! It was the way that they portrayed themselves, trying to make a trend work that just wasn't designed with their shapes and sizes in mind. As I scoped the bar, I wasn't viewing the obvious Jersey Fashion-inspired digs with a critical eye. It was just . . . you couldn't help but notice how they let the trend wear them . . . instead of vice versa. You also couldn't help but see the laughs coming from the opposite sex as they walked by. I'm sure that was hardly the response these women thought they'd get from wearing what they wore.
What we see on TV shapes many of our fashion senses. So I gotta ask: Should what's worn in Jersey . . . stay in Jersey? I suppose that's all a matter of taste, where you're going, whom you're with, and whether it will attract others or detract from your beautiful self. What is right for one reality TV character may not be right for you. And most likely, if you're a "Jersey Shore" and "Jerseylicious" fan like I am, it just isn't.