Top 5 Tips for Working Out with No Time to Be Found
By
Anthony Heredia
| July 5th, 2011 | Category:
Fitness
,
Fitness Couture
|
3 comments
Finding time to work out these days is about as daunting a task as finding a grain of rice on a sandy beach. It's not exactly easy—or is it? Wanting to be in better shape just isn't enough these days without some effort, especially when our schedules can be as hectic as the trading room floor near closing. The thought of squeezing any more into a week already brimming with a sea of obligations may leave you seasick alone, but where there is a will there is a way. It is a common misconception that it takes long workouts at the gym to reap the proper benefits, but all that is actually need is a fraction of time, combined with imagination and intensity. If you aren't able to make it to the gym, bring the fitness gym to you. The world is your gym. With a bit of creativity, your living room can transform into your weight room, your local park can become a boot camp, and your backyard can become your aerobic studio. Here are some easy methods for incorporating an active lifestyle into your schedule when time is precious and nowhere to be found.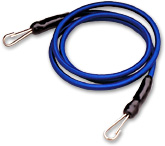 1)    Resistance Cords
Resistance cords are the best fitness investment you can possibly make without even a dent to your wallet.  Elastic cords are as simple and versatile as they are inexpensive. A set of resistance cords can, for the most part, mimic just about any bulky piece of fitness equipment you can imagine. The largest difference between elastic cords and typical weights is the fact that a 5-lb weight will always weigh 5 lbs, while the cords' resistance will change and increase as you stretch them. This can be used to your advantage since one cord can give you the resistance range of an entire rack of heavy, bulky weights. Resistance bands are overgrown rubber bands whose resistance will vary according to their thickness. Cords can range from 5 lbs to 55 lbs of resistance and will cost you anywhere from $5 to $50 for a full set of varying cords that would cost hundreds if you were to purchase bulky weights. The greatest advantage to bands aside from their obvious low price and portability is their versatility. When using large, bulky equipment, you typically need to get up from the machine to change the weight or move to another machine to work a different body part.  With bands, however, you can change from a chest exercise to legs in a matter of seconds. You can build an entire fitness routine around just one cord! These cords can be purchased at any fitness store or even your local Target, and most kits will come with a starter DVD. To customize your own workout, simply head to Youtube.com and type in "resistance band exercises"; and you can choose what's best for you.
http://hubpages.com/hub/Resistance-cords-exercises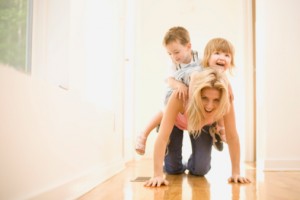 2)    Treat the World like Your Gym
You can also make the world your gym by seeing everything through new eyes. Just about anything you see can become a piece of gym equipment. While standing in line for coffee, you can raise yourself up onto the tips of your toes and back down over and over again for a great calf workout. While sitting at home or work, using a Swiss ball as your chair will work your entire core as you change positions to maintain balance and posture.  You can even use gallons of milk as weights and curl them up as you bring them into the house from the car. If you are a parent, play with your children! Run around, play ball, or lift them up in the air and set them down more than you typically would! (As long as they aren't screaming at you or shooting strange looks, of course.) Every movement and every physical effort counts and adds up to a great workout by the end of the day should you combine a few of these each day. You are limited only by your imagination.
3)    Go Harder, Not Longer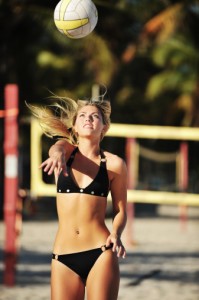 If you have a fitness routine you currently love already, but it seems too long for days when time is tight, just increase intensity and reduce your time by half. Most individuals who have some experience with an active lifestyle have found something that they thoroughly enjoy but takes an extended amount of time, such as jogging for an hour. Most individuals who might not have experience in efficient fitness training tend to linger in the gym much longer than needed or take too many long breaks during aerobics. Try enjoying your typical workout, but go harder by doubling your intensity, adding more resistance or making the exercise more complicated for half the time. If the Elliptical or Stairmaster is your choice, grab some weights and curl them as you do your cardio as intensely as you can. Get your heart rate up! If running is your cup of tea, then add some ankle weights; or if you're more advanced, then add a weight vest. Take shorter breaks while going twice as hard and a typical one-hour workout can be achieved in thirty minutes or less. If you simply cannot push yourself hard enough, I would recommend finding yourself an intense boot camp that will do the pushing for you. Two to three weekly boot camp sessions will be more than enough to change your body for the better at a rapid rate and keep you motivated much longer than you would be on your own.
4)    Press Play – Workout DVD Programs
Why waste time driving out to the gym when you can blast your favorite music as loud as you like at home while sweating to some fitness eye candy on your T.V? DVD programs are always great as they come in just about every imaginable flavor, are relatively inexpensive, provide great motivation, and allow you to follow at your own pace. Choosing the right program is much like picking a pair of shoes. There is one for every occasion and mood. In general, you want to pick a program that challenges you. If you aren't being pushed past your comfort zone, you will get slow results. The best workout is definitely the one that has you coming back for more, but be sure it works your entire body and leaves you exhausted. Once your program loses its luster or becomes easy, it is time to find the next level. I have always been a huge fan of www.beachbody.com programs, if you would like some advice on where to start looking.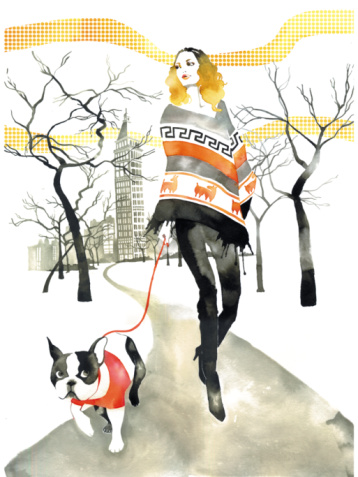 5)    Every Step Counts  – Walk Everywhere and Count
Just moving a little more every day can go such a long way. By burning off just 300 calories a day you would lose 1 lb every 12 days. This is very little work for such a great reward. You might have heard someone mention at some point that you should aim to walk 10,000 steps a day. This is the equivalent of almost 5 miles. If you make an effort to move more in the day, it is much easier to shape up when time is truly tight. To keep track of your steps, you will need a pedometer, which you can pick up at any local fitness department in your favorite store. It will take some effort to reach your 10,000 daily steps, but this process will keep you motivated and will truly help shape you when time is scarce. An active lifestyle should not be a hobby you squeeze in, but a fundamental part of your day. You wouldn't go a day without brushing your teeth, would you? Below are some examples of activities, the number of steps you will take while accomplishing them, along with the calories you burn hourly with some of your everyday endeavors to help motivate your movement.
Steps Toward 10,000 a Day
100-500 Steps
Park at the far end of the supermarket, work, or mall.
Take the stairs instead of the elevator.
Walk around the house for five minutes as you plan your day or just think.
500-1,000 Steps
Never sit, but walk around while you talk on the phone.
Clean your house for 20 minutes.
Walk during commercial breaks and sit on Swiss Ball when you are sitting.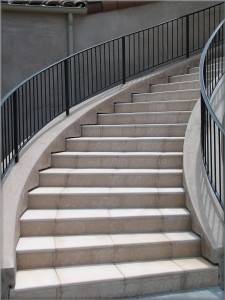 1,000-2,500 Steps
Walk to and from small local market trips.
Walk around work at least 5 times a day for a few minutes.
Enjoy a 20-minute walk after dinner with a friend.
Spend an hour gardening or cleaning your car.
Do one hour of challenging yoga.
2,500-5,000 Steps
Take your time at the market, walking for an hour.
Enjoy an hour bike ride.
Walk 30 minutes at a brisk pace.
5,000-7,500 Steps
Cut a half-acre lawn with a push mower.
Spend an afternoon raking up all the leaves.
Walk a 5k charity event.
Spend an afternoon walking around the downtown of a large city.
Dance the night away.
7,500-10,000 Steps
Walk the dog (or let the dog walk you) for 60 minutes.
+10,000 Steps
Jog from place to place all day, adding up to 45minutes.
Walk the equivalent of 90 minutes in a day at a brisk pace.
Chase a toddler for a full day, and you're well over 10,000.
Trade your car for bike and magic beans!
Keep your mailman or mailwoman company on their morning route (O. K. that might be a bit much).
Enjoy a day at your local theme park with friends and family.
| | |
| --- | --- |
| ACTIVITY | CALORIES USED |
| Sleeping | 60 per hour |
| Sitting on Couch | 75 per hour |
| Grocery Shopping | 90 per hour |
| Doing Light Household Chores | 95 per hour |
| Standing in Line | 100 per hour |
| Playing with Your Dog | 115 per hour |
| Playing with Kids (not rigorous) | 120 per hour |
| Driving | 120 per hour |
| Walking | 130 per hour |
| Shopping | 135 per hour |
| Eating | 140 per hour |
| Bowling | 145 per hour |
| Household Chores (vacuuming or scrubbing) | 225 per hour |
| Yoga (breaking a sweat) | 230 per hour |
| Gardening | 230 per hour |
| Brisk Walking | 250 per hour |
| Playing Golf (riding in a golf cart) | 250 per hour |
| Softball | 260 per hour |
| Skateboarding | 275 per hour |
| Mowing the lawn (push mower) | 295 per hour |
| Playing Golf (walking w/ bag) | 300 per hour |
| Lifting Weights | 300 per hour |
| Volleyball | 340 per hour |
| Hiking | 390 per hour |
| Shoveling Snow | 400 per hour |
| Power Walking | 400 per hour |
| Playing Basketball or Racquetball | 460 per hour |
| Tennis | 510 per hour |
| Swimming | 520 per hour |
| Bicycling (fast pace) | 530 per hour |
| Circuit Weight Training | 540 per hour |
| Stair climber in a Gym | 600 per hour |
| Jogging (5 miles per hour) | 600 per hour |
| Running | 700 per hour |
| Bicycling | 710 per hour |
| Water Aerobics | 720 per hour |
| Step Aerobics | 750 per hour |
| Spinning Class in a Gym | 820 per hour |
| Elliptical Rider or Rowing Machine | 850 per hour |
| Jump Rope | 900 per hour |
| Running (fast pace) | 1000 per hour |
Chart Courtesy of  www.thehealthyeatingguide.com
References:
1)    http://www.thehealthyeatingguide.com/calorieburningchart.html
2)    Best You Magazine, Walk It Off Issue – "Target 10,000" by Joe Kita, Dana Sullivan, and Selene Yeager