New Year New You Contest
By
Anthony Heredia
| January 23rd, 2012 | Category:
Contests and Giveaways
,
Fitness Couture
|
1 Comment »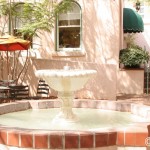 It is a shiny new 2012 year, and we are all trying our best to motivate ourselves into becoming the best version of ourselves we can be; so Agenda wants to help. Agenda is holding a New You kick start contest where readers write a two-paragraph explanation as to why you feel you deserve to be pampered for a day to kick off the new you in this new year. We will pick one lucky reader to send to the Renew Massage and Skin Care Spa for a luxurious full body Swedish massage, facial treatment, and make-up session, followed by a trip over to Saints & Sinners Salon for a fabulous haircut and enriching hair treatment. Anyone is eligible to submit, but you will need to live or be in the LA area to enjoy your day of pampering as travel is not provided. Send your two-paragraph submission to contests@agendamag.com and we will announce the winner next issue. Read more about Renew Massage and Skin Care Spa and Saints & Sinners Salon in this issue's review. Stay motivated by taking time to make sure you are happy at whatever you are doing. No matter how effective any changes may be for the new you, they won't help if they don't make you happy enough to keep them up. Happy 2012, Agenda readers!