Outlander by Diana Gabaldon – A Detailed Review of the Book Series
By
Lee Peoples
| January 23rd, 2012 | Category:
Book Reviews
,
Fiction
|
3 comments
In Agenda's November issue I briefly told you about Diana Gabaldon's Outlander series, seven books published between 1991 and 2009, with the eighth and final in the series due out sometime in 2013.  Since I started this series in September of last year, 2011, having been introduced to it when visiting my sister, I have not been able to put it down.  I urge anyone who loves good fiction with great themes like science fiction (time travel), historical fiction, Christian fiction, war, romance . . . sex, paganism . . . .  You name it, this book has it . . . .  If you are not daunted by length—the first book is the shortest with 850 pages; number two, 947 pages; numbers three through seven, between 1059 and 1439 pages—I guarantee you will fall in love with these books and will not be able to put them down.  Many times you will find yourself sitting on the edge of your seat in anticipation or expectation only to breathe a sigh of relief as one conflict after another is satisfactorily resolved.
You will fall in love with the characters who people these stories, and you will be amazed as I was that the author is able to maintain the consistency of the characterizations with her heroes as well as her villains—and her animal characters, for example, Clarence the mule and Rollo, Ian's wolf-dog.  As you read, you will have questions, but you will always be rewarded with the answers.  Claire Randall Fraser and Jamie Fraser are the central characters throughout.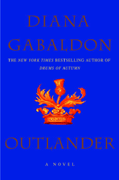 In 1945, after the end of WWII, Claire Beauchamp Randall, a combat nurse during the war, is reunited after six years for a second honeymoon with her husband, Frank Randall, who fought in the war.  They choose Inverness, Scotland, where they were married.  During a day of exploration by herself, Claire innocently touches a boulder in one of the ancient stone circles on the British Isles and is propelled more than 200 years back in time, thus book one, Outlander, copyright 1991.
It is 1743.  Claire is here a Sassenach, an "Outlander," and is in danger of losing her life in a Scotland torn by war and raiding border clans.  James Fraser (Jamie), a young Scots warrior, rescues her.  What develops is a love so passionate that Claire is torn between the love she has for her husband Frank and this gallant young warrior three years her junior.  Unable to get back to her own time, she has been forced to marry Jamie.  An unshakable love and bond develops between the two.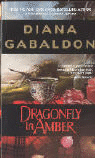 Book number two, Dragonfly in Amber (1992), has Claire returning to Inverness, Scotland, with her 20-year-old daughter, Brianna, fathered by Jamie Fraser before she returned through the stones.  At the end of Outlander, we saw Jamie take Claire to the stones.  We know she is going to return to the future, the 20th century, but it is not until this book, when Claire takes us back to the 1700s that we understand why.  So in her quest to discover what happened to Jamie, she encounters Roger Wakefield, who helps her in her research.  Learning that Jamie is alive, she goes again through the stones, but not before she tells Brianna the truth of who she is.
When Claire returned ill and pregnant with Jamie's child, Frank took her to the the US, where Brianna was born and where she, Claire, later returned to medical school and received her MD degree.  Frank, himself having been unsuccessful in fathering a child, raises Brianna as his own daughter.  Now, he has been dead for two years, and Claire chooses this time to tell her daughter Brianna the truth, thus the flashback, most of the 947-page narration.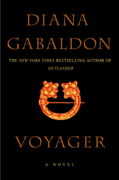 In book number three, Voyager (1994), Claire and Brianna along with Roger Wakefield in Scotland in the 20th century go through historical records to discover what happened to Jamie in 18th century Scotland after the war.  We follow their discoveries, and through flashbacks follow Jamie, who after Claire returned to the future, escapes Culloden and takes refuge in a cave near Lallybroch, his generational home in Scotland.  Later he is imprisoned, having made a plan to be given up to the British so that the price on his head can be used to keep his family and other members of his clan from starving during the famine that followed the war.
Claire returns to 18th century Scotland with pictures of Brianna and is reunited with Jamie.  Adventures resume, and they end up shipwrecked in America in the colony of Georgia.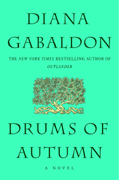 Book number four, Drums of Autumn (1997), finds Ian Murray, Jamie's seventeen-year-old nephew and another of the lovable, memorable characters in the series, adopted into a Mohawk Indian tribe in exchange for the freedom of the others:  Jamie, Claire, and Roger (who, having fallen in love with her, followed Brianna through the stones).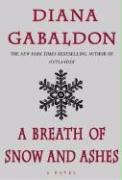 The Fiery Cross (2001) is the fifth book.  The American Revolution is just two years away, and the colonists are already in rebellion; yet Roger and Brianna are determined to stay rather than return to the 20th century where they would be safe.  It is also in this book that evidence of many time travelers before them is found, Roger's grandmother many times removed, having been one.  So he changes his last name from Wakefield to MacKenzie, his grandfather many times removed being an uncle of Jamie.
In A Breath of Snow and Ashes (2005), book number six, Brianna gives birth to a little girl, Amanda, who is born with a heart defect; and without modern medicine and surgical equipment, she will die.  The four of them, Brianna, Roger, Jemmy (their son) and Amanda, return to the 20th century, where Amanda will receive the surgery she needs to survive.  It has been discovered that the ability to travel through the stones is genetic.  This discovery is made with gems, precious stones.  Anyone who can hear the gems sing is able to travel through time.
"Time is a lot of the things people say that God is. There's the always preexisting, and having no end. There's the notion of being all powerful–because nothing can stand against time, can it? Not mountains, not armies. And time is, of course, all-healing. Give anything enough time, and everything is taken care of: all pain encompassed, all hardship erased, all loss subsumed. Ashes to ashes, dust to dust. Remember, man, that thou art dust, and unto dust thou shalt return. And if Time is anything akin to God, I suppose that Memory must be the Devil." That's the Prologue to A BREATH OF SNOW AND ASHES, sixth novel in the OUTLANDER series (following THE FIERY CROSS). Here, history once more catches up with the Frasers, and Jamie is at last obliged to declare himself a rebel, though this means the sacrifice of much of what he's built. The American Revolution is a civil war, with neighbor turned against neighbor, and the community of Fraser's Ridge begins to fragment. – Diana Gabaldon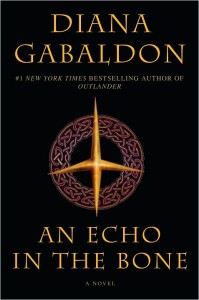 An Echo in the Bone (2009) is number seven in the series. As has been with each book, the plots and conflicts are numerous:  Jamie and Claire Fraser are now in the midst of the American Revolution; their daughter Brianna, her husband Roger MacKenzie, and their two children are settled at Lallybroch in Scotland in the late 20th century after their return from the past; Lord John Grey and his step-son William (Jamie's unacknowledged illegitimate son), are embroiled in the Revolution on the British side; and Jamie's nephew Ian's troubled life is about to take another turn.
The last, number eight, Written in My Own Heart's Blood, is due to be released early in 2013.  One-third through book number seven, I am going to find it difficult to wait for this last book as ever since I began the series, I have been unable to read anything else.  Learning about the series in July 2011, I was fortunate to be given all seven books by my sister so that when I finished one book, eager to read the next, I did not have to wait.  I recommend that you have all seven books on hand because once you start reading Outlander, you will not want to stop.  Many kudos to the author, who has thoroughly researched her material.