The Layer Effect: Skin Care Tips from an Expert
By
Shahada Karim
| March 28th, 2012 | Category:
Beauty
|
1 Comment »
Most of us are happy with a really good cleanser and moisturizer. But those who are truly serious about skin care know the value of a good serum, and the art of "layering" products.
We wanted to learn more about the "layering" technique, so we asked for a little guidance from Space NK Esthetician Stephanie Cooper.
-Why did you choose skin care as a profession?
"I believe that when someone has beautiful looking skin, it can also make them feel beautiful on the inside. My goal is to help them achieve that, no matter what their starting point is. Because I didn't grow up with perfect skin–I really had to work on it–it made me aware of how others may feel about their own skin issues."
-Tell us about "layering" skin care.
"I love layering serums and masks because you can really maximize the results. Let's say you have dry skin and are just using a hydrating mask. You can boost the performance of that mask by adding a hydrating serum. The molecules are smaller, and will penetrate deeper."
-Walk us through a typical layering technique.
"First, I'd cleanse the skin, pat it dry, and apply the serum. I'd warm the serum up in my hands, then "press" the serum into the skin. After that, I'd apply the mask and leave it on for the recommended amount of time. This layering technique ensures that I'm reaching the deeper layers under the skin's surface."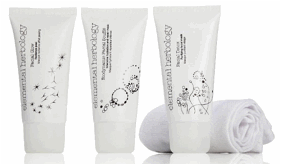 -Can you also layer regular maintenance skin care?
"Regularly layering skin serums and creams are a must in my book. Serums function as targeted treatment, and they're a great tool to help you reach your skin care goals. After you've applied your serum, follow with your lotion or cream. For daytime wear, always complete your routine with a product that contains SPF."
-Is there such a thing as too much layering?
"The key is exfoliation. If you don't exfoliate at least once a week, your products will just sit on top of the skin and not really absorb below the surface."
-Should you not mix certain products?
"It's a bad idea to mix products that have an exfoliating or peeling function. I don't recommend mixing a physical exfoliate like a scrub or a microdermabrasion cream, with a chemical exfoliate like a Glycolic Peel or an Alpha Hydroxy Acid."
-Some skin care products claim to be good for "all" skin types. Is there any truth to that claim?

"Unfortunately, there's no such thing as a "one size fits all" product. Everyone's skin type is different and should be handled on a case by case basis.
-What's your secret to perfectly clear skin?
"I wash my face twice at night, once to clean off my makeup, then again to really cleanse the skin. I follow that with a toner to restore my pH balance, and then I apply serum and cream.
Twice a week I exfoliate, and once a week I use a mask. Because the skin heals at night, my extensive regimen is normally performed before I go to bed. For daytime, I cleanse and tone, then use my serum, cream, and sunscreen."
*Products from Elemental Herbology are featured in this article. To learn more about the brand, visit their website: www.elementalherbology.com