Cheers to a Project Ethos Night of Cute-Themed Cocktails, a Breathtaking Collection from a Boston Fashion Designer, and Boys on the Catwalk!
By
Elana Pruitt
| July 1st, 2012 | Category:
Articles, Interviews and Reviews
,
Fashion
|
1 Comment »
Project Ethos returned to Avalon Hollywood on June 19, 2012, kicking off summer with its signature showcase of fashion, music, and art. It's the blend of creative inspiration that always gets my blood pumpin' a little faster and my heart skippin' along.
With one of my fave fashion gal pals in tow, we arrived just in time for the start of the fashion show. Actually getting there early, 'bout 8-ish, gave us a chance to receive a complimentary "fashion" cocktail (instead of a cute-themed "music" or "art" drink) and comfortably head to our seats.  We had a great view of the runway in the second row, and Coty and I delightfully sat behind Reza Farahan, the outspoken and endearing 'stache star of Shahs of Sunset, and catty-corner to the beautiful Golden Brooks from (what I think was) the best sitcom that ever hit the CW—Girlfriends. Not too shabby.
Sponsored by Armand de Brignac, the Project Ethos fashion event that Tuesday evening was split into two shows. The first one featured several emerging designers, including Lauren Stucky (Lauren Stucky), CamiilleLiim (Camiille Liim), Noah Landis (Kent Denim), Candice Wu (Candice Wu Couture), Nausheen Gilkar (Sheen), Brenna Hoffman (XYST), and Michail Sykianakis (Mihail Kian).
My fave of that particular show was, hands-down, Candice Wu's ready-to-wear collection. The models wearing this Boston fashion designer's pieces were laced in tons of black-on-black looks of various textures, sexy cuts, and mod-esque, militant styles. Wu's polished collection gave me ideas on what to don on chilly summer evenings.  As I studied her collection on the stage, I immediately conjured images of striking celebs, such as Rihanna and Tabatha Coffey, wearing her leggings and jackets. No doubt would their wardrobe be enhanced with additions of Wu's leggings and jackets.
Noah Landis's line, Kent Denim, was also quite delicious, as it offered the boys some accessible, ready-to-wear jeans and graphic tees. Fashion is for everyone, so I love when testosterone hits the runway!
Virtual Boy, a local electronica group, took stage after the first fashion show finished. While most people stayed in their seats during their performance (myself included), others took off for another cocktail or possibly to check out live art works from Lab Art's Meex One, Felix, Septerhed, and Philip Lumbang.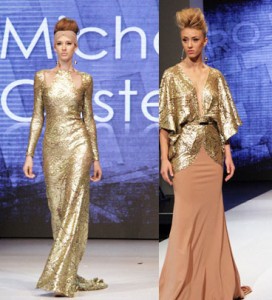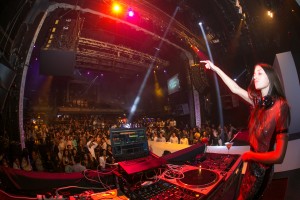 The second runway show featured some of the beloved designer contestants from Project Runway premiering their new lines. This included Bert Keeter, Godana Gehlhausen, and Michael Costello. Favoring the works of Costello, I loved how he added a touch of bohemian character to his sexy, form-fitting gowns, with the use of hair wraps and scarfed headbands.
Although I didn't stay for the after-party, hosted by  Jin&Quinn, I heard that the energy of the crowd was amazing with DJ Caroline D'Amore and actress Taryn Manning spinning. I also understand that dancers from LA Doll House took the stage at one point to open for 10 Corso Colombo, a favorite fashion collection by celebs like Kendra Wilkinson-Baskett and Lindsay Lohan.
I look forward to the next Project Ethos event! My senses are stimulated every time.