Ash Gupta's August/September Face of the Month – Lauren Caster
By
Ash Gupta 838 Media Group
| August 17th, 2012 | Category:
Face of the Month
,
The Mission
|
Comments Off

on Ash Gupta's August/September Face of the Month – Lauren Caster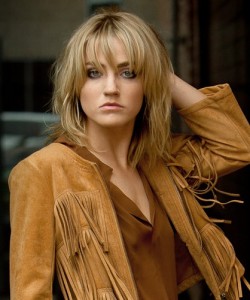 Our August/September 2012 Face of the Month, Lauren Caster, grew up on the beaches and deserts of California—"the best of both worlds," she remarks. Now living in Los Angeles, she recently met Ash Gupta and the talented group at 838 Media.
She didn't set out to be a model, but originally went to San Francisco to study Philosophy. While in school, she explains, "One night I had an awful dream about a kitten, a falling tree, and a fire fighter. Basically a warning sign that I wasn't on the path I needed to be, so I literally packed my stuff up into boxes and had UPS send them to Los Angeles to pursue acting and follow my heart." Her talent agent happened to have a modeling division which led to Lauren developing a modeling portfolio, which in turn led to her signing with her current agency, Pinkerton.
One of her first modeling memories was for a look book.  The shoot was hot and cramped, shot in the tiniest of rooms.  "It wasn't glamorous," she tells us, "and we did a million looks that day.   One of my looks was the same outfit the Swedish beer girls wear, you know, the skirt, ruffles, and the tights. I still have that picture and keep it hidden in a file of a file to look at every now and then for a good laugh and to remind me of where I started."
One particular shoot stands out as a favorite:  "We were shooting a lingerie spread at the penthouse of the Roosevelt Hotel, which has access to the roof behind the sign. They were all calling me a monkey, because there I was at nighttime in the freezing cold wearing only lingerie, swinging from the back of the sign on the roof. I think I scared them more with my fearless recklessness, but I was having a good time, and we got some amazing shots."
Lauren, whose personal style comes across as eclectic, funky, and chic, cites red lipstick as the one item of makeup she can't live without.  As a little girl, she wanted to be a Crayola crayon maker.  "When I was in first grade, we watched a video on how they make Crayolas, and I was fascinated with all of the colors; it was so beautiful to me. In a way I did become a Crayola maker. Just like all the colors of crayons, I play a certain color/part of a rainbow that tells a story."
While crediting her success to her mom and her best friends' support, Lauren does get frustrated with her career.  To anyone aspiring to be a model she advises: take persistent action and "don't give up." Besides, she mentions, "If I knew then what I know now, I wouldn't be where I'm at now."
Lauren plans to continue modeling and expand on her acting: "It all chalks up to experience and each modeling gig/story makes me who I am today," she adds.
Lauren at a Glance
What accomplishment are you most proud of?
Being Alive- ha!
5 adjectives to describe yourself?
Happy, zealous, silly, witty, thankful
Favorite models?
Kate Moss, Abbey Lee Kershaw, FrejaBehaErichsen
Do you believe in ghosts or aliens?
ALIENS
If you could eat only one food for a whole month?
Sloppy Joes
——-

Check out the fashion editorial of Lauren Caster.