Clean Sweep: The Best Makeup Removers
By
Shahada Karim
| August 8th, 2012 | Category:
Beauty
|
Comments Off

on Clean Sweep: The Best Makeup Removers

We did some deep cleaning, in every sense of the word, and some of the best makeup removers rose to the surface. From Balm Cleansers to Water Cleansers, these brands and formulations are what topped our list.
Balm Cleansers:
Darphin Aromatic Cleansing Balm
Price: $95
Location: www.spacenk.com
This balm goes beyond melting away makeup and cleansing the skin. Is smells absolutely amazing. It's all part of Darphin's aromatic approach to skin care. The formula is emollient to the touch but rinses clean and leaves the skin soft looking and smelling beautiful.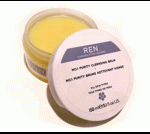 Ren Purity Cleansing Balm
Price: $48
Location: www.sephora.com
This is just as effective as the Darphin balm, with one difference: there is no scent. None. Not a single fragrance can be detected in this cleansing balm. If heavy perfumes or fragrance bothers you in any way, this balm is for you. It gets the job done quickly and effectively. It leaves no residue and no scent behind.
Oil Cleansers:


Noriko Cleansing Oil
Price: $29
Location: www.naimies.com
This is one of those lessons about judging a book by its cover because despite its very modest packaging, Noriko Cleansing Oil is one of the most potent blends on the market. This formula combines some of the most effective and aromatic natural ingredients to create a powerful but gentle makeup remover. One pump of this dark, citrus-scented oil and makeup simply melts away. It leaves the skin soft and clean without stripping it of natural moisture.
MAC Cleanse Off Oil
Price: $25
Location: www.maccosmetics.com
On the other end of the packaging spectrum is MAC Cleanse Off Oil. This highly effective formula comes in a lacquered box and a clear bottle. With the exception of several ingredients, you can pronounce just about everything on the label. It takes a few pumps to get the job done (the pump dispenses too little product, so 2 or 3 pumps are recommended); but it's a very efficient formula. The skin is left cleansed and gently moisturized, with virtually no trace of makeup left behind.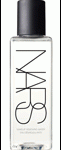 Water Cleansers:
NARS Makeup Removing Water
Price: $28
Location: www.narscosmetics.com
This makeup removing water is the latest addition to the NARS arsenal. It is so gentle that you can remove even the most stubborn makeup around the eyes with ease. What makes this soap-free formula noteworthy is the lack of dryness after using it. Dry skin types will definitely need to follow with a separate moisturizer, but oily skin types may be literally able to wash and go. A small amount goes a long way, making this formula worth it in terms of price and performance.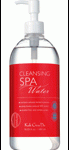 Koh Gen Doh Cleansing Spa Water
Price: $52
Location: www.kohgendoh.com
This formula has a vintage smell, like a bar of Grandma's lavender soap (the soap that's used for decoration, not actual use). Despite the fragrance, the formula is very modern. It cleans quickly and easily. Three pumps will saturate a cotton pad, and completely remove relatively light makeup from a full face. Heavier makeup will likely require a few more pumps (and maybe another cotton pad). It also helps that the larger bottle of this cleanser (16+ ounces) will easily last a few months, even with daily use.