Hair Apparent: An Interview with Hair Stylist Bianca Lauren
By
Shahada Karim
| August 8th, 2012 | Category:
Beauty
|
Comments Off

on Hair Apparent: An Interview with Hair Stylist Bianca Lauren
Bianca Lauren may be new to the hair styling scene, but she's no stranger to whipping up he perfect hair style. She's been blow-drying, curling and coiffing hair since she was a teenager. We recently got to talk a bit with Bianca about styling hair professionally.
AM-How long have you been a hair stylist?
BL- I've been a licensed stylist for 4 years, but I've been "doing hair" since I was 13 years old.
AM-Why did you decide to become a hair stylist?
BL- I believe hair is our crowning glory. It has such a major impact on how we act, look and feel. I became a hair stylist because I believe that something as simple as getting your hair done can make a major difference on your overall outlook. A new style, fresh cut or color can help give you that extra boost of confidence. I'm honored to have the opportunity to make a difference in any way I can.
AM- You do makeup as well. What inspired you to pick up a makeup brush?
BL- I was a tomboy, but growing up my mom was a bombshell. So I was introduced to the idea of "making up" at a very young age. I love the idea of creating new looks on a living canvas.
AM-Give us a general idea of how you've moved along in career path.
BL- I started out doing hair and makeup for various fashion shows during LA Fashion Week , where I developed relationships with designers and photographers. From there I started doing more editorial work and look books. I worked runway shows at boutiques like Em&Co. The owner, Eveline, really let me stretch my creative legs and do what felt right for the show and various designers. My work has been published in Today's Black Woman, Vogue Italia, and Hype Hair. Currently, I work with a bridal team under Monique Powers, and I've been privileged to join the Agenda team for editorial work.
AM-Do you have a "signature" technique?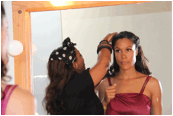 BL- I love protecting hair and skin first, no matter what. Whether the style is classic or completely over the top, my signature is always to maintain the skin and hair's natural health.
AM-Any advice for people looking to get into the industry?
BL- Get The Hair, Makeup & Styling Career Guide by Crystal Wright. It changed my whole trajectory and is one of the best investments for my career.