Julienne Johnson Reaches out Through Art in TOUCH ME TOUCH YOU
By
Eveline Morel
| August 18th, 2012 | Category:
L.A. Art & Culture
|
Comments Off

on Julienne Johnson Reaches out Through Art in TOUCH ME TOUCH YOU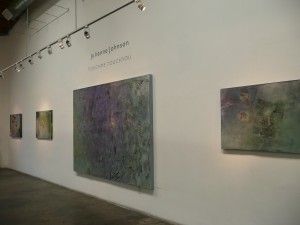 Julienne Johnson's latest body of work, "Touch Me Touch You," that opened at TAG Gallery on July 17, 2011, revolves around the idea of connection as the central theme:  her direct connection to the canvas as she paints with her hands; the connection of the works to her life story (past, present, and future); and our connection to each other as part of a multi-cultural,global community in a world where casual interactions made possible by technology impart a false sense of connection.
Although she incorporates words and letters in her works, the language she so masterfully uses is one of shape, color, and movement as her hands do the talking, manipulating, layering paint and everyday objects to paint a reflection of the world, filtering through her own subconscious layers of past and present experience.  In her words, "Painting is not an expression of me; it's an expression of my world."  Deceptively simple at first sight, the complexity of layers (sometimes as many as 30!), marks, calligraphy, mixed media, and textural movements, draws you into her narrative, where art eloquently and powerfully communicates what is unsaid, from the heart.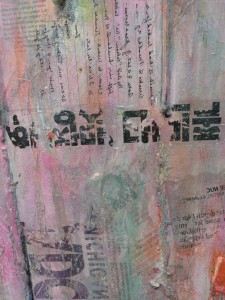 The heavy, dark layers showing through the light colors of the surface reflect the unsettling emotions experienced during her stay in Doha, Qatar, which in turn triggered not only childhood flashbacks of growing up within the Middle Eastern culture, but also the strong need to connect to the women hiding under the dark veils of "visual negative space" and hear their stories.  The resulting stories she tells on canvas, aptly entitled "Cries and Whispers," and "Ozymandias," are powerful and laden with meanings, hidden and implied.
Her works are hard to describe. Seeing digital representations of them would hardly do them justice . . . and in trying to describe them, we would then ascribe to them our meaning, rooted in our own experiences, which is the ultimate purpose, she contends, as "in a good painting, people see a reflection of their life in it, and connect.  When someone connects to a painting, they make it their own—I want them to do that; it's my biggest dream."
A skilled communicator with words, Johnson prefers the language of art to communicate feelings and emotions, as best expressed in her words: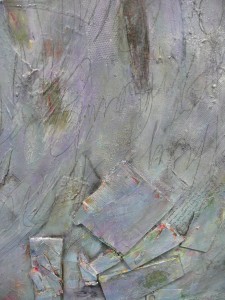 I make art
to communicate
what I cannot communicate with words:
what I need to say about it all;
what's going on in the world around us;
what I cannot fix;
what I wish I could make different . . .
with my paint, or clay, metal –
or the sledge hammer my husband gave me.
I work desperately hard at it all – hands first:
Putting on – taking off,
Scraping, sanding, sawing, soldering, pounding.
It takes a whole lot of passion
and persistence
when you are trying so desperately
to trade ashes for beauty.
Juliette Johnson's works are on display at the TAG Gallery from July 17 to August 11, 2012. TAG Gallery, Bergamot Station D3, 2525 Michigan Ave., Santa Monica, CA 90404.  Her book Ashes for Beauty, a compendium of her past works and essays, is also available at the gallery.