Product Review: By Terry Or de Rose Teint Supreme
By
Shahada Karim
| August 8th, 2012 | Category:
Beauty
|
Comments Off

on Product Review: By Terry Or de Rose Teint Supreme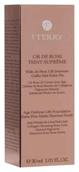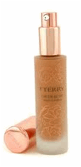 Price: $112
Location: www.spacenk.com
The coming Beauty Season calls for flawless skin with a seamless finish. We found that one of the best multi-tasking products for autumn is foundation. By Terry Or de Rose Foundation goes beyond simply concealing flaws; it also appears to offer skin care benefits for anyone who chooses to wear it.
What it claims:
An active lifting foundation which combines precious and natural ingredients to offer the skin protection against faded complexions, cellular damage and signs of aging.
This extra-fine, adjustable and comforting foundation softens wrinkles and skin irregularities, protects against premature aging and sculpts features with a powdery matte illuminating finish.
It contains a blend of anti-aging, regenerating 24-carat Pink Gold, collagen-boosting Rose cells and pigments extracted from Rose petals.
Volumes are redefined, contours appear tautened and signs of fatigue are swept away. The skin texture looks ideally even, smooth and radiant, as if lifted.
What we found:
If the first impression is the best impression, By Terry has succeeded in appearance alone. The foundation comes packaged in a "rose" tinted metallic box, meant to imitate the look of rose gold. Owner Terry Gunzburg is a huge fan of rose, and it's reflected in the appearance and presentation of this product. The bottle itself is made of frosted glass, with rose gold etching. The top and pump of the foundation is made of rose gold colored metal. No detail has been spared in the packaging.
The foundation itself is good. It smells distinctly of rose (in keeping with the theme) and dries to a matte finish. We found that this foundation has a medium coverage and that skin with any severe corrective needs will also need a concealer.
Despite the formulation, we are a bit disappointed in the foundation color range. This foundation will accommodate primarily fair skin tones. There are only five color selections, and the deepest color (Mythic Sand) tends to pull "pink," which is a major no-no for warmer skin tones. The pink hue may also be a result of the inclusion of pink gold. It's no secret that in addition to Gunzburg's love for rose, she also associates "pink" with the overall flush of healthy skin. But beauties with yellow, orange, or red undertones may beg to differ. For those skin tones, pink-based foundations are the enemy.
Brands like Bobbi Brown and MAC made their mark in the beauty industry by understanding that with the exception of a pink-based minority, most undertones are yellow and red. Parent companies like Estee Lauder and classic companies like Chanel soon took the hint and began to follow suit. Perhaps By Terry should step out of the past and take a lesson from present practices.
Presentation: A+
Formula: A
Coverage: A
Color Selection: C-