Barbra Streisand in Concert Opening Night at the Hollywood Bowl
By
Kaylene Peoples
| November 20th, 2012 | Category:
Entertainment
|
Comments Off

on Barbra Streisand in Concert Opening Night at the Hollywood Bowl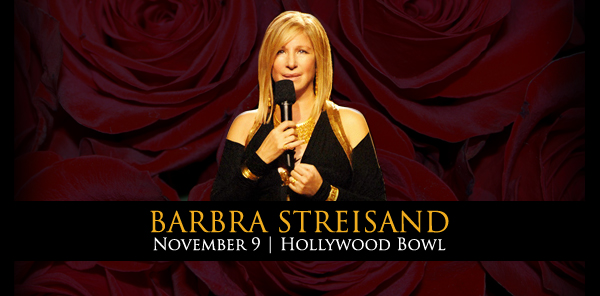 Barbra Streisand opened her concert tour on November 9, 2012.  I finally got the chance to see this legend perform live.  As I entered the Hollywood Bowl, I saw all the Streisand memorabilia (movie posters, t-shirts, programs), I was compelled to get one of her $40 dollar programs.  I probably would have paid $50!  Once the show started, Barbra greeted her audience with warm affection, even though she was freezing on stage . . . it was chilly that night.  From the first song to the last not much had changed and Barbra was traditionally "Streisand."  She still sang with the purity and distinctive quality that made her famous all those years ago.  She performed "My Man," "On a Clear Day," "Enough Is Enough," "Evergreen," and more standards made famous by her.  She did her unique version of "My Funny Valentine," too.  There were multimedia enhancements and special scenes from the movies she starred in.  She showed a candid video of fans' comical remarks about her, and a promotional video about her charity, The Streisand Foundation.  Barbra Streisand even included interactivity in her show by answering some of her audience's questions that she pulled from a box that evening.
Barbra Streisand was accompanied by a 60-piece orchestra conducted by Bill Ross and musicians contracted by Michael Keller.  On tour with her were performers Il Volo, an Italian trio of teenage brothers whose vocal prowess was magnificent. Trumpet player Chris Botti, while accompanying Streisand, soloed beautifully.  To a haunting version of "Nature Boy," her son Jason Gould played a video montage of his childhood with his famous mom; it was a touching tribute only to find out that Jason himself was the singer.  Gould also performed "Smile" as a duet with Streisand, then he ended with a solo performance of "This Masquerade."  Finally, Streisand's sister Roslyn Kind, also a well-known singer, did a duet with Streisand, too.  Barbra Streisand even shared with us a song of her mother performing through the speakers.  "See mom, you finally got your wish.  You're performing at the Hollywood Bowl," teased Streisand.
As a longstanding fan of Barbra Streisand, I expected nothing less than an incredible show.  I watched her concerts on DVD, I'd seen all of her movies, and owned just about every one of her albums.  You might call me a "Babs" expert! I have always been enchanted by her nuances, unique vocal style, phrasing, and her emotion when she performed.
November 9, 2012, Barbra Streisand entertained me, warmed my heart with her stories, cajoled me with her comedic timing, and amused me with her constant outfit changes; she donned three winter coats and some scarves throughout the evening.  Each time she added a layer, the audience was in stitches over her perception of the condition under which she had to sing that night.  For an entertainer who has made a career of making fun of herself through song and film with Funny Girl, Hello Dolly, and others, Barbra Streisand's performance at the Hollywood Bowl that night, in spite of the conditions, took me back to those early years in her career.
If you're considering purchasing a ticket to see her on tour, don't hesitate.  The high triple to quadruple digit price tag is worth ever penny.  Let's just hope that the next time she decides to perform at the Hollywood Bowl, she won't make us wait 45 years.  Barbra Streisand's last Bowl performance was in 1967!
To learn more about the Barbra Streisand's concert tour," visit Ticketmaster, like her on Facebook, or visit her website at www.barbrastreisand.com.