A Total "Thriller" of a Show! – MJ Live! at the Rio All-Suite Hotel & Casino
By
Marilyn Anderson & Dennis L. Lanning
| January 17th, 2013 | Category:
Entertainment
,
Romance on the Road
,
Theater Reviews
|
Comments Off

on A Total "Thriller" of a Show! – MJ Live! at the Rio All-Suite Hotel & Casino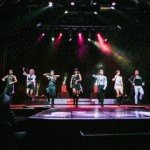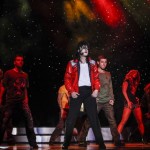 Michael Jackson, the King of Pop, was the most successful entertainer of all time. His contributions to music, dance and fashion made him beloved by audiences all over the world for more than four decades. Sadly, his life was cut short all too soon.
Now, a visit to Las Vegas gives fans the opportunity to remember, honor, and "see" the superstar perform many of the hits that made him an idol. MJ Live! is a tribute show at the Crown Theatre in the Rio All-Suite Hotel & Casino that packs in people of all ages. And with good reason!
Impersonator Michael Firestone is a look-a-like and sound-a-like who puts on an awesome, energetic night of entertainment.  His resemblance to Jackson is uncanny.  His musical numbers include Jackson's biggest hits: "Billie Jean," "Beat It," "Man in the Mirror," "Dangerous," "Black & White," "I Want You Back," and of course, "Thriller."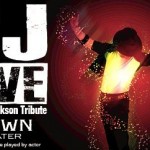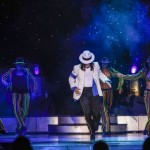 Firestone sounds so much like Jackson, sometimes you have to wonder if its lip synced.  But no—Michael Firestone is singing loud and clear . . . and his voice, moves, costumes, and mannerisms are fantastic.
Firestone is a consummate performer and one of only a few Michael Jackson Tribute artists who can actually sing live while mastering the intense dancing for which the King of Pop was known.
Firestone's love of Michael Jackson began at a young age.  He would practice his singing impressions and dance moves in front of a video camera in his living room. He wanted his vocal nuances and moonwalk to be no less than perfect.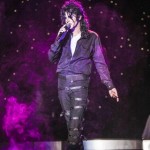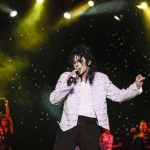 Lucky for the audience, who were ultra-receptive and appreciative; as Firestone went out to the crowd, you'd think it was Jackson himself! Young people and old people alike—they all loved grabbing his hands, posing with him, and hugging him.
Towards the end of the show, a young snippet of a boy, dressed in a Michael Jackson jacket was even invited up to the stage.  It was warm-hearted and adorable.
Backup singers and dancers add to the extravaganza; they are a group of talented performers who dance their way through all the numbers with exceptional energy and skill, wearing costumes like Afro wigs from the young Jackson Five days to luminescent-striped outfits and even bloody zombie outfits for "Thriller." In addition to his demanding singing and dancing, Firestone has 12-15 costume changes to keep him looking like MJ in every song throughout the 90-minute performance. The lighting, props, and effects are all top-notch, making MJ Live! a splendid night of music and entertainment.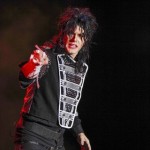 Michael Firestone works hard in MJ Live! and puts on a sensational show to honor the memory of a truly once-in-a-lifetime great—Michael Jackson.
So next time you're in Las Vegas, Beat It to a Thriller of a show—MJ LIVE! at the Rio All-Suite Hotel & Casino.
Prices:
Golden Circle Admission Show (Best Seating): $46.99 plus tax and fees
VIP Admission Show: $36.99 plus tax and fees
General Admission Show: $29.72 plus tax and fees
Kids' admission is FREE! – With every paid adult ticket, a child 12 or under gets free admission.
MJ LIVE!
Crown Theatre at the Rio
3700 W. Flamingo Road
Las Vegas, NV 89103
866-746-7671
http://www.mjliveshow.com