January 2013 Face of the Month Olivia Fox
By
Ash Gupta 838 Media Group
| January 17th, 2013 | Category:
Face of the Month
,
The Mission
|
1 Comment »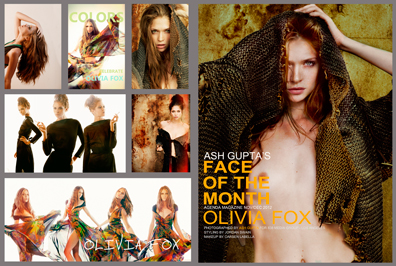 Our Face of the Month Olivia Fox grew up in Los Angeles but describes her origins as "French, Italian, Russian, and Galactic." Talking with her, one gets the impression that space—both outer and inner—is a common theme in her life. Wanting to be a ballerina and archaeologist as a little girl, she seems now to combine a quest for knowledge with an attitude of dancing through life. "I saw a UFO in Hawaii last month," she says. "It told me we are all an experiment."
Shooting with Ash Gupta and the team at 838 Media Group, her calm, grounded presence was unmistakable. "I feel I have a purpose to be in Los Angeles," she explains. "My intentions are becoming sweeter by the minute!"
Olivia has worked overseas, and two of her favorite places are Hawaii and Europe. "Favorite memories are connecting and weaving together the different people all over the world, the different beliefs and cultures." But working in Europe does come with its own challenge: "Being tempted by all the heavenly pastries, then being asked to squeeze into a size 24. Yikes!" she exclaims.
For those aspiring to model, Olivia advises: "Never take anything personally, don't make any assumptions, and always do your best. Try to be impeccable with your words. But I know it's hard when you're asked to lie about your age. Haha! Remember to be yourself," she continues. "There is only ONE YOU. Your individuality is so unique and divine . . . LOVE YOURSELF. It will show in pictures and auditions . . ."
Olivia describes her personal style as "Bohemian with a lot of white." Wearing white goes along with practicing Kundalini Yoga, of which she is a teacher. "I apprentice with Guru Singh at Yoga West," she tells us. "Kundalini is based off the Chakra System, breath work and discipline. Meditating for 62 minutes at 3:45 a.m. can be challenging; but after you've done it, you are reborn a newer, clearer, kinder, more humble compassionate being. Creation needs a base, a nucleus. A person with Kundalini experience provides such a nucleus…The first rule of Kundalini Yoga is that you do not show obnoxiously or politely, humbly or powerfully, any power of your own."
In terms of models and actors, Olivia is a fan of "CharlizeTheron, Kate Moss, and Erin Wasson [who are] ridiculously beautiful and talented, and all the Victoria's Secret models. I love Audrey Hepburn, Bridgette Bardot, Mia Farrow, and Vivian Leigh."
Her must-have carry along is her iPod with "chanting music, audio books (A New Earth and Power of Now by Eckhart Tolle), and of course, my favorite band, Medicine for the People."
Olivia's philosophy of life rings particularly relevant as a new year begins: "The only way to attain truth in happiness is to fully, truly, and deeply love yourself. Do unto others as you would want done to you. Life is a poem. Life is a paradox. Life is a miracle. Life can seem like a blessing and [be] a blessing in disguise."
Anything else, one asks, that she may want to share?
"And remember, I love you."
Olivia at a Glance
5 adjectives to describe yourself?
Magical, resourceful, compassionate, infinitely complex, and elegantly simple:)
Funniest or weirdest pickup line you've heard?
"Can I have your dog?"
What impresses you in a person?
Genuine, authentic integrity; presence, kindness, generosity, and humor.
If you could only eat one food for an entire month?
Green- fruit, nut and superfood juices.
Click to see the fashion editorial featuring Olivia Fox.
(Not viewable on IE)