Fun Times at The Kathy Duliakas's 5th Annual Celebrity Oscar® Suite & Party Benefiting the KIND Campaign
By
Kaylene Peoples
| March 12th, 2013 | Category:
Gift Guides & Gift Suites
|
1 Comment »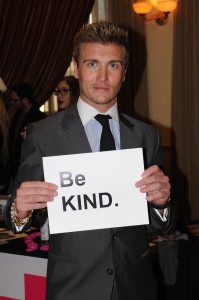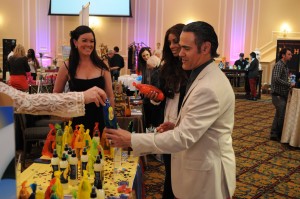 How do you say fun, gifts galore, and celebrity sightings? Where can a celebrity go to get beautifully designed clothes, high-end jewelry, free tequila, fine hors d'oeuvres, exquisite beauty products, cosmetics, shoes, and more in one afternoon without spending a dime . . . The Kathy Duliakas's 5th Annual Celebrity Oscar® Suite & Party Benefiting the KIND Campaign. I walked into the posh Taglyan Cultural Complex in Hollywood with ARGO antagonist Ali Saam (and occasional celebrity writer with Agenda) on February 21, 2013, just a few days before the 2013 Academy Awards; we were met by the lovely Becca McFadden, who kindly took our bags and escorted us through our gifting suite journey.
First stop was the KIND Campaign.  Celebrity guests were given an opportunity to film their own message against bullying in schools, creating an instant Public Service Announcement.  "It's so encouraging to see this desire to spread awareness about girl-against-girl crime and to support our efforts to launch KIND KITS this fall," states Kind Campaign co-founder Molly Thompson.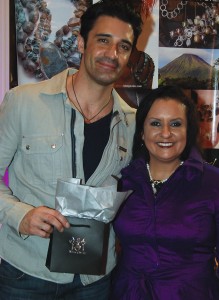 Once we entered the suite, there was a sea of booths filled with vendors and coveted products.  We stopped at Maleku Jewelry® and met designer lleana Rojas-Bennett, who told me about the philosophy of the company, then whispered to me, "My jewelry chooses its wearer, and this piece chooses you."  With rich stones and classy designs, these pieces are beyond exquisite.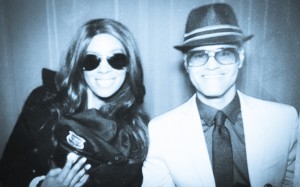 The fun started early when Ali and I were coaxed into taking some silly candid pictures at PhotoBoothPro.com.  We wore goofy hats and sunglasses.  The table was filled with colorful, cartoon-like memorabilia, creating a fun party atmosphere. We giggled all the way to the tequila booth.
KAH® Tequila was designed to pay reverence and honor to Mexico and its people. Its bottle and spirit are reflective of the Day of the Dead.  The packaging is inspired by traditional Calaveras used in Dia de los Muertos rituals to symbolize death and rebirth. The word "kah" means "life" in the ancient Mayan language. Every bottle is a handcrafted work of art; no two are the same. Ali and I each walked away with a little KAH® Tequila piece of art of our own. Ahem, but not after sampling the product first!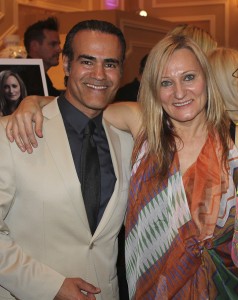 As I was savoring my tequila cocktail, Becca pointed out the lovely dresses behind GOGA by Gordana's bit of fashion real estate. Displayed were mannequins wearing bridal, and formal attire certainly suited for the red carpet.  But what I found most appealing was the scarf sarong Gordana, the designer, adorned on me—truly lovely, and perfect for the vibrant mood I was in—I walked in with a cream peasant top and jeans and walked out with a colorful flowing sarong (which complemented my outfit perfectly) as I continued my tour.  Ali chose a piece of an equally vibrant color for his wife Mahsa.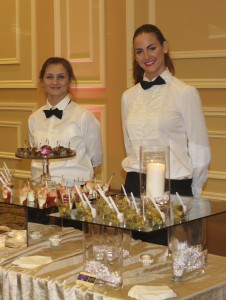 We three took a break to sample the hors d'oeuvres prepared by Taglyan's own Divine Food and Catering.  These mini meals were healthy, tasty morsels designed to whet our appetites.  It did just that.  After gobbling down a few, I scurried to Coffee Bean and Tea Leaf®'s display for some of their delicious coffee; I learned all about their newest product CBTL coffee maker.  Unfortunately, I spilled some of my very hot coffee and burned my hand.  So the rest of my stay, I walked around with an enormous icepack.  But I kept sipping my coffee anyway!
I spent time at Single's booth and reminisced with the delightful Mike Sam about Single's early days.  The new collection is lovely, and I could see myself wearing many of these garments.  Since we featured Single designer Galina Sobolev in Agenda in our second issue back in 2004, and followed her line for years, it was a nice trip down memory lane.
I kept passing the Julie Lopez shoe display, and finally stopped to check it out.  The designer Julie Lopez talked me into trying on a pair.  I did.  They felt amazing and looked even better on.  I took pause.  Why?  Because pumps hurt my feet and these did not.  These pumps were surprisingly comfortable and I needed to learn more about them.  "Beautiful shoes, beautiful heels without the pain," asserted shoe designer Julie Lopez of Julie Lopez Shoes.  I can't wait to get my own personal pair! Have any in size 9?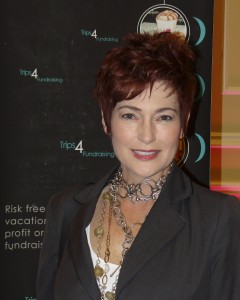 In the same aisle was the product Hot Iron Holster.  Creator Erin Balogh invented the Hot Iron Holster out of sheer necessity.   The way it works is just press the flap against a clean, dry surface, and insert your hot styling tool.  The Hot Iron Holster is a heat resistant, silicone pocket that holds curling irons, flat irons, or hair dryers. It has a roomy pouch that grips household surfaces.  No glue necessary.  Since I have an entire corner in my bathroom dedicated to hair products and hair appliances, I am the target audience for this little holder.  I guess it's true what Albert Einstein said, "Necessity is the mother of invention!"  I spent a lot of time at that little booth and quickly lost my gifting suite companions.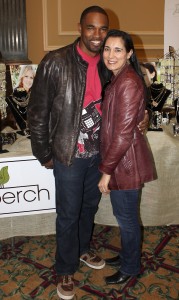 I turned around and found Ali Saam playing with a silicone breast implant!  He was standing at the booth of Versailles Cosmetic and Laser Center.  Dr. Kathy Gohar explained why these particular silicone breast implants are safer than saline products.  The Versailles Cosmetic and Laser Center does all kinds of noninvasive procedures, too, including Botox, fillers, peels, and award season facials for celebs.  I wanted to feel the silicone implant, too.  So Dr. Gohar had us (Ali, Becca, and I) hold a B-cup and compare it to a DD-cup—the DD-cup was so heavy!  Small-breasted ladies if you're watching the scale, don't upgrade past a C! Wink, wink.
We saw so many more wonderful products that day.  They were LA SkinAesthetics, MEGUMI•O™, Beach Girls, Isabeau™, LEX Cosmetics™, DharmaSmart, Nina.B.Roze®, Twisted Silver®, Perch™ By TII, Tough Luv®, Trips 4 Fundraising™, Big. Bold. Fierce.®, Chilanthropy™, Nava Natural, M.B. York™, Eco Swim™, Nick Chavez® Beverly Hills, Joia® All Natural Soda, NitroCream, 9021Pho, Zing® Vodka, Twistband®, ShowStoppers®, Soaptopia®, 95 & Sunny, Hawaiian Springs® Water, Justin's®, LUNA®, Pirate's Booty, Pretzel Crisps®, Erewhon, Tea Forté®, Zestra®.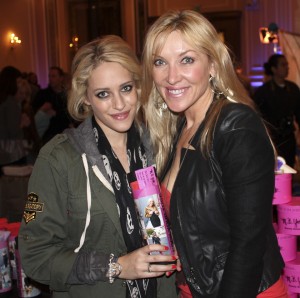 Here are what celebrities in attendance had to say about their trip to this pre-Oscar gifting suite:
"Kathy Duliakas always brings it on," says Adrienne Maloof, of The Real Housewives of Beverly Hills. "Every year, I'm more amazed at what she can do. This event is fabulous, I'm having a great time."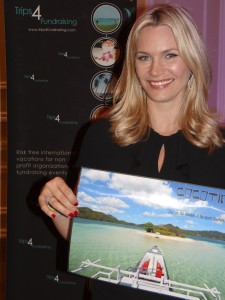 The Secret Circle's Natasha Henstridge says, "Kathy always puts on a heck of a suite and there's always a great charity involved. What's interesting is that people are genuinely interested in what the charity is at her suites. She's really connected with people on that level, which is nice."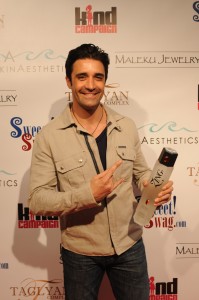 Body of Proof's Nicholas Bishop agrees, " . . .The suite is wonderful. There's a lot of great products, some fantastic jewelry, skin care, tequila and … even ice cream with tequila."
Gilles Marini from Switched at Birth says, "I brought my wife because you know the story, a happy wife is … a happy wife. And right now, she has a big smile on her face so that's all that matters. This suite is very classy."
Ali Saam from ARGO gushes, "Everybody we interacted with was super nice and friendly.  I am so glad I did the KIND PSA and I would like to stay involved.  I really liked the products.  That was my favorite part.  They were very high-end and also practical!"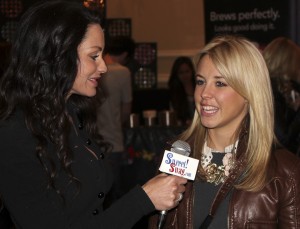 Additional celebrity guests in attendance included Jason Isaacs, Joe Mantegna, Rory Cochrane, Jackson Pace, Lucy Alibar, Carly Chaikin, Tara Summers, Jason George, Matt Nolan, Todd Lasance, Tiffany Brouwer, Judi Shekoni, Jay Harrington, Matthew Fahey, Nikki Deloach, Sophie Winkleman, Sean Stone, Sandra Vergara, Pandora Vanderpump, Marilu Henner, Renee Olstead, Caitlin Thompson, LuAnn de Lesseps, Briana Evigan, Amy Rider, Stephanie Pratt, Carolyn Hennesy, Brian White, Chelsie Hightower, Bonnie Wright, Victor Alfieri, Cas Anvar, Rowly Dennis, Charlene Amoia, Patricia Velasquez, Kristen Quintrall, Carly Steel, Danielle Nicolet, Nikki Tomlinson, Jill Marie Jones, Ariane Bellamar, Amy Paffrath, Lauren Parsekian, and Molly Thompson, and more!
"I am thrilled that my 5th Annual Celebrity Oscar® Suite & Party is benefiting such an amazing and worthwhile cause. The stars who came out today are being gifted such amazing products, that it's only right that we all give something back. It's inspiring to see the overwhelming support that I've received from the Hollywood community for my event and the KIND Campaign." –Kathy Duliakas