Rolando Santana Fall 2013 Collection Inspired by Sculptor John Chamberlain
By
Kaylene Peoples
| March 12th, 2013 | Category:
Articles, Interviews and Reviews
,
Fashion
,
Runway
|
Comments Off

on Rolando Santana Fall 2013 Collection Inspired by Sculptor John Chamberlain
Rolando Santana's latest collection was inspired by the three-dimensional abstract creations of the sculptor John Chamberlain.  Known for his feminine dresses with uncomplicated silhouettes, designer Rolando Santana keeps up that standard and delights us with flirty accents.  His textiles are enhanced by rare color details.  In his new collection pieces complement women's curves, and celebrate functional fashion, appealing to just about every body type.  Rolando Santana uses materials creatively, such as lace masquerading as leather, wool interlaced with metallic yarns; he even toys with cellophane .  Santana introduces colorfully rich lambskin clutches, gloves, and shoes.  All the garments are functional with a variety of styles, ranging from a printed cigarette pant to a classic long-sleeve coat with an embellished yoke.  Each of these pieces will make a great addition to every woman's wardrobe.
Check out the Rolando Santana Fall 2013 Fashion Show, held at Eyebeam Studio on February 12, 2013, in New York City during Mercedes Benz Fashion Week, and photographed by Arun Nevader.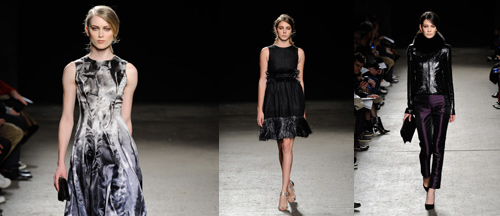 Check out the Rolando Santana Fashion Show, photographed by Arun Nevader.