WINTER OF THE WORLD by Ken Follett
By
Lee Peoples
| March 12th, 2013 | Category:
Book Reviews
,
Non-Fiction
|
Comments Off

on WINTER OF THE WORLD by Ken Follett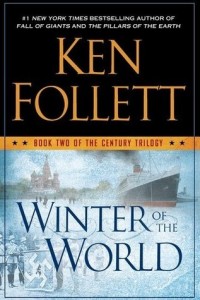 Ken Follett has done it again—made the bestsellers list, that is.  Winter of the World, the second in his Century trilogy, following Fall of Giants, has continued the story of the international heroes of America, England, Russia, and Great Britain during the troubling years of 1933-1949.
Book two of Ken Follett's Century trilogy, Winter of the World, was published in late 2012.  In the manner of Fall of Giants, published in 2010, the three books in the trilogy follow successive generations of the same families from 1911 to 1989.  To refresh your memories and for those who might have missed the first in the trilogy, Fall of Giants is "a story about a group of families caught up in the First World War and the Russian Revolution.  There is an American family, a German family, a Russian family and two British families, and of course they all interact throughout the story, sometimes falling in love, sometimes fighting on opposite sides of a battlefield." – Ken Follett
Now, the second book in the trilogy, Winter of the World, published in late 2012, continues the goal of the trilogy.  It is set in the years 1933 to 1949 (World War II) and follows the same families that you saw in book one.  The author has done an excellent job in relating the story of these years as he moves from continent to continent, from country to country.  Despite the "wintry" world of war and conflict, he lifts the spirit of the reader with his heroes and romance and his many moments of happiness and success.  It is truly a page-turner of an epic.  In the midst of the horrors of war, such unimaginable heroism keeps the reader optimistic and looking toward a brighter future.  Follett remains at or near the top of my list of writers of historical fiction.  I shall find it hard to wait for book three, the last in the trilogy, provisionally titled Edge of Eternity and due out in late 2014.