Oleander Wows Fans at Ace of Spades for SOMETHING BEAUTIFUL Official CD Release Concert
By
Kaylene Peoples
| May 6th, 2013 | Category:
Entertainment
,
Events
,
Music
|
Comments Off

on Oleander Wows Fans at Ace of Spades for SOMETHING BEAUTIFUL Official CD Release Concert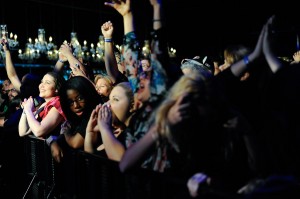 On May 3, 2013, at the Ace of Spades, Oleander had its release concert for the new CD, Something Beautiful. As the band opened with the song "Fight," the crowd went crazy as the band chanted the hook, "fight, fight, fight!"  The high energy song was the perfect opener, and if screaming fans and a packed house were an indicator for the success of a band, then Oleander's comeback fits that bill.  When the band played "Don't Break My Fall" from Joyride, "Why I'm Here" from February Son,  and "Are You There" and "Halo" from Unwind, it reminded everyone that this band produced some serious songs in its career.  But when Oleander played its new material "Bulletproof," "Something Beautiful," "Daylight" and "Never Too Late," it was obvious to everyone that Oleander was back and better than ever.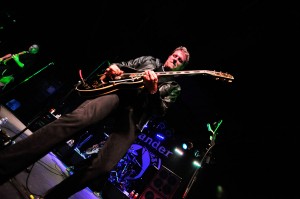 The music was solid, the musicianship was cohesive, and the camaraderie between the band members g
ave me a warm fuzzy feeling.  These guys really like each other!  Lead singer Thomas Flowers teased newest member Rich Mouser, and Mouser teased right back with jaw-dropping, mind-blowing guitar solos.  Bass player Doug Eldridge emitted a ton of energy on stage with his high-voltage bass lines.  Guitarist Ric Ivanisevich played catchy, memorable solos, and drummer Steve Brown reminded me of Animal from the Muppets—his playing was solid and really helped to drive the groove.  (Behind Steve's kit, all you saw was a blurry bobbing head and flying drum sticks!)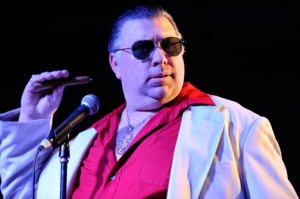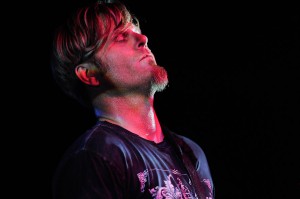 Oleander opened with an appearance by the actor from the "Something Beautiful" music video. The actor plays a cocky, loud-mouthed Hollywood manager, who forces the band to dress up in a variety of costumes (Goth, Metal, 60s) until they finally settle on their look.  Everybody at the Ace of Spades that evening recognized it and was delighted.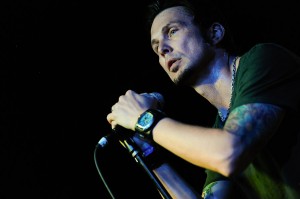 Oleander performed for an hour.  No encores, but a satisfying show nonetheless.  Thomas Flowers serenaded the excited crowd beautifully.  After all, Sacramento is where Oleander originated. I'm really looking forward to their next performance.  Where will that be? Visit Oleander.net for their touring schedule, but the band is scheduled to perform in Ohio in just a couple of weeks.
Check out photos from Oleander's CD release concert, photographed by Arun Nevader.