Project Ethos Embraces Edgy and Unique at the Avalon in Hollywood!
By
Elana Pruitt
| May 6th, 2013 | Category:
Articles, Interviews and Reviews
,
Fashion
|
1 Comment »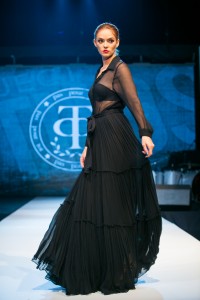 Fashion is supposed to be about creative approaches, interesting styles, and exciting showcases! At the March 2013 Project Ethos fashion event at the Avalon in Hollywood—yup, this was most definitely the case.
Before the series of fashion shows began, I was diggin' the scene. I took a photo on the red carpet, donning a chic pair of earrings designed by Kristen Dorsey (who had a booth inside the venue), enjoyed a cocktail, and slowly walked—and jaw-dropped—past awesome wall art before being ushered past crowds of fashion, music, and art enthusiasts to my seat with gal pal and singer Tiara Monet beside me.
'Twas a night to remember! Collections were shown from tons of innovative designers, including: Traver Rains (T. Rains), DanielBohbot (Hale Bob), Andrew Christian, Maor Luz (Maor Apparel), Michael Kuluva (Tumbler and Tipsy), Siann Marlowe (The Ras Collection), Deanna Richmond (Deandri),Pas Pour Toi, Hous of PinkLemonaid, Farahourani, and Michael Costello.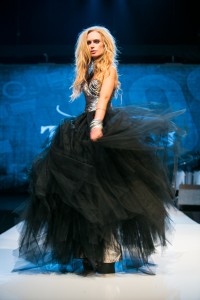 My "ooohs and aaahs" came out every few minutes during nearly every show, such as in response to the playful gowns of T. Rains, but my breath was taken away by a few: the Parisian sexiness of Pas Pour Toi, the culturally cool, casual wear of The Ras Collection, and the amazing form-fitting dresses from Michael Costello—a returning designer and former "Project Runway" contestant.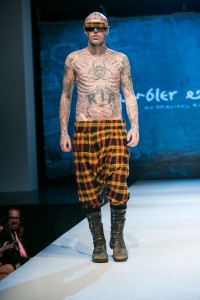 The models are a major contributing factor of a successful runway show! That said, I couldn't help but join in on the applause as the edgy and lovely "Rico the Zombie" and "punk Barbie Doll" Eryn Woods made their way down the stage, showing personality, proving that authenticism is always in style. Some of the other celebrity models walking the runways included Simon Sherry Wood (Real World Paris), Kiara Belen (America's Next Top Model), Caridee English (America's Next Top Model), and Lily Galichi (Shahs of Sunset).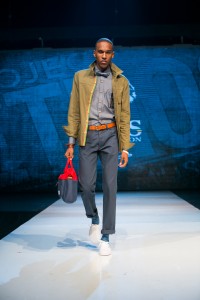 Other additions to the jam-packed evening of entertainment included 20+ dancers surprising the audience with a performance choreographed by Tricia Miranda, as well as an energized electric performance from alternative-pop band Fire in the Hamptons. As for the artwork on display at the Avalon, both in the main and Bardot, a number of eclectic works were shown. Artists featured included Aaron Mostow, Gregg "Viz" Visintainer, Johnie Thorton, Miri Chais, Greg Auerbach, Fang Ling Lee, Michael Slade, Michael Stubbs, and Scott Liminature. DJ Stubbs and trumpeter extraordinaire Matt Von Roderick rocked it out in Bardot, blending art and music. In addition, live art on stage featured Van Saro and John Park, body painting was done by Jamie Graden, and live portraits were created by Ivan Djurovic.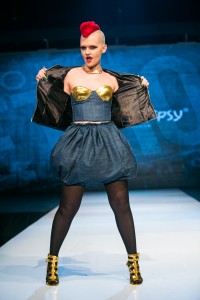 With Los Angeles being so full of talent, it never ceases to amaze me how great of a job Project Ethos does in bringing such passionate people together. That said, witnessing an evening's passionate love affair with fashion, music, and art is always a pleasure.
This was the the second stop on a five-show tour presented by Scion. Upcoming events include San Diego in July, Las Vegas in August, and back in Los Angeles for Fashion Week in October. The sold-out Project Ethos event was sponsored by LA Weekly Sebastian Professional (Official Hair Care sponsor), TNT Agency stylists, and The Fashion Law Group. Spotted on the red carpet before heading into the Avalon for the evening's love affair with fashion, music, and art were Aubrey O'Day, celebrity stylist Johnny Wujek, Scheana Marie (Vanderpump Rules), Brian Friedman (X-Factor), and JustLuxe winner Jenna Petardi.
Photos courtesy of Project Ethos (Image Credits: Raphael Maglonzo)
Check out the Highlights of that show, photographed by Jeff Linett.