Sue Wong – The Quintessential Super Woman and Iconic Fashion Designer Who Does It All!
By
Kaylene Peoples
| May 6th, 2013 | Category:
Articles, Interviews and Reviews
,
Fashion
|
1 Comment »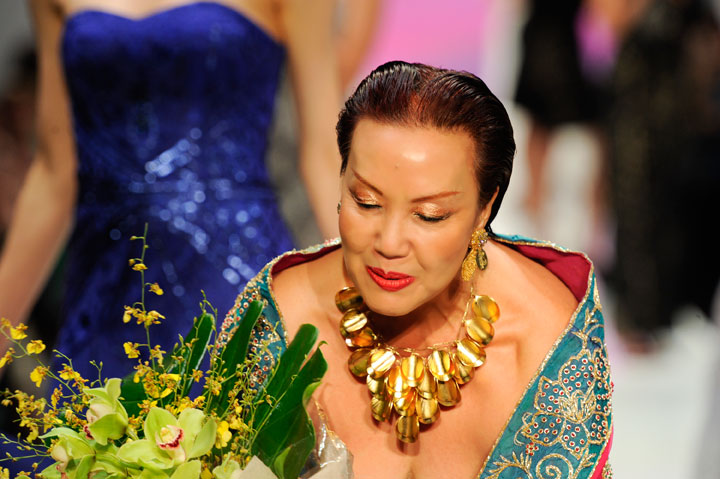 "As a visual artist I can translate my creativity and carry it over to many other art forms.  I can draw.  I can paint.  I can design furniture, landscapes, environments, interiors; design jewelry, shoes, handbags, and hats.  I do my own styling for all my photo shoots as well as my fashion shows.  So I can do it all.  I'm also not a bad chef.  And that's the great joy of being a creative artist.  When I come into my temple of beauty, it's playtime." –Fashion Designer and Renaissance Woman Sue Wong
Interview by Kaylene Peoples
Responses by Sue Wong
Sue Wong's Start in Life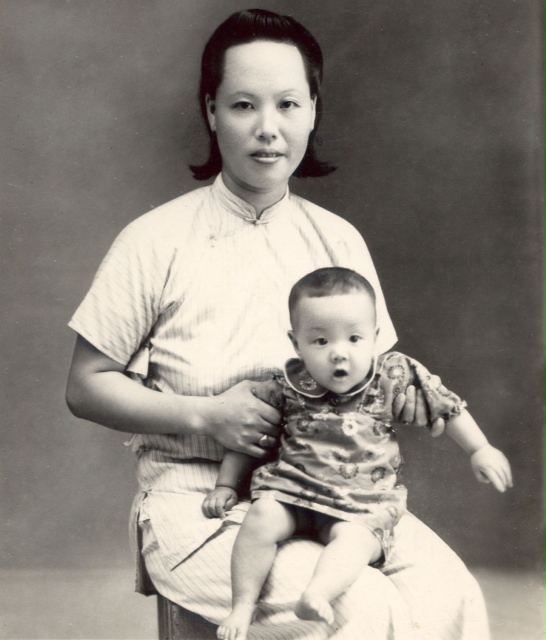 I was born in China in a very remote village that probably resembled 16th century China.  It didn't have any running water or plumbing.  We had to draw water from the well every single day.  It was an agrarian society.  In other words, my family farmed and the family on my mother's side were all merchants.  We lived under communist rule and my father quickly escaped to America before the country closed back up.
My mother and I were trapped, but she very courageously made a leap from freedom when I was 5-1/2 years old by sewing into a small pillow all her wedding jewelry, which I hand carried.  I remember carrying that little pillow and holding it very close to my chest because my mother said to hold it very tightly because there is something very important in there.  So she gave that to the border guard who released us into freedom on the other side, which was Hong Kong.  Relatives from Hong Kong brought us into freedom and safety.  My mother and I lived there for one year.  We came here to Los Angeles, and I met my father for the first time . . . and I was 6-1/2 years old.
How did you get involved in fashion design?  What is your educational background?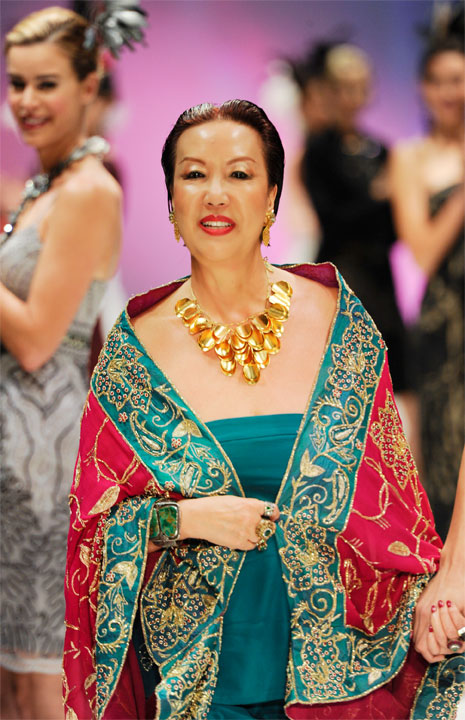 I wanted to really do something creative.  I actually wanted to pursue fine arts originally, and I wanted to really be a painter.  But in the Chinese tradition, being an artist is being tantamount to being a pauper.  It's a culture that really reveres the scholar, not the artist.  So when my art education was denied to me, I enrolled in LA Trade Tech, which had a next to no expense education.  It had a department in fashion design.
Within my first month enrolling at LA Trade Tech, I won a first place scholarship that was sponsored by a big company by the name of Arpeja.  They were the pre-cursor to a company like BCBG in this time and age.  I came in after school and apprenticed under the head designer.  I remember sitting at her antique Singer sewing machine.  It was a little red sewing machine.  I presented her with ideas and conceptual sketches for silhouettes every single day.  I was well on my way.  After a few months, I left school and was offered a full-time job by that same company.  I rolled up my sleeves, went to work, and never really looked back.  So I really have been designing in this profession for decades, ever since I was in my teens just out of high school.
As designers go, you are quite prolific.  You put out several collections a year.  What propels you to do that at such a pace?  You mentioned that you do 1500 individual designs annually.  That is a lot.
In Europe they only have two collections a year, but here in the States, because of the way the commerce is set up, we have five seasons a year: spring, summer, fall, holiday, and resort (or what I call spring prelude). I do 300 designs for every one of those five seasons.  The output is really tremendous.  But I love what I do, and after so many years doing it, I'm still very passionate about my work.  I feel at this point in my career I have arrived at the top of my game.  I feel like a well-seasoned professional, and I can do any look under the sun.  However, I love nostalgic glamour.
That leads me to my next question.  What inspires your designs?
Leading ladies of Old Hollywood from the 30s through the 50s inspire my designs, such as Greta Garbo, Bette Davis, Joan Crawford, Marlene Dietrich, and other Hollywood iconic actresses of that time.  I thought they were the quintessential glamorous creatures.
That history of Hollywood is reflected in your home, The Cedars.  Tell me about that.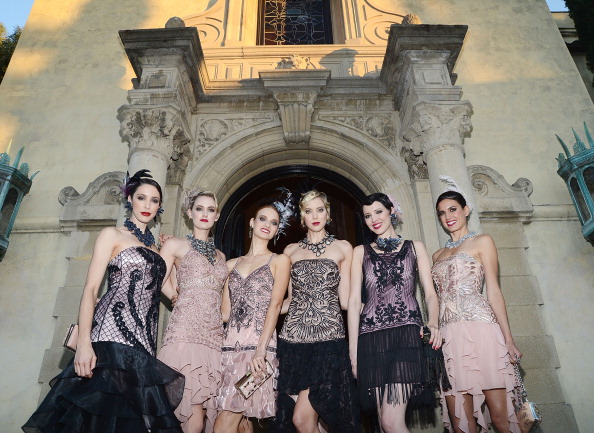 I own the quintessential Hollywood glamorous home. It's called The Cedars.  It is the ultimate glamorous iconic Hollywood home that was built by a French movie director named Maurice Tourneur.  The home used to be on 15 acres.  It was his total visual fantasy and his creative vision.  He brought over from Europe artisans from Italy, France, and Germany.  He collaborated with set designers of MGM, where he worked.  The house has all these iconic lion pieces perched on top of the mantles.  I think there are about 150 lions throughout the whole house.  But anybody who has been anybody in Hollywood over the decades has crossed its portals.
The Cedars is also known as the Norma Talmadge Estate.  And she was the top movie star of her day.  She and her husband Joe Schenck who was the head of Twentieth Century Fox, lived there; and of course they broke away and formed their own studio called United Artists Studios with Douglas Fairbanks Jr., Mary Pickford, and Charlie Chaplin.  So they lived there, and it was also the home to Howard Hughes in the early 30s.  There were other important people that have lived there, including the heir to the Guinness beer fortune, the artist Ed Rucha, Bela Lugosi, Johnny Depp.  (Johnny Depp wanted to vibe off of Bela Lugosi for the Tim Burton movie Ed Wood, so I still get Johnny's fan mail from all over the world today.  I think I have about six or seven of them sitting on my kitchen counter, as a matter of fact.)
In the 60s The Cedars became a rock-n-roll palace, so you have the likes of Jimi Hendrix, Lou Reed and the Velvet Underground, Bob Dylan, Arthur Lee with a band called Love living there.  It was a big groupie rock hangout.
Then, a UCLA professor of psychology owned it; he had tens of thousands of books, which became his private library.  He never lived there one day for all the decades he had it until I came to its rescue and I restored it.  It took about three years to really restore, but I feel that I live in a museum.
How would you describe your signature style?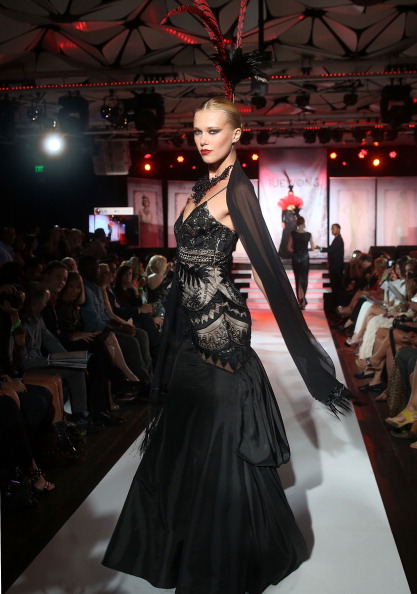 There are three words that describe my signature style; it's actually my mantra. Beauty. Magic. Transformation. Meaning, what I try to create as an artist is beauty.  The alchemy of beauty is magic. And the magic in turn becomes transformative. I like to think that when a woman puts on a Sue Wong gown, she's magically transformed into a goddess. Because my clothes are what I call haute feminine, they personify ultimate, quintessential beauty as they honor the eternal feminine.  I really try to honor the goddess energy in every single woman. I try to cull that eternal feminine element from every woman and make her realize her inner goddess. That's why my clothes are very feminine, and I have seen women transform when they put on my clothing. It's really a wonderful thing to see.
How do you assess designing the gowns that you design and the dresses that you design to fit for all body types?  Because everybody I have ever seen in your clothes always looks so good, no matter what their body type.
I think the difference between me and another fashion designer is that I understand the female anatomy, and cut is really to me such a pivotal and inherent part of good design.  Maybe a male fashion designer would not understand the female form as I do.  I try to accentuate the positive and minimize the negative.  In other words, I really enhance parts of the body, such as the bosom, make it really fitted there, and I try to make my clothes more forgiving on the bottom.  By the cut, I know how to enhance the female form.  And that's so important.  I have seen petite women, short women, tall women, and older women.  I dressed an 83-year-old for her first wedding anniversary.  God bless her.
I was doing a trunk show for either Nordstrom or Neiman's in South Coast.  There was this very lovely older woman who was 83 years old.  She was beautifully made up, beautifully coifed, and she had her 77-year-old husband with her.  They were setting sail on a cruise to celebrate their first anniversary.  She said she loved my designs but couldn't wear any of them because she thought she was too old.  I said, "No you're not!"  So I handpicked a few things, put them into the dressing room, and she came out just all "glammed" out with a plunging neckline, slit, and she looked drop dead gorgeous. I think her husband's eyeballs were about to pop out of their sockets.  She ended up buying three of my things.  On the other spectrum, I have the 16- or 17-year-old prom girl who is from a well-to-do family who is looking for the same things.  The 16-year-old girl can wear my dresses for the prom, and her mother can wear my dresses for weddings and other social or black tie functions.  I think it's a matter of attitude.  It's not about age.  Because my clothes transcend trend, time, they're timeless classics.
You put so much detail into your dresses.  The beadwork and handwork are very intricate.  But it is the mark of a Sue Wong design, including your purses, scarves, etc.  They could be collectibles one day.
When I am at trunk shows, my fans tell me they collect my designs.  They consider them to be future collectibles.  I love intricate handwork, and I am first and foremost a "detailist."  To me God is in all the details.  I bill myself as every woman's couturier.  When you open up an Elle, Vogue, or Harper's Bazaar, and you see a gown by Versace for $50,000 or Christian Dior for $35,000, the average reader is not going to think it is applicable to her.  Maybe a movie star like Nicole Kidman or Angelina Jolie can wear that, but your average woman reading those magazines can't afford it.  So I use the same age-old couture methods of beautiful, exquisite handwork that is really used by the finest houses in Europe.  I have them made overseas in China, where handwork is still available, however, rapidly fading.  I think in another generation, all of this beautiful handwork will be no more.
The women who are sitting around in sewing bees, doing all this beautiful hand crochet, battenburg lace, soutache embroidery, beadwork, or flat embroidery that I incorporate onto my designs [will not be doing it for much longer]; that generation of women is dying off.  The new woman in the villages wants to go out into the big city and get computer jobs, and not be sitting in a sewing bee.  So I really believe that in the future my gowns will be collectibles.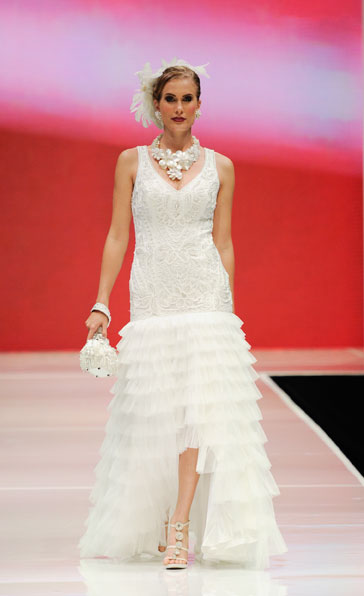 Your wedding gowns are absolutely breathtaking.  Let's talk about those.
Speaking of my wedding gowns, I call them wedding alternatives because they are really for brides on a budget, or second weddings because maybe a woman doesn't have upwards of $5,000 to $15,000 to spend; that's what wedding dresses cost typically.  But all for under $1,000 (I charge $600-$850 for one of my wedding gowns), they can wear a Sue Wong and still feel like a princess for the day.
Highest Highs/Lowest Lows
I've had some amazing peaks and valleys in my career.  I became very successful at a very early age.  I became this sort of wunderkind designer, who basically by age 25 had accomplished the American dream. I was already making the equivalent of 3 million dollars a year back in those days.  I had four homes, including a huge mansion at the tip of Point Dune and a house next door for a total of about three acres, which is probably worth about 18 million dollars by now.  I had a home near the ocean in Hawaii, and I had my first home in the Hollywood Hills by the time I was 21, so I have always been very driven.  Basically at age 25, I had it all.  I rose to fame and fortune by taking this company [Arpeja] to its highest potential.  I went back to work at Arpeja, but this time it was probably about five years later.  In the interim I had opened up my own one-of-a-kind boutique stores in both Hollywood and Bohemian Venice Beach.  I came back to work at Arpeja, and I became a stellar success by the time I was 25.  I took that company from 5 to 52 million dollars in a three-year period.  And don't forget, this was many years ago.  So 52 million dollars back then is probably worth about half a billion dollars today.  I was making my boss the equivalent of 100 million dollars a year in profits.  So he paid me incredibly well.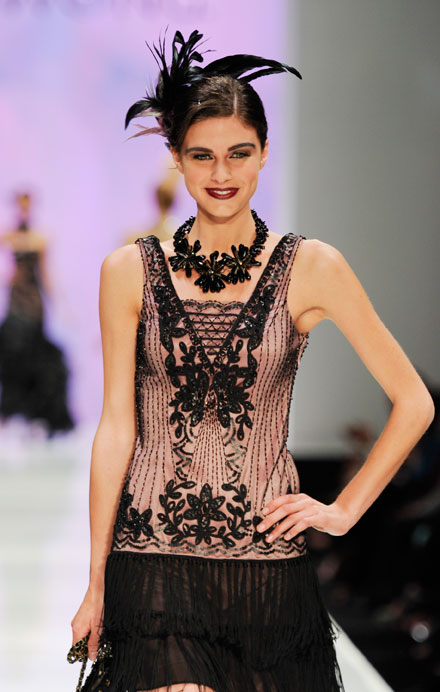 I was divorced, went from owning four houses and being this girl wonder to losing everything.  Within a year, I was bankrupt; I had no more houses.  I was down to my last $2,000 with two young babies.  My younger son Josh was only 1-1/2 years old.  And I had to start all over again, and it was a long, hard climb.  In my youthful arrogance I thought I could get it back in two minutes, and that two minutes became twenty years, until I founded my present business totally on a fluke.  I was really in the contemporary sportswear business, but I decided to do an experiment, and I went overseas to look for extra production.  I connected with three different factories that [manufactured] dressy apparel; I had an idea flash!  I knew the millennium was coming up in five months.  This was in July 1999.  Every woman on this planet was going to want a dressy gown.  While there in Hong Kong, I hooked up with these three factories.  Literally, on the spot I designed 25 gowns, which I was able to receive the first samples one month later in time to be marketed for that August. 
It was an immediate runaway success.  I was able to ship it in November right before the millennium.  The gowns just blew out!  All of a sudden the business started pouring in—the success, the money—like it was making up for lost time.  And that's the business that I have today.
I noticed at a lot of your fashion shows that you have your mother there.  You two seem to have such a close relationship.  Obviously your mother must be a huge support for you.
I don't think I could have been the person I am today without the support of my parents, especially my mother.  She is really the ultimate mother.  She has been self-sacrificing and generous to me in my lifetime.  Because of my parents I was able to leave my sons in really loving hands to be raised so that I could go out and pursue my career in the world.  My younger son, who is a super brain and has a triple major in psychology, philosophy, and biology, is the one that basically runs this whole company.  Without him I wouldn't even have a business.  And my older son Ezra graduated from Yale with his MFA.  He attended Yale School of Painting.  He has his own business, a t-shirt line he designs the graphics for.  His company is run out of Brooklyn, NY, where he lives.  I'm a proud mother!
Watch the video interview with Sue Wong.