The Rebirth of Lisa Kline: From Closing Shop to Creating Connections Online
By
Elana Pruitt
| May 6th, 2013 | Category:
Articles, Interviews and Reviews
|
1 Comment »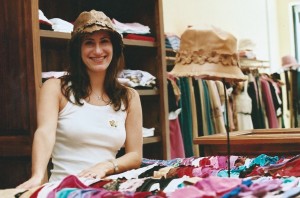 She's the woman behind the famous back-to-back female silhouettes. The woman behind the destination boutique on Robertson that attracted chic shoppers. The woman who survived both personal and professional tragedy.  And the woman who recently gave birth to (virtual) twins.
Enter Lisa Kline, the savvy businesswoman who is proud to be "Home of Los Angeles Style." She is also the busy-bee entrepreneur who took the time to sit with me for my first Agenda interview of 2013. It was mid-January, a beautiful day in Los Angeles, and a moment that is forever etched in my memory.
Meeting the Lovely Lisa . . .
Thanks to social networking, I had the ability to directly contact Lisa Kline. As a Facebook "friend" and religiously keeping up with her "word of the day" status updates on the site, I felt comfortable approaching this fashion retail icon with a pitch for Agenda.  With luck on my side, she personally responded to my IM on Facebook, showing an interest in meeting with me and discussing the new advances of her Lisa Kline brand.
Fast forward a few phone chats and email correspondences (and my hunt in finding a professionally cool outfit to wear!), I pulled up to The Beverly Hills Hotel to meet Lisa and her assistant, Lindsey Jordahl, by the pool. As she finished up taking some promo photos just in time for our interview, I had a few minutes to digest that I was watching the Lisa Kline smile and pose in confidence. At that moment, my brain shot back to being 16 years old and stepping foot in her women's boutique with my sister, with visions of crisply folded tees on the table and sophisticated denim wear lines adorning her shop. I experienced the same warm feeling of fashion when I watched Lisa get captured on camera.
A few minutes later, after being able to stand in a shot beside the hip LA merchandiser, the three of us walked inside. Over water and coffee in a quaint restaurant at The Beverly Hills Hotel, I stepped into Lisa's world. I listened to her explain the ups and downs of her business, learned about her strength in adversity and drive to succeed, and loved witnessing the bonded spirit between her and her assistant. "She has taught me more than I could ever learn in any classroom," says Lindsey, who has worked for Lisa for nearly a decade.
Saying Goodbye
The doors to the first Lisa Kline store on Robertson Blvd. opened in 1995. Not long thereafter she opened a Lisa Kline men's store, a children's store, and an outlet store. All of her boutiques were very unique and very successful. But according to Lisa, "As far as 'brick and mortar,' the store thing wasn't going to happen anymore." The recession, she says, was hitting everybody and that the decision to close her stores had nothing to do with competition. "It was all about the economy. All of us were dying," says Lisa, who knew that times were a-changin'. "It was about no one was shopping."
So about five years ago, Lisa had a decision to make, with the economy being at a low and the world's attention fixated on the growing retail trend of online shopping. She sensed that what she started was coming to an end. "I miss the stores a lot. I don't miss what they were at the end, but what they were for a long time was an amazing experience for everyone involved," she says. It took about five years for Lisa to close all of the stores completely, a lengthy and painful process that she felt was inevitable and had to happen.
Unfortunately, to complicate matters for Lisa, the height of the recession was not only a time of professional tragedy. In January 2009, Lisa's husband unexpectedly passed—a personal tragedy that contributed to the weight of the professional challenge with which she was dealing. "People may think that I closed the stores because my husband died, but I would have closed them anyway if he were alive," says Lisa, who acknowledges that she just would have closed the stores a lot faster had he still been there.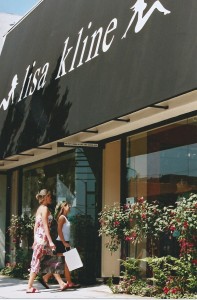 She did, unfortunately, have to say a quick goodbye to the original LisaKline.com, which launched in 2002. "I shut down my online store when Robert died because he did everything," she says. "LisaKline.com was his baby, and there was no way I could manage it by myself. Trying to deal with closing all the stores, my kids, and everything else, I could not do it. Websites are a lot of work. Now I'm doing everything involved. It's my only store."
The Rebirth of Lisa Kline
Although it took five "tedious" years for Lisa to close all of her stores, she has arrived at a place in her life, professionally, where she can fully embrace the upswing shift of her company model. With all of her stores now out of the picture but remaining the foundation of her LA-based business, she now has two websites to tend: LisaKline.com and LisaKline.la. Says the woman who is a trusted style source for many celebrity clients, actors, and recording artists: "I feel like I gave birth to twins!"
Lisa's two websites were launched early January, just a few days before I met with her and Lindsey. And as they studied new images and were able to get some business talk in during the interview, I soon realized that LisaKline.com and LisaKline.la are truly her new babies. "As much as I have 17 years of history and establishment, it's a brand new division of what I'm doing, and it has to be done a certain way," says Lisa.
The .com site offers distinctly sexy, cool fashion for men and women, and cute and stylish trends for the kids. Proud to provide her clients with the convenience of being able to shop without leaving their home, Lisa features several pieces that she has collaborated on as well as those under the Lisa Kline brand.
In addition to providing a diverse range of fashion and beauty items for purchase on LisaKline.com, the LA-based businesswoman now has time to offer concierge services, such as pulling clothes for clients and personally delivering them to their hotel rooms, consulting, personal shopping, styling, and "closet cleanouts." In addition, Lisa now offers makeovers and consulting for brands and retail stores.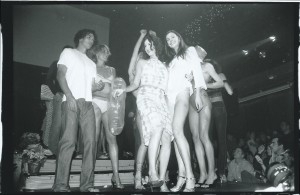 And then there is her brand new site: LisaKline.la. It is regarded as an online magazine and channel for all things Lisa loves, wants to promote, and believes in. From personal articles, such as those written by her mother, Nancy Kline (and her stores' retail window designer), to news articles about Lisa's philanthropic work, the .la site is based on Lisa's value of personal connections. The online world can seem like a cold and distant space for many, but she strives to continue building relationships with site visitors and both loyal and new clients.  "I love creating an atmosphere," says Lisa, who mentions that she met the person who would become her best friend in one of her stores. "I am very into connecting and being social."
Some of the additional, exciting components of LisaKline.la are streaming videos, showing some of the shoots with Lisa and her favorite designers at their studios or stores; a place to "Ask Lisa" for fashion advice and tips; and the "LK Presents" page, which will feature any and all of Lisa's favorites.
Still getting emails from past customers who share their memories regarding their first purchase from one of her stores, Lisa says the journey thus far has been amazing: "Connecting with people is my favorite part of the business."
Bracing Herself for Success
Since a very young age, Lisa always had a love for fashion. Unfortunately, from about seven years old to the end of junior high school, the iconic clothing retailer had to wear a back brace.
"I wore it for scoliosis, which was traumatizing. I lost my childhood," she says. "I was so into fashion, and I couldn't' wear anything." Having to wear the back brace under all of her clothing not only limited her from wearing the fashion she would dream of, Lisa was the victim of bullying and could not participate in physical activities at school with her peers.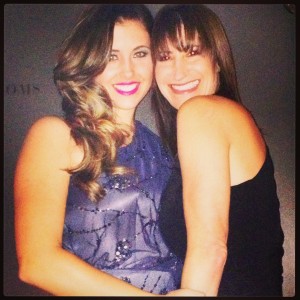 Interestingly, the pain and challenge of being limited by a back brace actually propelled Lisa into the fashion world even more. "Not being able to wear the fun, trendy clothing that I dreamed of wearing for years made me so interested in fashion and figuring out my personal style after I was free from the constraints of the brace, "she says. "I stopped wearing it right before I started high school."
Lisa continues, recalling that when she was able to start shopping without having to deal with the constraint of a back brace, she had a budget and shopped "thrifty and on sale." "So I started to mix and match my look. I loved getting up in the morning to get dressed. I remember standing in my closet so excited to get dressed in the a.m., watching my style evolve daily. It was a very creative process, and I loved choosing my outfits and making a statement every day. My style always has evolved since then, year after year."
Giving credit to Lisa's triumph over this childhood challenge, Lindsey believes that her boss's work ethic and "all or nothing" personality naturally stems from her commitment to religiously wearing a back brace as she grew up. "In the face of some of life's real cruelties she has shown true courage and unwavering perseverance," says Lindsey. "Lisa has come out the other side a stronger, more formidable force than ever before."
Lindsey also shared these thoughts with me: "Over the last nine years of working for Lisa, I have seen her and her company go through the best of times and the worst of times. I was there in the heyday when the clothes were flying off the shelves, and she was opening stores left and right. I was there for the birth of her son, I was there when the recession hit and Robertson turned into a ghost town, I was there when her husband tragically lost his life, I was by her side hefting boxes when she closed her brick and mortar locations, and I'm here now for the epic re-launch of LisaKline.com.  In a nutshell, I've seen it all!
"Lisa is my teacher, my mentor, and my boss. But mostly, she's my friend and my family. She has given me nearly a decade worth of knowledge and inspiration, and for that I will be forever indebted."
And so it was . . .
During my drive home after leaving The Beverly Hills Hotel, just before speaking into my recorder and rockin' out to No Doubt's "Settle Down" song (which ironically is about not being broken down by life's challenges), my brain went back to Facebook. It went to Lisa's famous "word of the day" status updates.
And I immediately knew that my word of the day was . . . PERFECT.