Fitness Meets Fashion in L.A. as Three Designers Push Style Boundaries of Activewear
By
Eveline Morel
| July 18th, 2013 | Category:
Articles, Interviews and Reviews
|
3 comments
With one of the highest concentrations of sports and fitness facilities in the nation, Southern California is still the innovation leader when it comes to fitness and fashion. The fashion quotient of these three new brands will push the fitness style bar to new heights, with designs that transition smoothly from the gym, to the street, and out on the town. These newcomer brands, Capo-Nata, Nina B.Roze, and Josie Girl*Beyond Fitness, show us just how far the women's activewear market has come over the last century.
Southern California's image of health and fitness has been an integral part of its identity since the 1900s, as L.A.'s development into a city grew hand-in-hand with its established reputation for sunshine, outdoor activities, and rejuvenation.  In the 1930s, Southern California was at the forefront of the health and fitness movement with Santa Monica's Muscle Beach, igniting an international fitness craze that continued through the 40s, with the launch of the first modern fitness club. Gold's Gym opened in 1965, and Venice Beach became the new "Mecca of body-building," furthering the development of a body-conscious sports-and-fitness L.A. culture that coincided with Hollywood's insatiable appetite for youth. The feminist movements of the 1960s saw an ever-increasing participation from women in all sports. By the 1970s, women became the majority of the active sports population.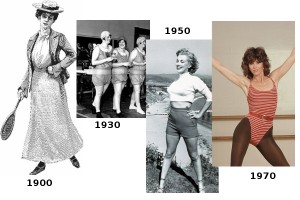 Women's exercise clothing also evolved with the times, thankfully . . . Looking back at the long tennis dresses women wore during the 1900s, one can hardly imagine how anyone could ever exercise in those clothes. With the advent of stretch fabrics and technical innovations, clothes became more and more body-conscious, ushering in the Jane Fonda leotard decades of the 70s and 80s. Over the last two decades, focus moved towards performance and new fabric technologies, which brought a "serious business" edge to sportswear, as fitness enthusiasts strove to imitate the sleek-and-streamlined style of the competitive athletes.
Activewear made its appearance into mainstream fashion during the 80s' Flashdance era: all of a sudden, wearing dance gear became the latest fashion craze. That trend still showed a tinge of rebellion against social norms, and activewear still remained mostly limited to exercise. Juicy Couture can be credited with bringing the track suit from the gym into the limelight during the 90s, creating it into a fashion icon.  Lululemon furthered the progression of activewear from gym to street, capitalizing on women's growing expectations that high-performance gear also be stylish and versatile enough to wear about town.  Heidi Klum's collaboration with New Balance and the launch of her collection in 2010 mark yet another milestone in the high-fashion progression of activewear, as the market continues to grow, reaching nearly $90 billion in sales in 2012.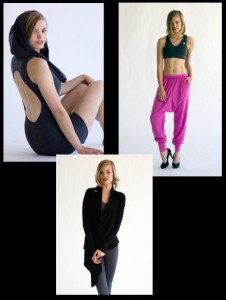 Whereas in the last decade we saw styling and details inspired by aerodynamic, sleek, high-performance machines, we're now seeing a return towards details inspired by lingerie and vintage clothing, which have been traditionally outside the sportswear norms.  "I am seeing a dramatic shift toward active wear that is more fashion conscious, a path that was paved by Lululemon.  Other brands are scrambling to compete, so I am seeing better cuts, fits, and creativity in the activewear brands that we carry in our stores.  I am currently coveting the Reebok dance bra . . . love the ribbon detailing in it . . . it's part ballerina, part warrior," says Audrey Ellen Wu, Online Marketing Manager at Sports Chalet.
Capo-Nata, created by leading professional stuntwoman Natascha Hopkins, combines tuxedo-tailed t-shirts, fashion-forward harem pants, and body-suits, with high-performance pieces, including a patented Lean Body Sports Bra.  The backless hoodie jumper shorts and draped wrap jackets easily travel from gym to the dance club with a simple show swam from cross-trainers to stilettos. A former all-American national gymnast and lifelong athlete, Natascha spends a lot of time wearing activewear. "I spend most of my working day between the gym and the set, and need clothing I can move in, that has style and doesn't look like exercise clothes. When it comes to activewear, I know the market too well. Even Lululemon, who calls itself fashionable, still has the same leggings as everyone else, always the same bottoms . . . Every time I wear my harem pants, on set or around town, I start conversations," she says.  Her line is designed to fit every body, is also available in larger sizes.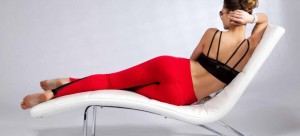 Nina B. Rose, another newcomer to the fashion-meets-fitness scene, brings unique lingerie-inspired details and style lines that add a generous dollop of sex appeal to exercise clothes.  The line is still developing, but her Heart Butt Leggings with derriere-enhancing seams are already a huge hit.
The most recent newcomer to fashionable activewear is Josie Girl*Beyond Fitness, recently launched in L.A. by a former competitive fitness professional, Beth Clark.  "I felt like I was always coming from or going to the gym, and really began to see the need for fashionable, feminine, go-anywhere activewear . . . I live in my gym clothes 90% of the time (as do most of the women I know), yet I don't want to LOOK like I'm always going to the gym," she says. "I see a big trend in printed athletic tights and yoga pants, and dance-inspired clothing.  But these are offered by a couple of brands and for very high price-points for the majority of women. Looking good and being comfortable should be accessible to everyone," she adds.  Her bright-colored pieces incorporate ruffles, contrast borders, and vintage-inspired details that hearken back to the pinup girl era.
These three new brands, created by sports professionals and active women who spend a considerable amount of time exercising but don't want to look like they're wearing gym clothes, indicate that there's still room for growth and innovation in women's activewear. The fashion scene of the gym will get more interesting, no doubt.