PIT BOSS Stars' Music Helps Pit Bulls and Animal Rescue Organizations
By
Eveline Morel
| July 14th, 2013 | Category:
Entertainment
,
Interviews
|
1 Comment »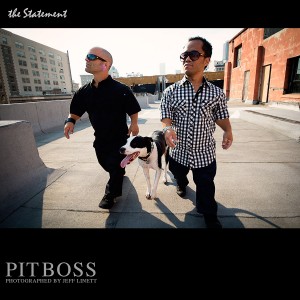 Without doubt, the hit TV series Pit Boss has helped many revise their opinions about pit bulls, and has dispelled many myths about this much-maligned dog breed. The docudrama series, starring Shorty Rossi and his rescue staff, Sebastian Saraceno and Ronald Clark, recently concluded its seventh season on Discovery Channel's Animal Planet.
Shorty Rossi's campaign to help America love its pit bulls takes him around the country to dog shows and expos.  Having eight pit bulls of his own, he can't be stopped from talking about them.  Did you know that the name "Pit Bull" is not even the actual name of the breed? This generic term actually includes the following recognized breeds: American Pit Bull Terriers, American Staffordshire Terriers, and Pit mixes. He will also tell you that Pit Bulls were the most popular dog breed during the early part of the 20th century. Nicknamed "the Nanny Dog" for being so good with children, they were once the favorite "family dog."
I recently got a chance to talk with his rescue team staff, Sebastian Saraceno and Ronald Clark, who also share Shorty's passion for the dog rescue work.  They were accompanied by Davinci, Sebastian's pit bull, whose exemplary behavior and good nature won everyone's heart.
Sebastian started competitive sports in high school and got his Bachelor of Science degree in wellness leadership from the University of South Florida.  His dog rescue work started during college, as he and his sister adopted a lab/chow mix from the Humane Society.  He later moved to L.A. to pursue an acting career, and started working with Shorty at Shortywood Productions.  Working with Shorty for nearly seven years as his right-hand man, Sebastian has taken a very active role in the rescue business, going on dog rescues and helping find foster and permanent homes for the needy dogs. Ronald, a close friend and co-star, moved to L.A. to pursue a performing arts career in 2001, and joined Shorty's team soon thereafter.  Sebastian and Ronald met on one of Shortywood Productions' performance gigs, and have been good friends ever since.  They both share a huge love for animals, physical fitness, and music.
Most recently, Sebastian and Ronald joined up with the California band, Post Trauma, for "The Risen Project," an EP and music video which will help raise more funds for their dog rescue work, as a portion of the proceeds from the sale of the EP gets donated to dog charities.  We talked briefly about their work on Pit Boss, their love of animals, and dog rescue work.
EM:  Sebastian and Ron, how did your work on Pit Boss help you take action and get involved?  What made the most impact? 

Sebastian:  Seeing all these dogs and the hard work put into rescuing and helping these animals inspired me to give back to the men and women that dedicated themselves to helping the animals.  It's not a glamorous job, but very noble. Most dog rescues rely on donations to survive and keep their operations going, so it made absolute sense to donate a portion of the proceeds from "Risen" to these organizations.

Ronald:  My personal involvement with Pit Bull rescue has given me clarity on how much endless hard work the dog rescuers have to do to find homes for these animals.  Almost all rescue organizations are short-staffed and underfunded. I want to help out in any possible way I can.

EM:   Do you have a dog and/or pets yourselves?  

Sebastian:  I do! I have an American Staffordshire named "Davinci," who's a born charmer, as you can see . . . Before the show was launched, Florida had a big population of pit bulls, and a lot of my friends back home had them. I was exposed to pit bulls during my teenage years and pretty much grew up with them.  My good friend had a pittie named "Precious." Once I got involved with Shorty, it was a no-brainer.  I already believed in the cause and what the show stood for, so I did it gladly.

Ronald:  My work on Pit Boss has helped me see my pets in a different light. Working with so many different rescues and shelters, I saw so many animals abused and neglected . . . it breaks your heart. I don't have any dogs at this time because the apartment I'm residing in doesn't allow dogs.  But I do have two awesome cats named Dexter and Avery.

EM:  And what about your interest in music?  Do you both play instruments? Are you also pursuing a music career?  How did you get involved with Post Trauma band? 

Sebastian:  I play the bass guitar, transitioned into that from playing the violin at a young age.

We got involved with Post Trauma through the band's drummer, Joey Gnoffo, who co-starred with us in the movie Mirror Mirror as the character Grub.  Ronald and I had talked about doing music together, and we approached Joe at Post Trauma with the project.  We're not permanent members of the band, but we'll always welcome them as musical friends in any project we'll be doing in the future.

Ronald:  I've played the piano for about ten years.  I've enjoyed collaborating with them for the EP . . . Our plan for promoting the EP is to take part in as many interviews and public appearances as possible for various charity events and live shows.

EM:  How did you two get into acting? 

Ronald:  I first got into acting in drama club in high school.  This gave me the passion to continue it further and push myself.  The experience was definitely no fairy tale.  I had my good and bad days, but in retrospect, I wouldn't change anything for the world.

Sebastian:  I got my start into acting by doing the Radio City Christmas Spectacular with the Rockettes, and from there started doing repertory theater with the Salerno Theater Company in Tampa, Florida.  Then the acting bug hit me, and I wanted to pursue film and came out to L.A.!
It's been quite a journey so far with acting because it's always a new experience.  Whether it's finding something out about a character you may have played, or just enjoying the journey, it has definitely been a wild ride.
Davinci, wearing his Service Dog vest, looks up at me and wags his tail in agreement.  A wild ride indeed, most definitely worth it for him!
Check out the fashion editorial, photographed by Jeff Linett for The Statement.