Sasha Farber & Emma Slater Speak Candidly About Their Experiences on DANCING with the STARS
By
Kaylene Peoples
| July 18th, 2013 | Category:
Entertainment
,
Interviews
|
2 comments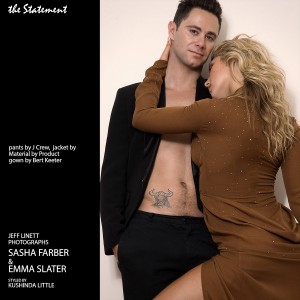 Who hasn't seen Dancing with the Stars?  The popular dance competition reality show has turned nonprofessional dancers, who happen to be celebrities, into professional dance competitors.  Dancing with the Stars has elevated Hollywood's "A" and "B-Listers" to household names.  We non-dancers have learned to identify the dances "Paso Doble," "Lindy Hop," "Mambo," and more, making us loyal supporters and knowledgeable critics.  The ABC hit reality show has not only revived actors' careers, but it has become one of the most endearing reality shows of all time hands down. Who plays a big part in this process? Dance partners and choreographers Sasha Farber and Emma Slater, and the dynamic dance team continues to be a big part of the show's ongoing success.
Interviewed by Kaylene Peoples (Bold)
Responses by Sasha Farber and Emma Slater
Combined, you both have an impressive dossier. Having appeared on several TV shows, concerts, and even the opening ceremonies at the 2000 Olympics, how did you pair up as dance partners?
That is the million dollar question.  A lot goes into pairing up two people to dance together. From the look to the height to the hair color to the style of dance, it's very important to have a great combination of two people. Dancing with the Stars has an amazing way of choosing its pros and celebrities. A lot of thought has to go into this VERY important process.  It is an amazing thing when two people dance together.  It's just beautiful to watch.
In the ballroom world we have tryouts. This is when two dancers put a dance together, and dance it right through to see how they feel together. Most of the time our coaches are there watching to see if it looks dynamically right.
What is it like to choreograph and dance on Dancing with the Stars?  Do you have a favorite celebrity dance partner?
We love to choreograph for Dancing with the Stars, and last season Emma and I did some great numbers to [the music of] Stevie Wonder, Hunter Hayes, Olly Murs, Iconic Pop, Huey Lewis and the News, and lots more.  So it was a great season for us, and we enjoyed every single moment. Who is our our favorite celebrity? We would probably say all of them.
What are some of the highlights of working on the show?
To be honest, being among so many great people and dancers, and always taking things to the next level. One of our highlights has to be choreographing the finale opening number on Monday night!
How do you feel about the judging? Have you ever been disappointed by the outcome of a performance?  If so, which one?
I feel like the judges are there for a reason, and they all have a great background in dance. Most of the time, they are spot on in their marks.
What is the highest high in your career(s)?
Dancing with Emma on Broadway for seven months was an amazing feeling that we will never forget.
Any lows?  Obstacles?
There are never any lows when being on the number one TV show in America. We are both so lucky and honored to be a part of this show, and we enjoy every single moment we are at work. It's not really work when you enjoy something this much.
What's next after Dancing with the Stars?
The sky is the limit. Being on Dancing with the stars opens up so many doors. Stay tuned to see what happens!
Sasha Farber & Emma Slater
Check out the fashion editorial featuring Sasha Farber and Emma Slater, photographed by Jeff Linett.