The "Hot" Export Israeli Actress/Singer Meital Dohan
By
Agenda Magazine
| July 18th, 2013 | Category:
Articles
,
Entertainment
|
1 Comment »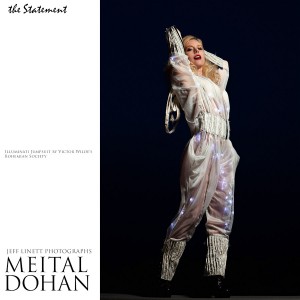 Not since the invention of the original sin has Israel had such a hot export. Described as "Extremely Gorgeous…" by the New York Times and "breathtaking" by Variety Magazine. Meital (pronounced "Mey-tål") was born Meital Dohan in Tel Aviv.
No stranger to the spotlight, Meital is a two-time Israeli Oscar nominee for her performances in God's Sandbox and Giraffes. She also won an Israeli Tony for Most Promising New Actress for her work with the renowned Cameri Theater and was principal star in the Israeli Emmy Award-Winning Ugliest Esti – the Israeli version of Ugly Betty. Meital has authored a number of successful plays and the book Love & Other Bad Habits.
US audiences were first introduced to her as Yael Hoffman on Showtime's Weeds and as Aurora in the Sony Pictures web comedy Woke Up Dead, co-starring Jon Heder and Wayne Knight. Meital also stars in the upcoming feature Foreclosure with Michael Imperioli and Wendell Pierce. Her most recent film, Monogamy (Oscilloscope), co-starring Chris Messina and Rashida Jones, won the Best Narrative Feature at the Tribeca Film Festival and received rave reviews.
On stage, Meital co-starred as Abby with John Ventimiglia (The Sopranos) in the Off-Broadway and LA productions of Anthony Neilson's play Stitching, which is now being developed into a feature film directed by Bernard Rose (Candy Man).
In early 2011 the Israeli bombshell caught the attention of mega hip-hop producer Che Pope (Lauren Hill, Eminem, Dr. Dre) and they began to record her debut album I'm in Hate with Love.
Other key players in the music industry have since come onboard to support her music. With the release of her first single, "Yummy Boyz," in June, 2011, the official music video quickly went viral and reached over 1,000,000 views, and the song has circulated in clubs and radio stations nationwide, including KIIS FM. "Yummy Boyz" has been remixed by some top DJs such as Danny Verde, Electrolightz, Hector Fonseca, and Chew Fu (Rihanna, Timbaland, Katy Perry, Gossip, Alicia Keys, Lady Gaga).
Meital launched the second phase of her first single with the new remix "YUMMY" produced by Rami Afuni ("LMFAO"). Meanwhile the actress/singer/performer continues her ascendancy across a range of media with an ongoing stream of videos, bringing to life her comedic genius (Yummy Charlie and Fitness Wisdom) and select live appearances.
Meital reprised her role on Showtime's Weeds for the 100th episode (and second to last episode ever) as the show is looked back at pivotal moments. The Botwin family returned to their hometown where they ran into a familiar face—Meital's "Yael Hoffman." Meital's much talked about character comes back as the head of a rabbinical school, and is pursued by Andy Botwin (Justin Kirk), who is looking to enroll in Hebrew School.
This MTV buzzworthy artist's most recent single "On Ya" featuring platinum recording artist Sean Kingston, was remixed by world renowned DJs, including R3hab, Steven Redant, Guy Scheiman, DJ Reflex, DJ Skee, So Called Scumbags, Quick & Sem and Housemeisters, and The Brass Knuckles and Brian Cid-produced single topped the UK Club Pop Chart at #5 and is continuing to climb BILLBOARD.
Taking the music scene by storm as "Pop's New Triple Threat" (dubbed by Maria Menounos on EXTRA) with over 1 million followers on Twitter and Facebook, in just a short year, this breakout independent recording artist has garnered the attention of major media outlets; released a single with Sean Kingston; worked alongside the producers of Timbaland, Nelly, John Lennon, and Bob Dylan; had her songs available on radio stations around the world from SIRIUS XM to KISS FM; and had her videos viewed by hundreds of millions of viewers worldwide!
(Biography courtesy of Meital Dohan.)
Check out the "Meital Dohan" Fashion Editorial, photographed by Jeff Linett for The Statement.