Ali Levine: Social Media-Savvy Fashion Stylist Talks Fashion (And Tips!)
By
Elana Pruitt
| October 7th, 2013 | Category:
Columns
,
Talking Chic
|
Comments Off

on Ali Levine: Social Media-Savvy Fashion Stylist Talks Fashion (And Tips!)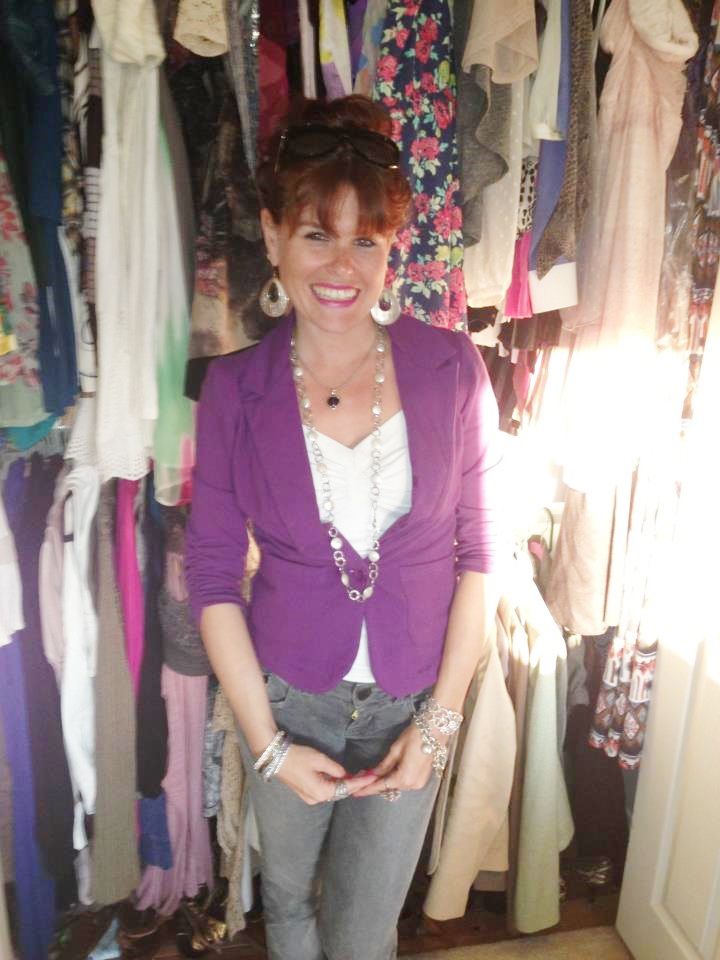 Ali Levine and I met via social media. She followed me on Twitter; I followed back. I followed her on Instagram; she followed me back. Early on, Ali and I began building a connection naturally based on our individual passions in the fashion industry. And since building a fabulous working relationship with this Los Angeles-based celebrity fashion stylist, I've come to gain the utmost respect for her. Ali's bubbly, passionate personality is evident not only as a social media guru (creator of "TrendsTues™"); chit-chatting with her is just as fun!
Ali was born and bred in New York and grew up with an innate love for fashion and design predominantly inspired by her city upbringing and grandmother—her style icon.  She went on to graduate from Northern Arizona University and Fashion Institute of Technology, prior to beginning her career working for Target and Coach, and eventually, some of the biggest names in the industry.
Ali eventually relocated to Los Angeles and has been involved in a vast range of projects ever since, with her styling gracing the shoulders of countless celebrities on the red carpet. Ali has styled for pop star Jesse McCartney, Joey King (The Conjuring), Meta Golding (The Hunger Games), Katee Sackhoff (Riddick), James Maslow (Big Time Rush), Sam Larsen (Glee), Brett Davern (Awkward), and celebrity blogger Perez Hilton. She has also worked on the set of television show Mercy and film, Wall Street: Money Never Sleeps. ("I learned so much from costume designer, Ellen Mirojnick!") In addition, Ali has styled on the movie sets of Big Momma's House, Like Father Like Son with designer Leah Katznelson, and In Time with costume designer Colleen Atwood.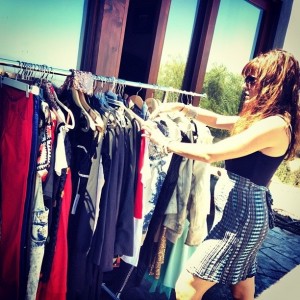 Some of Ali's most current projects include dressing Lauren Bowles at the True Blood premiere and styling editorials for multiple publications, such as Flaunt Magazine and Unallied Magazine. Press Junkets, advertisements (Boost Case), and "great indie films, such as Pastor Shirley with Paula Jai Parker that just came out" are also part of Ali's repertoire.
I am fascinated with fashion styling and all of its many challenges and exciting moments, so I am proud to introduce my exclusive interview with Ali for Agenda Magazine! From how she manages her busy schedule to her favorite brands and designers to work with, my new friend touches upon several areas to take note of. Wardrobe tips included!
So Ali . . . You graduated college with a degree in Fashion Merchandising and Management! Tell me about your life before that. How did you know that the fashion industry was your calling?
My life always had fashion included in it, somehow. In some way, shape or form, clothing, jewelry was always a part of me. I loved wearing different prints, trying crazy jewelry, and wearing heels, even when I wasn't allowed to. I believe fashion was just innate for me. So as soon as school came into play, it only made sense for me to study fashion.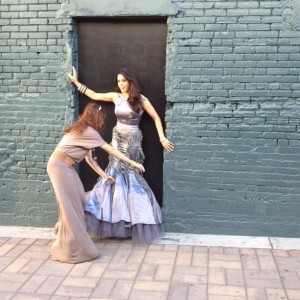 Your experience is so vast and diverse. You've worked with various types of celebrities. How do you manage a sense of organization and productivity across the board with handling so many entertainers?
I have an amazing team of assistants and interns that help keep me organized. The key to me handling so many entertainers is really my own system. I know what their schedules are, when they will need to be styled, when events may overlap and how to prepare for them. Although, since the industry is known for last minute events, I am used to just flying by the seat of my pants some days! I just chalk it up to it being the fashion grind.
Who are some of your favorite brands and designers to work with?
Wow, this question is always so hard for me! I always love my classic designers, such as Christian Dior, Dolce & Gabbana, Michael Kors, Vince Camuto, and more. However, I also love finding new indie designers. I think they can be so fabulous and so much fun! I recently have been using Jacqueline Quinn, L'une Collection, Kamola Designs, Adolfo Sanchez, Michael Kuluva of Tumbler and Tipsy, Boohoo, Jacob Halston, Insight, Abyss by Abby, and much more! I love seeing what newer designers have, and where their creative brain goes! For styling, the options are endless and so is the creativity.
With "Reality TV" these days, the public is able to now see a first-hand perspective of a fashion stylist's life. But due to editing and the making for good TV, sometimes I don't believe we're getting the real deal. What really makes up a typical day of a stylist?
Haha, I always enjoy this one . . . depending [on] what show you are watching, you do see some of the everyday life; but put it this way, in real life, there's no sugar coating! The drama that goes on doesn't get fixed, unless you fix it. There aren't 100 assistants. If you are lucky, you have one or two! Turnover is crazy when it comes to finding hard workers, especially in styling! Styling is not just making someone look pretty. That is not even half of the beginning of this job.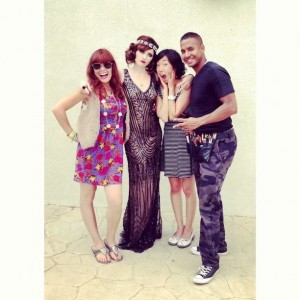 As a fashion stylist, you have a special eye for aesthetics! Tell me about your own personal style. How would you describe your wardrobe?
I like to think I have an eclectic style. I love mixing, in general . . . mixing colors, metallics, prints, gold and silver jewelry, vintage and modern . . . That's where I find my personal style. Sure I can be edgy when I want to be with my studs, spikes, and leather, or really girlie with my dresses, but I love that no matter what I mix of my own wardrobe, I come off in an eclectic and eye-catching manner.
You and I met via social media! We've both agreed that it's an amazing way to connect to others. What do you like most about using social media as an active part in your business marketing? (I love the signature hashtags you've created!)
I like the fact that you can speak to so many different types of people and interact with all kinds of fans. I love that some of my followers aren't into fashion and love different things about my style and the people I dress! I find that so inspiring! Thank you, on the hashtags! I have a lot of fun with them! #Stylistlove!!
Every conversation we've had, whether via social media, email, text, or phone, you always sound so positive and encouraging! What inspires you?
Aw, thank you for that! Life inspires me! People inspire me, and fashion in general, as far as my everyday career, truly amazes me. I believe in positive energy, and surrounding yourself with it.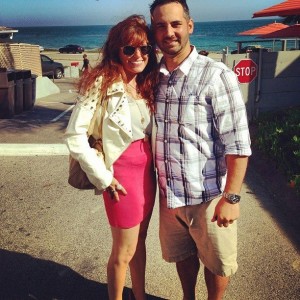 I have an amazing support group of family, friends, and my husband. That definitely helps.

We know the fashion industry is competitive. What do you believe helps you continuously succeed and grow as a fashion stylist?
I think experience and my constant styling always helps me succeed and grow as a stylist.
Also, getting to work with such amazing people in the industry only opens me up to more people and more actors. I truly love what I do, and I think my clients and future clients see that.
What are some staples that all women should have in their closet, no matter the season?
Black blazer, a white tee, simple little black dress, an easy half-calf boot, a nude and black tank/camisole. Those are great staples to start with! These will never be just on trend. They are classic pieces, and you can mix and match in your wardrobe.
What are you some of your goals for 2014?
Hmmm, I set new goals for myself weekly, so this is a big one for me to think about . . .
I'd have to say a couple goals are style a major actress for the Emmys or Oscars for 2014, land a major editorial cover, and help style one of the shows w/the designers at New York Fashion Week. New York is my home and my heart, and I always miss it!
Ali Levine can be reached directly via social media, such as on Twitter, Facebook, Instagram, and Pinterest. Her website: www.alilevinedesign.com.