An Interview with Hollywood Stunt Woman and Designer Natascha Hopkins
By
Eveline Morel
| October 7th, 2013 | Category:
Articles, Interviews and Reviews
,
Fashion
|
1 Comment »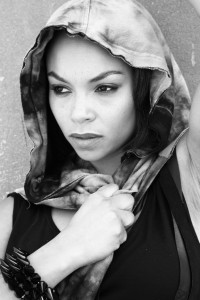 Natascha Hopkins is one of Hollywood's top female stunt women, whose stunt and acting work can be seen in many recent Box Office hits and TV series, including Django, After Earth, Mad Max, Transformers, and more. She recently launched an active-wear and life-style collection, Capo Nata, and talks about her work alongside top Hollywood talent and the inspiration for her clothing line.
How did you decide to start the Capo Nata clothing line? 
I decided to create Capo Nata during the time I started working on the Lean Body Sports Bra.  While doing research, I realized there was a void in the active market—I simply didn't see any garments that merged function AND fashion. And most importantly, didn't see many garments for larger women.  The average American size is a size 14.
Where do you see the clothing line going?  
My vision is clear: I see Capo Nata empowering individuals to live a healthy lifestyle. We are creating a community to encourage fitness for "every" body, while being comfortable and confident at "every" size. Capo Nata will be an international trailblazer in the "Active Lifestyle" market.
How does it feel, working on big features alongside top Hollywood talent? 
I feel honored and grateful to be working alongside Hollywood talent! Watching and absorbing a limitless amount of knowledge from directors like Michael Bay and Quentin Tarantino and actresses such as Halle Berry and Kerry Washington, I feel like it's made me a better actress and stuntwoman because I see the work ethic, behaviors in high- pressure settings, and the all-around awareness of what it really takes to become and stay successful.
What were some of your favorite moments on the movies you worked on?
One of my first films was Smokin' Aces. The stunt-work career was still new to me: the fight choreography, the chainsaw-running, and a man running on fire, a shootout, and me having to fall over Ryan Reynolds all in one take was an extra adrenaline rush. But what was so exhilarating about it, too, was that the director Joe Carnahan was yelling and screaming with excitement before he even yelled "cut!" It was such an amazing experience. I learned quickly that we're a team, that everyone's role is important, and that we all have the same goal—to make the best movie we can.
Some of the stunts you do look pretty painful.  Do you ever get hurt?  How do you avoid getting hurt? 
Many of the stunts I've done, and do regularly, are pretty painful. I definitely get cut and bruised often.  But it's nothing to even complain about, because it comes with the territory. I take care of my body very well, so it can heal itself as quickly as possible. I go to my chiropractor, get massage therapy, do a rotation of cleanses, meditate, visit the sauna and SPA weekly, and of course work out in my Capo Nata Lean Body Sports Bra!
What kind of sports do you do to stay in shape?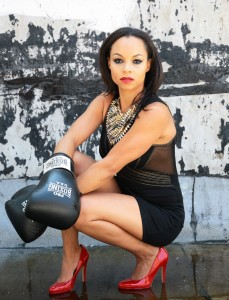 I like to do things that are fun to me. Since I was a gymnast growing up, I pretty much lived in the gym.  Now I prefer the more untraditional physical activities, and am always up for trying new things. I love boxing, kick boxing, tae bow, hot yoga, cardio barre, hiking, salsa, and pilates, boot-camps, basketball, zumba, paint ball, and most of all, flag football. I am open to all sports really.  I just go on Group On, click, then on to my next adventure.
You have a busy life, between acting and the clothing line.  What keeps you going?  What drives you to push forward? 
Balancing the acting, stunts, fashion, and being a new business owner have definitely been a challenge. I have many motivation factors. My family, boyfriend, friends, stunt community, and Capo Nata team are a large factor because they see the sacrifice first-hand, and believe in me to the fullest. God has blessed me with my talents and passion, so success is all I see.
I remember in the earlier stages of the market research for the Lean Body Sports Bra, I had a few ladies wear the newly designed bra for feedback. When we completed that stage, one of the ladies expressed to me how the Lean Body Sports Bra CHANGED HER LIFE. She told me she was too embarrassed and overwhelmed to go to the gym or do anything active because she had NOTHING to fit and support her full figure, and the Lean Body Sports Bra gave her the confidence and comfort to begin her healthy lifestyle. I can't even tell you how that felt!  It was then that I realized that Capo Nata is more than a brand.  It is a lifestyle. And with a name that means "Born Leader" in Italian, it can start a movement.  It has the potential to change lives . . .