Former AGENDA Cover Model Lauren Abraham Talks About Sports, Life, and Fashion
By
Eveline Morel
| October 7th, 2013 | Category:
Interviews
|
Comments Off

on Former AGENDA Cover Model Lauren Abraham Talks About Sports, Life, and Fashion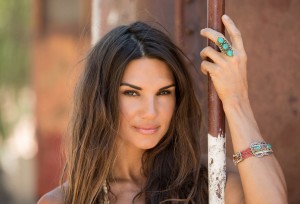 Lauren Abraham: professional paddle-board surfer and former snowboard pro, health and fitness expert, certified yoga instructor, TV show host, and entrepreneur.  She has experienced more in 28 years than many have in a life-time.  And besides taking big waves and high cliffs, she's also had to negotiate some tight hairpin curves in her own life.  She talks about her failures and successes, the lessons she learned, and her most recent projects.
How did you get from surfing in the snow to surfing in the ocean? 
When I was in college, I was a professional snowboarder, competed, and had multiple sponsorships. After my life took a few turns, I became a professional stand-up paddle surfer, and now people know me for my professional stand-up paddle surfing.  I went from being a professional athlete in the mountains and the snow to a pro surfer. I got into stand-up paddle boarding three years ago.  I first started surfing, then gradually pursuing waves on a stand-up paddleboard, and I was able to go pro in a few months. I've always been dreaming of being a pro surfer.  It takes a lifestyle, takes a life-time to be a pro surfer, but I was able to do it in a short time.
You studied to be a journalist?
Yes, that was my major.  I think it was the only subject I got A's in during college.  I had no interest in anything else except writing.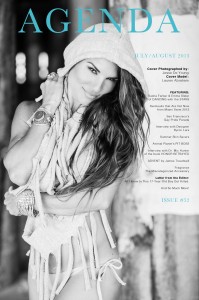 You're the first person that I've heard of who had a snowboarding scholarship in college . . .
I went to Sierra Nevada College as a professional snowboarder. We had the number one ski team in the world at Sierra Nevada College, and I proposed that we put together a snowboarding team.  They agreed, and even attached a scholarship with it.  I ended up not being able to be on the snow board team:  my own personal competitions took off and I was also side-coaching . . . I ended up going in my own direction, with my own sponsors.  Yes, when everyone was in college worrying about what they'll do after, I was snowboarding as a sponsored athlete, competing, drinking, and having a blast . . .
Did your sports take you abroad?
I surfed in Bali, Nicaragua, Costa Rica. I had my own yoga and paddle surfboard retreat in Costa Rica for multiple years, and now I'm hoping to expand it this year to Bali . . .
Do you still compete for snowboarding?
I had a major snowboarding accident in 2001.  At that point, I had shoulder surgery on both my shoulders, I had knee surgery, I'd already broken my back twice, and I was in school.  My grades went down because I could barely make it to classes due to all the recovery time . . . I did some stunt double work for film in Big Bear and broke both of my ankles, separated rib cage, and a broken nose . . .  It totaled me. I was in a wheelchair for a year, and I became an addict, using drugs and alcohol for two years, at 23 years old.  I put myself into an alcoholic treatment facility, got clean and sober, and have been clean and sober since pretty much 2003 . . . When you hit rock bottom, you have to figure out how to reinvent your life.
Where do you get your strength and this drive, this desire to do all this stuff?
I think it comes from the humbling experiences.  I feel like my successful career has been entirely founded on learning to be humble. It's humility that teaches me and makes me realize that my successes are failures and that my failures are my successes . . .  If you become able to realize this as you fall down, you don't fall.  You keep on.  You are able to learn a lesson, and will be able to rise up again, and grow stronger, more powerful, and wiser, to be able to do it better the next time.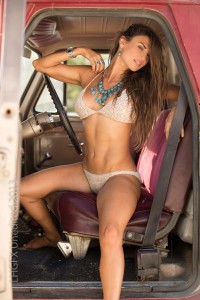 Now how would you figure successes are failures?
With every success there is a failure, an opportunity to learn.  For example, I was in a position where a five-year contract with a network comes to an end, a relationship comes to an end, and a heart-break happens—all within a ten-day period.  As a young woman, when you have all this success happening, and then all of a sudden, it all goes away, you lose it all, all this stuff  is all gone within ten days . . . Ok, how do I work with that; how do I begin; where do I break through this situation?  I went in isolation and got depressed for two and a half months, and then I went to Costa Rica, started surfing, and the phone started ringing again.  The sponsors started coming back, and then I got the drive again, and I got my feet back under me, and I got my hair wet, literally, and got refreshed, and said, "I'm gonna do all this again!" I've learned my lesson and know what not to do next time.
My mom taught me at a very young age that you can either be a cruiser and bob around like a cork and do something very average, or you can take super-high risks and pay super-high prices for the highs of life, and that you have equal balance of them both.  But now, it's only recently that I've found this serenity that the whole roller-coaster, this high and low, is no longer happening.  I don't get too excited about things . . . I don't get too sad about anything, except maybe family or heartbreak.  I've found serenity within myself.  Opportunities come; opportunities go.  You learn to trust that the best always happens.
I really believe in taking action, you have got to do the footwork.  Everyone's living in L.A. for what they call "the big break."  The big break is the opportunity that you create for yourself in all areas of life.  The opportunities and the person that's in the brand—in the personal brand that you're building, in building your life—and the joy and happiness that you find in that, it's only natural for those same kinds of people that feel things at the same level to come towards you and come in your path.
So how do you learn to trust? 
I was certified as a yogi two years ago, by the Yoga Alliance.  That whole process was amazing because I learned how to trust myself more through my yoga practice.  I literally started doing that by closing my eyes during the entire class and not looking at anybody else's form, not looking to find balance in anything else other than feeling my feet on the ground and my body, closing my eyes for the entire class and trusting that I have the strength to not fall down.  It's hard to keep your balance with your eyes closed—it's a mental thing.
You've seen some serious ups and downs in your life . . .
I've lived through a humbling experience, at 23 years old:  Completely in a domestic violent relationship for four years, living in a wheelchair, completely addicted on drugs and alcohol, I was unhirable . . . I really did hit the bottom of the barrel . . . I went to jail after rehab, after I completely got clean and sober, and I got arrested for drugs.  And here I was in the jail, with a bunch of women who were obsessed about getting high and using drugs, totally checking out.  They looked at me and said, "What's your deal?  Why are you here?  There's something different with you?"  I told myself it's time to get serious, time to turn the page and find your truth and your values.  And what I did [was] I took my trust in my future, which at that point I had none, and decided to do the footwork . . .   It was so bad.  I had two DUIs, I was drinking so much, I was hitch-hiking into town, had to eat out of bins outside a grocery store just to put food in my mouth because I was so broke.  I was still pretending to hold it together . . . because I still had heels, and still had a wardrobe, and still had a roof over my head because I wasn't talking to my mother, but she was paying the rent on that place.  Then I got an eviction notice from the landlord and just ignored it, and I ignored everything . . . Running, running, running . . . I moved to my boyfriend's house, who was completely abusive.  It was just a freaking nightmare . . .  You wouldn't believe it.  Then I was just a different person.  Looking back at myself, I now ask, "Who was this person?"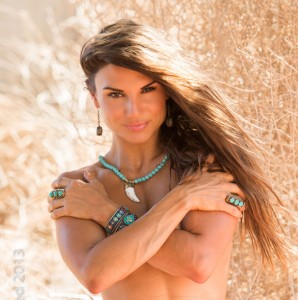 I just signed a two-year endorsement deal with a rehab center outside of Florida, called Real Awakenings, as a spokesperson.   I will be working with tons of people in Florida, helping them find their life back.
So when you tell people that they CAN change and reinvent themselves, you know what you're talking about: you've been there and back . . .
Absolutely!  You can learn from failure, and you can reinvent yourself and do things that you didn't know you could do.   This is what I'm trying to teach—I volunteer my time at the rehab center; I work at the State-funded Clare Foundation Monday nights.  I work with a full panel of women there, women who are raw, straight-up recovering addicts.  I tell them to take baby steps, teach them to find joy in sobriety, and find passion in reinventing yourself a new life.  To trust that this life is going to be good for you and that you do this footwork and make things happen, and that your whole life is going to improve before your very eyes . . .
Ok, professional paddle-surfing, and now a jewelry and a bikini line?  You're an entrepreneur, not just an athlete.
The dance company was started with me wanting to hire my closest girl friends in college and give them an opportunity to play together, make money together.  We were all passionate about dancing, we were in our mid-twenties, and we all liked to have fun together.  So I started this dance company for my girl friends to do something that they loved, instead of just slinging cocktails and working at the hardware store . . . and I put them on this cruise ship.  My mom had made all the costumes . . . she's been putting me in crocheted bikinis since I was two years old.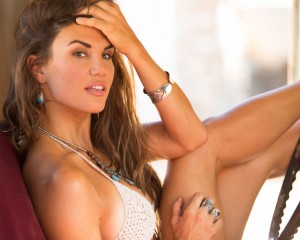 The bikini line I'm about to launch is something that's been there my whole life.  I have a picture of me sitting in the bathtub in a crocheted bikini when I was a kid . . .
So you've basically been modeling bikinis since you were two . . .
Yeah, totally! I can give you a picture of me modeling bikinis when I was eight.  The reason I'm doing the bikini line, the sports bras, and the fitness stuff . . .  because I believe it's not just a look; it's a lifestyle that reflects the natural beauty that comes from within.  The bikinis are also all hand-made, crafted in Costa Rica, where I found this beautiful couple who's producing the line for me.  My motto for this whole thing is "Athletic and sexy styles for the natural beauty within" and "nature-inspired pieces for the natural beauty."  I used to wear so much makeup, and curl my hair, and take so much time, put on a whole look because I was not comfortable in my own skin.  And now, that's so not the case.  It's all about being able to simplify your look.  And since I'm in a swimsuit and in the water a lot of the time, I want to have something that really reflects who I am.
The jewelry is beautiful . . . it's a mix of simple, ethnic, yet modern, can go with anything . . .
Yes, the jewelry comes from Tibet.  It's all hand-made, all inspired by Mother Nature.  They're strong, powerful pieces, goddess-style jewelry that make you feel empowered when you wear them.
So what's your secret?  How do you do it all?
Do what you love; learn from your mistakes.  When you reach an obstacle, power through it; constantly reinvent yourself . . .  I'll see you on the beach.