Kaiio – Fairy Tales Really Do Come True!
By
Tonya Carmouché
| December 18th, 2013 | Category:
Accessories
,
Women
|
Comments Off

on Kaiio – Fairy Tales Really Do Come True!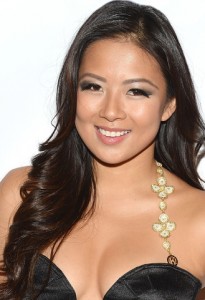 Who do you imagine yourself as, a soccer mom, a writer, a philanthropist? If you are stuck in a position where you don't know who or what you want to be, add a little accessory to your life. It just may be your guiding light. Such is the case for CEO of Kaiio jewelry and accessories, Christine Ko. This creative and inspiring young lady relocated from Georgia to California and found employment as a waitress. Christine knew this was not her destination. When she added her creative, beautiful sparkling accessories to her life, doors opened up for her. What seems like a fairy tale is Christine's reality. Sparkles may be the spice your life needs. Everything Kaiio has to offer will bring excitement into your life. I recently had the chance to sit and speak with Christine and learn more about this intriguing entrepreneur and her stunning collection.
Interview by Tonya Carmouché
Responses by Christine Ko
Did you ever dream you would be running your own jewelry business?
I always knew I wanted to create something . . . whether it is a story through acting, art, music, fashion . . . and now I can express that through jewelry.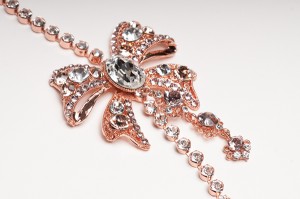 What inspires your beautiful creations?
A lot of the straps are inspired by the amazing women in my life. After working at the W Hotel [as a cocktail waitress], I got to meet many different personalities from different cultures and see how much drive and determination they have in their work. Everyone's in different careers, but they're all chasing after one dream, to be successful in something they love.  Everly Jane is the name of the first baby born out of our group of friends at the W, and it felt like such a wonderful name to give our gold and white opal strap. There's a sense of innocence and purity that comes along with the colors of the strap, and it's one of my favs.  The Marci (silver rose bloom strap) is named after one of my best friends that I met while working at W. She trained me from the beginning and has been a mentor ever since. She has the sweetest heart, and there isn't a moment she doesn't have a beaming smile that radiates with positivity. The Marci strap is beautiful with all its layers of crystals. It's the epitome of class and style. It goes with the woman that inspired it so well.
Where did you grow up, and how did it develop your creativity?
I grew up in Atlanta, GA, and I was very fortunate that my parents let me take after-school art and dance classes to express my creativity. I always loved fashion at a young age, and my favorite thing in the world was to watch Disney movies and see all the beautiful gowns. I will forever remember the moment I fell in love with the lavender sparkly dress Ariel walks out in at the end of Little Mermaid.  I think that's when I fell in love with all things sparkly-:).
What is next for Kaiio?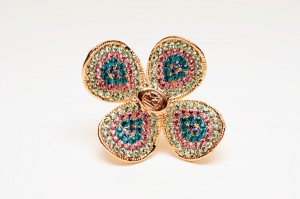 We're excited to get Kaiio off the ground and really push our spring 2014 collection. We will be shooting our summer swim campaign in January in Capetown, so we can show people how to add that extra sparkly on a bikini or one-piece. We also will be launching our bridal series, as well.  Swarovski crystals are always an incredible addition to wedding gowns, and our straps have over 700 Swarovski crystal elements on them that really showcase a woman's neckline. Plus there's no such thing as too much sparkly on your wedding day!
Are you still an aspiring actress?
In my heart I will always be an actress—my mother was an actress for many years in Asia and still loves to tell stories. She's the life of the party at every event, and to me that is a way of being on stage. If there are any further acting opportunities that come up, I would definitely still say yes!
What type of women do you imagine wearing your designs?
I think the woman that would wear my designs is a strong, confident, classic, and like just a little sparkle in her life. Kaiio straps add an extra touch to a plain black dress, and it's definitely for the woman that wants to be unique.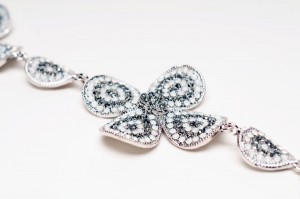 Who would you love to see wearing your designs?
I would love to see Sofia Vergara or Adriana Lima wear my designs. They're such beautiful women, and they really capture the essence of Kaiio.
Is there anything you would like our readers to know about you?
I'm just a normal girl like everyone else who is trying to make a dream come true. After leaving Georgia State University and majoring in finance I really didn't know what I wanted for myself; so I went to Asia and started an acting career. When I realized that I loved acting but the US was my home, I moved to LA and started from nothing. Two years of cocktailing and waitressing later, I started making jewelry on the side and met my partner, Quinton Van Der Burgh. Now I'm the CEO and designer of my own jewelry company. There's still so much growing and learning to do, but never give up on your path and always know that there's something wonderful out there if you're willing to put in the time and work. Never give it up!
For more information about the Kaiio collection please visit:  www.kaiio.com