The documentary film, I Called Him Morgan was shown Tuesday night, Oct 10, 2017, at The Landmark Theaters in West Los Angeles, CA. This provocative film written and directed by Kasper Collin outlined the details of legendary jazz trumpeter Lee Morgan's life and his sudden death at the age of 33.  It took the filmmaker six years to complete the movie that composed a historical and personal narrative through live interviews with Morgan's friends, bandmates, and the interview tape recording of the hauntingly sad voice of Helen Morgan, his common-law wife. Tonight, the IDA (International Documentary Association) sponsored the movie and the discussion afterward with Bennie Maupin, jazz multireedist (who was a friend and former bandmate of Lee Morgan) and Tim Cogshell, host of Film Week on KPPC 89.3.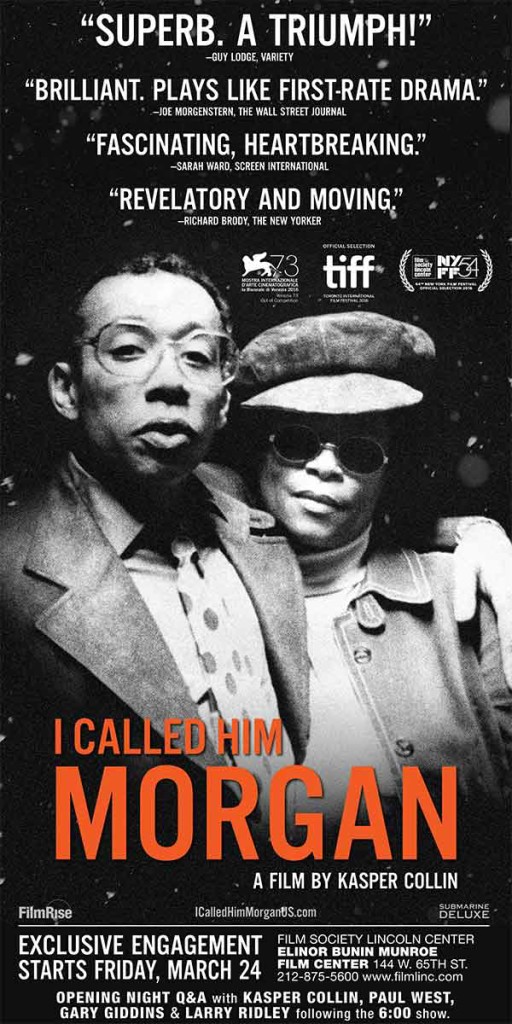 Lee Morgan came into the public eye at the age of 18, where he first stood out with Dizzy Gillespie's big band in the 1950s. Morgan's genius was recognized by his speedy, meticulous, yet soulful blowing of the trumpet. Soon, Lee Morgan made a big name in the jazz world, playing on John Coltrane's recording Blue Train and traveled worldwide with Art Blakey and the Jazz Messengers.
The film depicted through many graphic black and white photographs how Morgan became a huge superstar of his day.  On the screen we saw a handsome young man full of energy, dressed in the prevailing stylish ivy league suits as he jammed in the clubs and studio recordings with the hottest jazz artists of that era.
Lee Morgan soon got caught up in a horrific heroin addiction. His common-law wife Helen Morgan (she was 10 years older than he) was responsible for getting him back on his feet after he kicked the habit. Helen was also responsible for his abrupt death when she shot him at the age of 33 from a jealous rage over his infidelity.  Their tragic love story runs parallel to Lee Morgan's remarkable career as he soars high and crashes, then rises again like the phoenix from the ashes of self-destruction.
Shortly before Helen Morgan died, in 1996, she recorded a series of interviews with Larry Reni Thomas, an adult-education instructor and radio host in Wilmington, N.C., where she was living at the time. As the audience heard Helen's ill-fated tale unfold on a scratchy old tape machine, the director set the mood for the film.  He juxtaposed raw, stark footage of New York City streets in the blistering, snowy winters; and the smoky jazz clubs where Morgan used to perform.  The documentary is interspersed with the interviews of brilliant artists who played with Morgan such as Wayne Shorter, Larry Ridley, Jymie Merritt, Paul West, Albert Tootie Heath, and Bennie Maupin. With each interview, we gained a deeper insight into Lee Morgan's psyche, and how his friends perceived his too short life.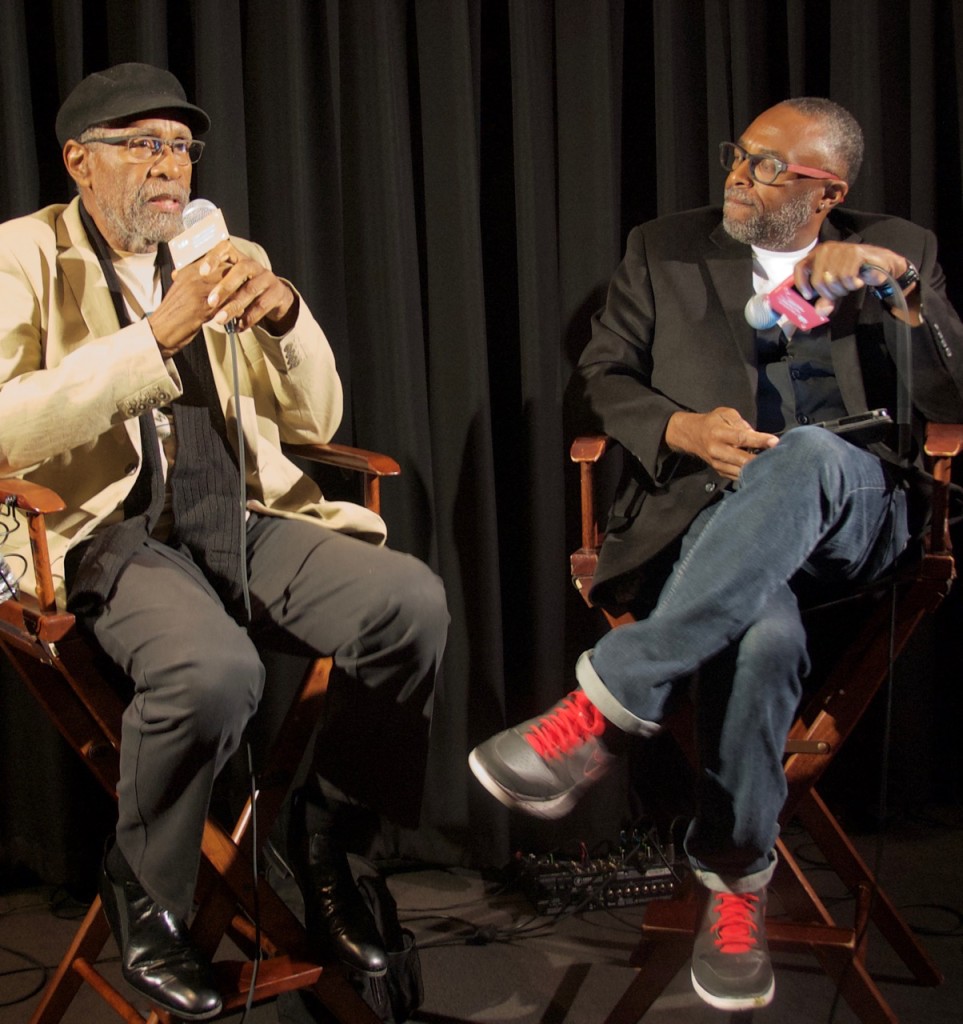 It was fascinating to hear the discussion after the film with Bennie Maupin, who is a legendary jazz multireedist. (He has performed with Horace Silver, Lee Morgan, Herbie Hancock, Miles Davis, Woody Shaw, and others) Bennie was Lee Morgan's best buddy who not only played music with Morgan but was a close family friend when Lee was married to Helen.  Bennie enjoyed many evenings at their home, plus he and Lee would often go out to the jazz clubs. Bennie Maupin played with Lee Morgan's band for a while and made the famous 1970 Blue Note recording Live at the Lighthouse.
Bennie was in San Francisco with Herbie Hancock and the Mwandishi sextet band when Lee was shot by Helen. "I got the call he had been killed. I was so confused and distraught," Maupin told the audience.
"Lee was one of my heroes. I went through a mourning period missing him. Even though I was working with Herbie, when I went back to New York City, Lee was always the one I would call; he was my main man. We would go hang out in four or five different clubs in one night, listening to music and jamming."
When asked about Lee Morgan's state of mind right before the shooting occurred, Bennie Maupin said softly,
"The last conversation Lee and I had, I realized he was making a great spiritual shift. Something deep inside his life was really transformative."

"He had called me about this new woman he had met and told me he had stayed out all night. He also told me he was going to get himself off the methadone, too, that he had been taking to rid himself of the heroin addiction. He was just on the verge of doing some major shifting."
Tim Cogswell asked Bennie how he felt about Helen after finding out she had killed his best friend.  Maupin reflected thoughtfully,
"I wasn't angry at Helen because she shot him. I wished Lee had handled their situation a better way rather than getting violent with her at the club. Perhaps that triggered something inside of Helen that came from her abusive past.  I think she was going through a temporary insanity. When she killed him, I think she killed herself."
Finally, Bennie Maupin was asked how he obtained closure with Lee Morgan's death, and the fact that he never saw Helen again after she had been arrested.  Helen was incarcerated for a short period of time then moved back to her home state of North Carolina where she died in 1996.
"Several things happened after that. That helped me come to closure. One was going into Capital Record Studios and listening to the music we had recorded for Blue Note records.  During the days we recorded, we couldn't hear back what we did until it was out on an album.  Somehow, the recordings of Lee's were found in a vault where Blue Note had put them. I was contacted to come and listen to the music so the songs could be properly credited to the musicians. I was sitting in the studio and as soon as the music came on, I was transported back to our playing at The Lighthouse in Hermosa Beach, where Lee and I had performed. I remembered all of our conversations from back then. That sort of lessened the pain I felt."

"When I saw this film the first time, that helped a lot. I was able to understand more clearly what the whole story was from Helen's side as well. I've played with so many jazz greats, but Lee was my guy."

Director of the World Stage/jazz vocalist, Dwight Trible, Sheryl Aronson, Bennie Maupin, and Filmmaker, Paul Sabu Rogers.
Why is the film called I Called Him Morgan?" It's because Helen Morgan never liked the name Lee so she always called him Morgan.  
I Called Him Morgan is a splendid film done with sensitivity, rare footage and photography, insightful interviews with some of the world's greatest jazz musicians, and yet, it is also a woeful love story about two broken people. Lee Morgan doesn't only touch our hearts with his genius as an artist, he and Helen wrench our souls with the romantic hope of love and despair of the human condition.  Kasper Collin has created cinematic masterpiece.
You can now see I Called Him Morgan on Netflix. (
(Photos of the screening taken by Sheryl Aronson)
Agenda Bloggers: Written by Sheryl Aronson for "Arting Around" | Want to comment? Login/Register here.