Grammy Award Ceremony Interview . . . 
Terrell Sass, Grammy-nominated Artist for Mya's Smoove Jones for Best R&B Album, means business.  While most people went off to parties after the Grammy's, Terrell Sass headed back to the recording studio to work.  No wonder—he poses frequently, wearing t-shirts designed by his friend that reflect his work ethic as a musician/producer/composer:
Execution Over Excuses – You sleep like you're rich. I'm up like I am broke. #Grind.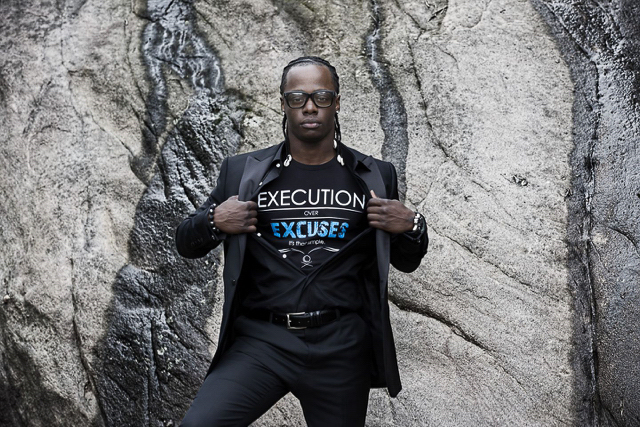 Playing drums has been Sass's calling since childhood. He started taking it seriously while in high school, and then decided to give up a traditional college for a music school.
"I tried to go to a 'traditional' College, but it didn't work out because I was always sneaking to Atlanta to play music. I actually asked a friend of mine to miss her midterm and take me to the Atlanta School of Music.  (I promised her that I would buy her house one day, LOL)  Luckily for me she did it without hesitation! That audition ended up being my ticket to Atlanta." –Terrell Sass
Terrell Sass ended up making important connections while in Atlanta that led him to play on major label albums with artists like T.I., DJ Drama, and Ludacris.  He also toured with Tyler Perry's production, The Marriage Counselor and Jennifer Holliday. In between gigs, Sass worked on composing music for many artists at his studio in Atlanta; plus he also traveled between Nashville and Los Angeles, recording with different artists depending on the genre of music he had been hired to do.
"Since I have played every genre as a drummer and I also play piano, I know exactly what I am looking for when I'm producing a genre.  My main philosophy is . . . 'drumming comes last'; even though that's my favorite instrument to play.  I know if I get everything else the way I hear it in my head, the drums will be the icing on the cake."

Here's how Terrell Sass got his music to Mya.

Mya (Photo: Sheryl Aronson)
"Orlando Williamson and another friend of mine Chaz 'Mayday' Jackson told me that Mya was looking for some records and they were working with her executive producer Yonni at the time. I came up with a chord progression first, then the drum & bass patterns. We did the music in one take after everyone learned their parts.  Orlando & Chaz played it for Yonni, and he made some really nice tweaks to it.  Next thing you know, Mya is in LA recording the record!

On his song "One Man Woman," which is featured on Mya's Smoove Jones Album, Terrell Sass received credit as a producer along with Yonni and Orlando Williamson. He also played the drums, programmed drums, and played keyboards.  He gathered up a band called the Sol Factor, and they recorded the song at Dogwood Recording in Atlanta. "The Musicians were Phillip Muckle on bass, Mark Strowbridge on rhythm, lead and acoustic guitar, David Farmer on the organ and Stephen Bruton on the Rhodes! And of course I played the additional keyboards and drums."
I met with Terrell Sass while he was in Los Angeles for the Grammy Award ceremony. We discussed his experience during that evening and his impressions of the different performances on stage.
---
Interview by Sheryl Aronson
Responses by Terrell Sass
The Best R&B Grammy ceremony was held in the afternoon. Describe what happened.
Terrell Sass: It was a nice ceremony. They gave out the awards that were not on the televised program. I got to see some performers that you wouldn't see on the main show. There was an Indian group that performed a tribal song that was amazing. They gave out Gospel, Christian Contemporary, some R&B and Hip Hop awards, plus the ones not shown at the main show.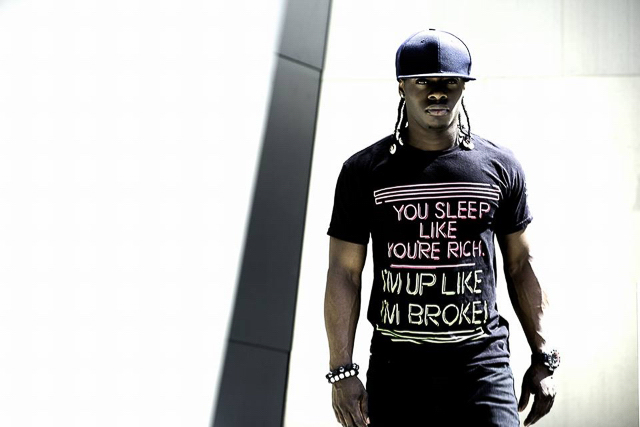 Please tell us about your nomination?
R&B Album of the Year with Mya, Smoove Jones. We were up against Lelah Hathaway, Terrence Martin, Mint Condition, and BJ, The Chicago Kid. Lelah Hathaway won. Congratulations.
What are some of the qualities that go into making the Best R&B album?
Nowadays, I think it's nostalgia. You have to make people feel like they used to feel in high school. If you make someone remember their high school or college days, they are going to love your record regardless. So I take elements from older eras and incorporate them into what I do because the sound of R&B has changed so much. When you do something that is organic and musical, it stands out now.  Nothing wrong with fitting in too, but if everyone goes right and you go left, then you'll naturally be seen.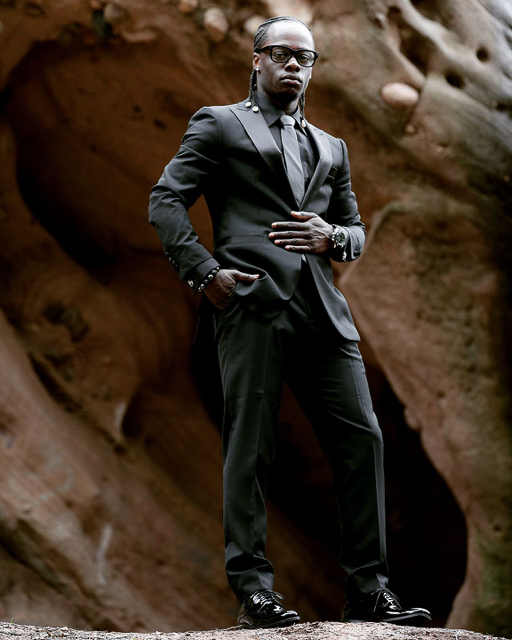 You did a fashion shoot in the desert.  Tell us about the shoot.
I work with a photographer friend of mine, Hannibal Matthews.  He came to Atlanta and we started to do a shoot, but I told him my Grammy suit wouldn't be ready until he was back in LA. He told me to send him a picture of the tux. I sent it to him and he said, 'We have to shoot this in the desert or a canyon.'  We did it.  Only he could pull it off and make it amazing.
Why did you choose the t-shirt that you wore under your suit jacket?  Tell us what it says.
It says, "Execution over Excuses." No excuses. Everyone has a goal and a vision.  But everyone doesn't execute. Execution is what separates the successful people from the ones that want to be successful. My friend David Shands has a clothing line called, Sleep Is 4 Suckers.  He has all these quotes. I wore another one that says, "Sleep is the new Broke."
So he comes up with the sayings?
They are all about grind and hard work and not sleeping and following your dreams.  I'm famous for that. When I saw his shirts, I had to get a few of those.  Every photo shoot I do, I have to have at least one of his shirts.
Please give some of your insights about the Grammy's as you sat in the audience. What struck you?  What stood out?
For starters Adele, when she stopped then started over; a lot of people thought it was part of a skit or something. But then we realized, she was serious. It was hard to believe this was really happening. First she said the "F" word.  I "F'd" up. We have to do it again. They did it and she got it right the second time.
What did you think?
I loved it. Do it right . . . in front of the world. It was big of her to  admit, "I messed up."
She was a 5-time winner that evening, a superstar, and even she can admit to making mistakes.
Kudos to her, too, for singing live. That means you are going to mess up every now and then.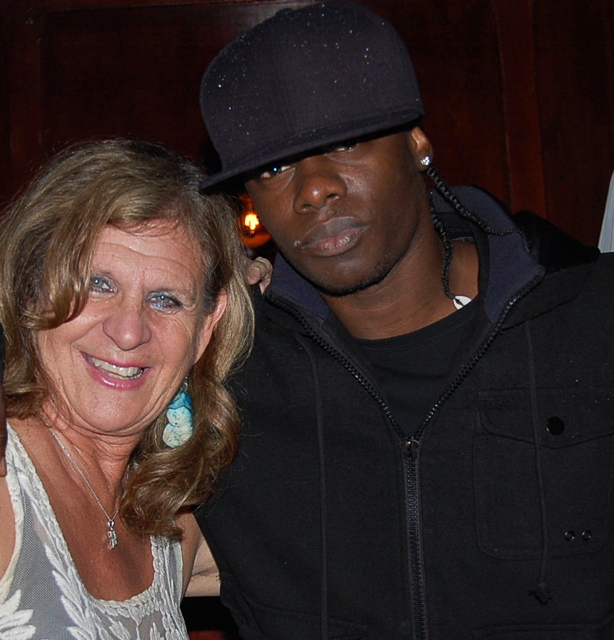 What else did you enjoy?
I loved both of Bruno Mars's performances. In my opinion, he's an actual musician. You can tell he feels the music a lot. He plays on a lot of music that he also sings on. His attention to detail when he's performing is perfection. He sings live. He can dance. He can play. He can produce. He's an entertainer. He could easily be the best performer of his generation already. When it is all said and done, he has a chance to be the greatest ever. He'll never dance like Michael but he does other stuff that Michael didn't do. He can't play the guitar like Prince, but he does things Prince couldn't do.
Bruno Mars Performance at the Grammy's:
"I like when he [Bruno Mars] and his singers broke it down and started harmonizing like the old R&B. The willingness to do that live . . . I keep going back to that concept, doing it live without any vocals and Pro-Tools supporting your performance . . . and to nail it!  Some people sing with back tracks and get vocal support."
Any other performance that stood out?
Katy Perry . . . those visuals were amazing. She was very creative. I loved it. I like the way Adele opened the show. You could tell there was anticipation.  Beyoncé was very artistic. The choreography wowed me.  It was an ode to women.
What did you think about Chance the Rapper?
He made the music he wanted to make, so he has proven that you don't need a label. You need a team with you, but not a label.
How was it being at the Staple Center?
It was a nice atmosphere. I was sitting with many other producers a bit up on the second tier, but close enough to see well.
Did you walk down the red carpet?
I didn't. When we left the preshow, we were funneled to the next place and got into the auditorium. Next thing I knew, we were in the area we needed to be. But I will be back next time when I get nominated again.
What do you envision for yourself as you move forward?
Keep making the music I want to make, for who I want to make it for.  [Terrell Sass is in talks with Jennifer Holliday to work on new material for a new album.]
What are the ingredients that make a Grammy-nominated song or record?
I think it has to be relatable to everybody; that's the biggest thing.  It has to be appreciated by the masses to be voted on by the masses. It has to be something that the young and old can appreciate. Or it has to be a universal theme that touches people's hearts—relatable, appeal to many, or ground breaking.
Anything else would you like to say?
See you next year!
I certainly believe we will because Terrell Sass means business!
Agenda Bloggers: Written by Sheryl Aronson for "Arting Around" | Want to comment?  Login/Register here.