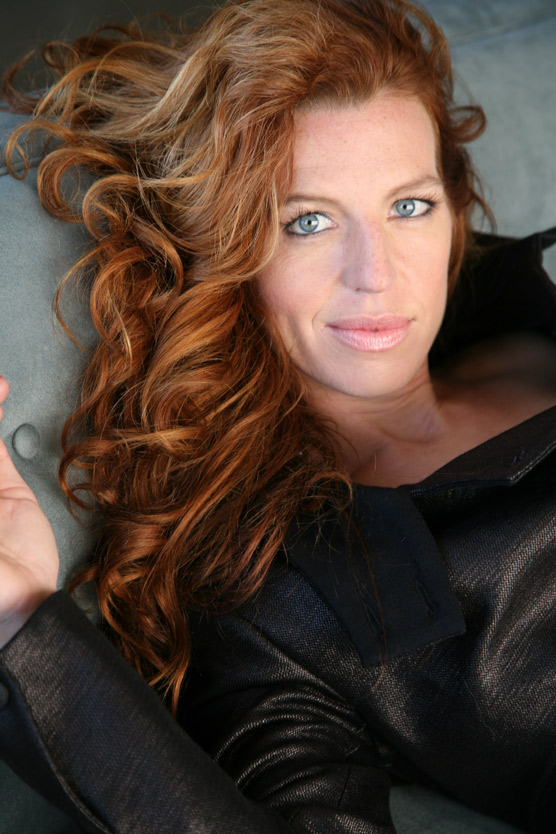 Tanna Frederick stands firmly rooted in a myriad of creative projects, commanding the multi-faceted kingdom of the arts as an actress, producer, and moviemaker visionary. Within the last year she has produced and acted in the virtual reality movie Defrost, which landed her trips to the Sundance and Cannes film festivals. She just completed speaking at the Virtual Reality World Conference at Crans-Montana (Switzerland) this past week; and right before she traveled to Europe, Ms. Frederick appeared at Digital Hollywood held May 3-6, 2016, on a panel regarding "Women in VR," and the producing of Defrost.
The stunning redhead ran full throttle as well, ending a six-month run of the theater production Jack and Jill in the roles of producer and co-star with Robert Standley. Both actors were in the midst of filming Jack and Jill onstage when she left for a possible movie project directed by Frederick's independent filmmaker husband Henry Jaglom. Finally, Tanna Frederick played the female lead in the film Ovation with co-star James Denton, and directed by Henry Jaglom. The romance/comedy will hit the theaters in June.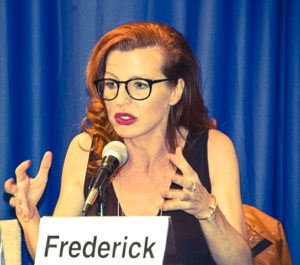 Within this whirlwind of super charged inspiration, Ms. Frederick took the time to sit down at the Digital Hollywood Conference to discuss her rotating roles as a producer, actress, and a leader who is paving the way for the newest form of media—virtual reality filmmaking.
Defrost is a virtual reality science fiction story of a woman being unfrozen in 2045.   The character Joan Garrison had a stroke and her family decided to do a state-of-the-art procedure called cryopreservation, which preserved Joan's body with liquid nitrogen until a cure was invented or discovered.
After 30 years in a coma (with her family aging, except for her), the disconcerting and terrifying emotions filled Joan Garrison's mind. It was overwhelmingly emotional for those witnessing the scientific process of bringing her out of cryopreservation . . . all done through the first-person narrative. This is achieved by watching the movie through the IM 360 goggles and headphones. The viewer becomes immersed in the total living experience of this character's perspective.
Tanna talked about the emotional state of mind of the audience when watching the five-minute and thirty-eight second segment of Defrost at a screening in Dallas, Texas. This piece was the first of twelve episodes that tells a complete narrative.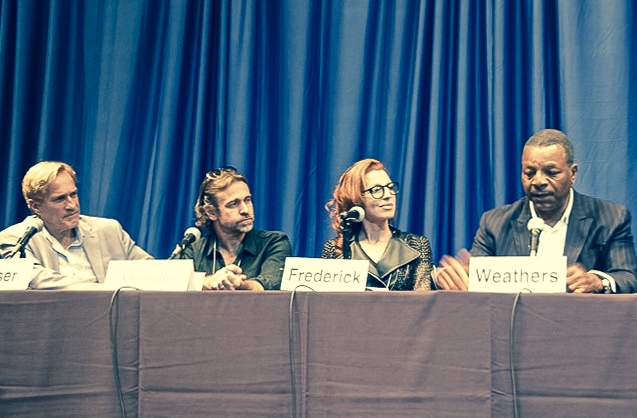 Ms. Frederick explained, "We used seven headsets at a time during the day. It was surprising that each group of people created a beautiful community. The movie has a story line that incurs some sort of emotional investment. The production team could see what section of the movie was playing on a laptop, and how the audience reacted. My favorite experience was when Quinton Aaron (the actor who played Michael Oher in The Blindside) started to watch Defrost with this woman who was so small to his huge size. [This woman] had been talking back to the camera the whole time. Somehow they found each other's hands at a critical emotional moment when I, as Joan Garrison's daughter was saying, 'I just want to call you Mommy.' They both screamed, 'Yes,' and reached for each other's hands. It made me cry."
Defrost was one of the featured virtual reality films at Sundance this past year. Robert Redford had created a separate category for VR films to be screened. Ms. Frederick was very excited about how virtual reality was such a strong presence during the film festival.
"At Sundance, Defrost was one of the top three experiences. Redford highlighted this new frontier in filmmaking. The new frontier had started off in one room and now there were three different bunkers, because so many artists are exploring this medium," states Tanna Frederick.
Moving forward to the World Virtual Reality Conference in Crans-Montona, hundreds of people will be wearing the special goggles. The second episode of Defrost features Harry Hamlin, who plays the evil, narcissistic scientist. The equipment used to shoot the other segments was the Nokia Ozio Camera.
"One camera has eight separate lenses, which were comprised in the head of a mannequin (who is the stand-in for the mother's character, Joan Garrison) in order to record the entire segment," Tanna explains.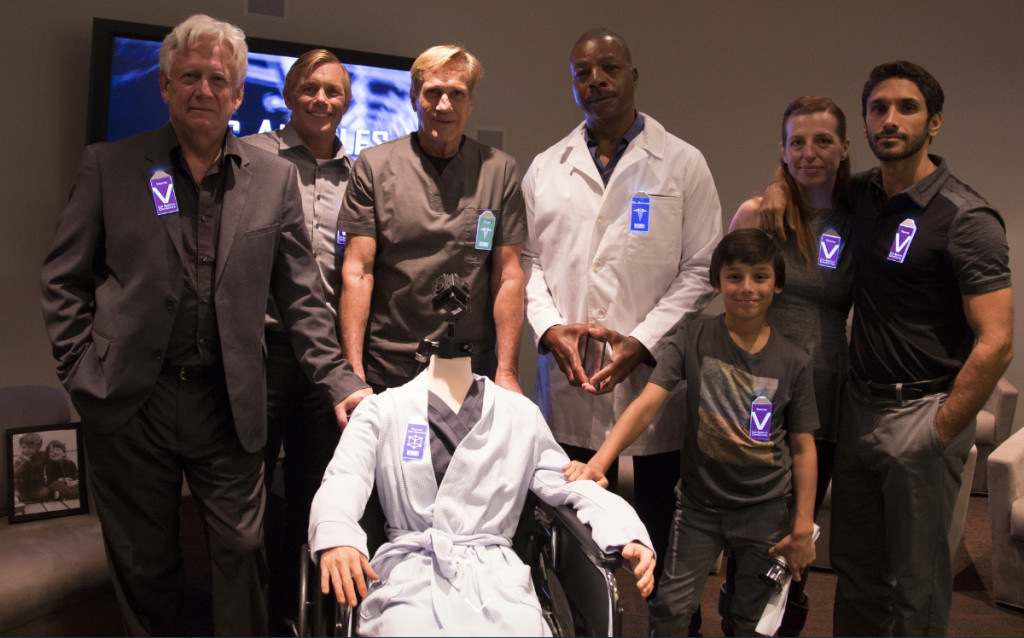 Because of the new technology, only one long take can be used for each episode rather than the film being comprised of many cuts.
The actress talked about how filming in VR is very much like performing in live theater. "The use of one take with virtual reality means there's no margin for error. The cast became adept theatrical actors as we got into the groove of being together. If someone mucked it up, we would do what we do on stage, just keep going."
Some of the talented actors starring in Defrost with Tanna Frederick are Bruce Davison, Harry Hamlin, Carl Weathers, and Veronica Cartright. Randal Kleiser, the Director, also plays a role in the movie as an orderly who wheels around the Ozio Camera mannequin. Tanna commented on how the acting differs from shooting a normal film.
"Everyone really needs to know where the stitch lines are going to be, and as actors, we have to work out the blocking around this round ball that's our camera in order to not block or upstage the other actors," says Tanna Frederick continues.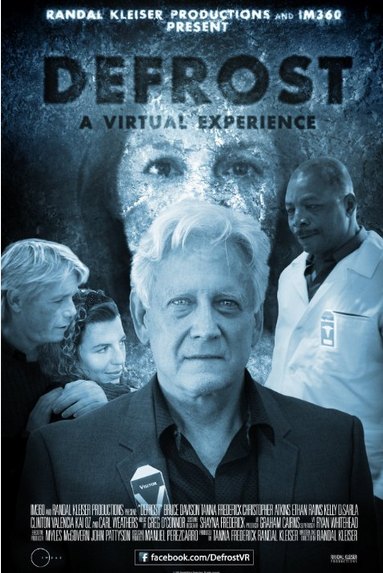 The field is wide open for VR movies. As one of the creators for using this new medium in film making, Frederick talks about what her company is doing to experiment.
"We are experimenting with SmelloVision as well. We are trying to create the ultimate experience by having 22 volunteers smell the hospital antiseptics; and spraying them with a mix of calming hospital smells too. It's to give the viewer an all immersive experience."
Literally there is no place to hide with virtual reality. The actors who are being filmed need to play their parts perfectly, because one long take makes the entire movie. And the eight lenses are focused on the characters every second. When the audience watches the movie with special 3-D virtual reality goggles, they can't hide. Each spectator is plunged into the depths of the story where every movement, sound, twitch on a face; every emotion expressed, lives and breathes in our psyche. Nothing goes unseen . . . nothing goes unrecorded.
Tanna Frederick revels in the compelling, visceral, and ever-changing technology of virtual reality for storytelling.
"We can't be afraid of failing," she told the audience at Digital Hollywood, "Don't be afraid to make mistakes because we are all learning about how to use it. There's no telling what will happen," concludes Tanna Frederick.
To find out about the movie Defrost, visit http://www.defrostvr.com/#home
Agenda Bloggers: Written by Sheryl Aronson for "Arting Around" | Want to comment?  Login/Register here.