Published in 1982, A Bloodsmoor Romance by Joyce Carol Oates is a gothic romance novel set in Bloodsmoor, Pennsylvania, in the years 1879-1899.  It is the story of five Pennsylvania sisters, told by an omniscient narrator identified only as "a maiden lady of advanced years."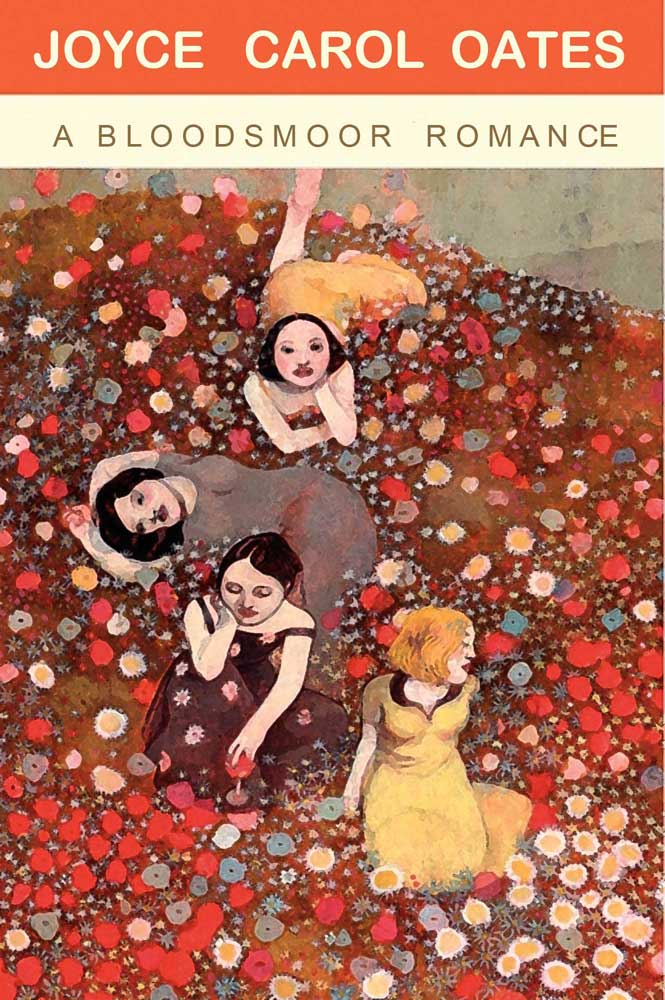 The novel opens with considerable background information about the wealthy Kiddemasters of Bloodsmoor Valley, Prudence Kiddemaster, heiress, and John Quincy Zinn, once the penniless child of a peddler, then later a poor teacher and inventor.  Prudence and John Quincy are now the parents of five daughters.
The story begins when on an afternoon in 1879, Deirdre Zinn, the adopted and youngest of the Zinns, is abducted by a black-clad figure in a black balloon.   Having been plagued by spirits all her life, she now becomes a famous spiritualist.  The oldest daughter is Constance Phillipa, engaged to a Baron, from whom she escapes on her wedding night, reappearing later as (Mr.) Phillipa Fox.  The second is Octavia, whose seemingly perfect marriage suffers the deaths of two of her children and numerous miscarriages, resulting finally in the death of her husband while indulging his sado-masochistic appetite.  Third is beautiful Malvinia, who runs off with an actor and is plagued by her sensuality, which she calls "the beast."  Fourth is Samantha, who enjoys working with her father as an inventor.  She and her father's assistant run off together when her parents insist on a planned marriage.  Only at the end do they return happily married.
Years later when their Aunt Edwina dies, having insisted that all five of the daughters must return for the reading of her will, do the family members (and the reader) learn the truth of Deirdre's birth and they are all united again and all so much more the better off.
Once I got past the long, tiresome introduction, I enjoyed the rest of the book and give it a "four" for its handling of the gothic elements of the story, the surprising and suspenseful twists and turns, and the author's skillful manipulation of certain historical elements and characters into her fictional narration.
Read more reviews like this in Agenda Special Edition #1 – "Fall Is Fascinating."